It's time you discovered your widow peeps
We invite you to the Widow Squad to transform the way you think about widowhood. This community of widows who "get it" is a place for you to learn tools and strategies for moving forward with ease and grow your confidence for doing hard things. A place for you to move through your grief in healthy, self-affirming ways and create a satisfactory life after your spouse's death. Get the resources, camaraderie, and inspiration you need to help you get a grip on your grief and learn how to live without your person.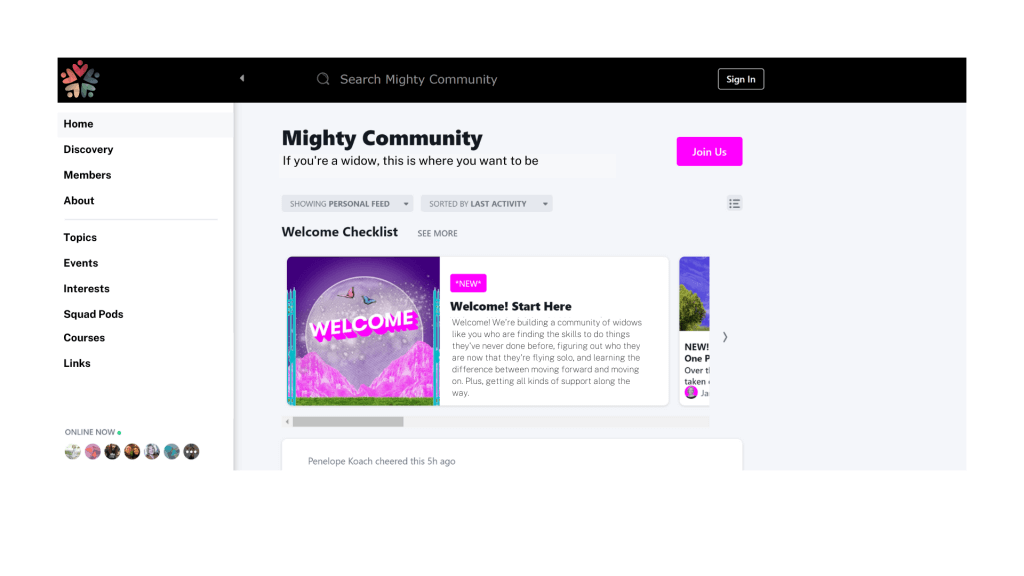 WHAT IS
The Widow Squad?
A community of widows just like you sharing stories, skills, and ideas so that we can define widowhood on our own terms. In this online membership, you'll learn how to design a life you want to live, find the skills to do things you've never done before, figure out who you are now that you're flying solo, learn the difference between moving forward and moving on, AND get all kinds of support along the way.
Great Features
A True Community
Engage with others through articles, video, live events, and chat and make connections with other widows not possible anywhere else
Personalized for You
See the most relevant topics, groups, courses, and other members based on your own unique activity feed. Get immediate updates or choose a daily digest instead.
Courses and More
Live cohort-based courses, content-only courses, and community-based courses put the emphasis on member challenges, events, and activity, not course content alone.