Healing After Loss: The Benefits of Using a Grief Journal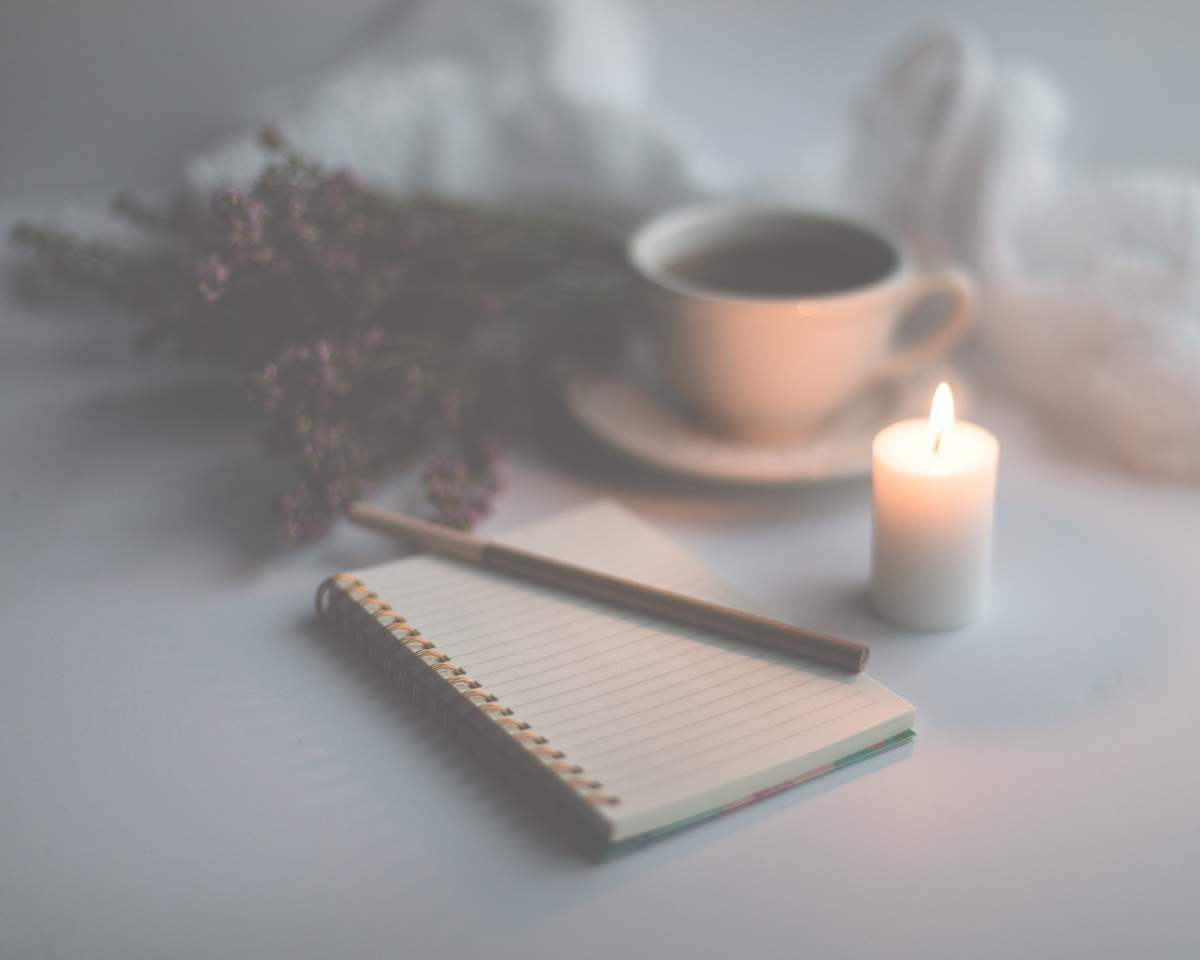 This post may contain affiliate links. Please read my affiliate policy for more information.
Short and Sweet Summary: When you use a journal to write about your grief, you're creating a safe place to manage your thoughts and feelings. Grief is a heavy burden to carry and one of the many benefits of using a grief journal include giving you an outlet to manage your overwhelming and sometimes confusing emotions.
It's not uncommon to be confused about your feelings after your spouse dies.
There are SO MANY emotions that widows experience after suffering a traumatic loss. Sometimes you don't even know how to articulate what those emotions are, but they come in like a lightning-fast torpedo, threatening to engulf you in the rubble of sadness and despair forever.
If you struggle to articulate your thoughts and feelings during your grieving process, then grief journaling may be a helpful tool for you. This simple and cost-effective activity can help tremendously when you're in the throes of mourning, because it helps your brain work through managing such a difficult life event. Read on to uncover the many benefits of using a grief journal to process your pain.
HOW DO YOU PROCESS GRIEF THROUGH WRITING?
When you use a journal to write about your grief, you're creating a safe place to manage your thoughts and feelings. Grief is a heavy burden to carry and writing about it gives you an outlet to manage your overwhelming and sometimes confusing emotions. When you see your written words on paper, you provide your brain with a way to manage the chaos in your mind. Keeping thoughts in your head contributes to confusion but writing them down creates clarity because you begin to understand where those feelings are coming from and why.
You have a gaping hole in your life and your brain wants to figure out how to deal with it. When you write about your grief, it gives your brain a way to it assimilate your experiences and form ideas on how to move forward with this new way of living. You'll get a fresh perspective every time you write because you're releasing the chaos and confusion in your mind.
Journaling about your grief also gives you a way to communicate with your deceased spouse. You can share things you want your spouse to know, express regret, or acknowledge how you feel about their death. 
WHY THE WRITING PART IS IMPORTANT
Some of you may be thinking, what's the point? Well, it's not just me saying that writing helps with the grief process. Journaling was first introduced to the world of psychotherapy by psychologist Ira Progoff in the 1960's and has continued to be recommended as a helpful tool to improve mental health. While it may not feel like you're making progress, a grief journal helps you work through the loss of your spouse by providing a safe place to purge your innermost thoughts.
While the grieving process looks different for everyone, lots of widows find themselves lost and not sure where to turn for help. By starting a grief journal, you're committing to work through the complicated emotions and trauma that you've experienced. It can be a non-intimidating action that only requires a little bit of your time to provide significant results for your well-being.
You deserve to be content, and a journal may help you reach that emotional place.
THE BENEFITS OF USING A GRIEF JOURNAL
There are countless benefits of using a grief journal to write out your worries. Here are just a few:
Organize your thoughts
Has someone asked you how you've been feeling after your husband died and you simply don't know how to respond? You're not alone. Going through such a traumatic life event can leave your brain feeling fried. When you write in a grief journal, you're able to write what you're feeling and make sense of it. It may surprise you to read what you've written after you complete a journaling session. Reading back over what you wrote is a great way to organize your thoughts when you're feeling lost and confused.
Relieve Stress
Losing a spouse is the most stressful life event. The trauma and emotions that follow can be difficult to deal with when you're grieving a death. Journaling allows you to take a deep breath, sit down, and write it all out. While you may be working through some difficult feelings, it can feel cathartic to get your thoughts on paper.
Open communication
If you struggle to discuss your grief with a medical professional, family member or friend, journaling is a great option to deepen your communication with yourself. Grief journaling acts as a haven away from judgment and others' opinions. The freedom from judgement allows you to be completely honest and vulnerable.
Document special memories
Recording special memories of your partner in your journal is a wonderful way to make you feel closer to them. Your journal acts as a memorial of sorts and you can look back on your entries, as well as compare and contrast, for years to come.
Track your progress
It's difficult to see the light at the end of the tunnel when you're in the thick of the grieving process. This is why a grief journal is a great tool to document how far you've come. On especially tough days, you can read through your journal entries in a chronological or any other pattern. You may be surprised to see just how far you've come over time.
HOW TO START A GRIEF JOURNAL WRITING PRACTICE
While starting a grief journal may seem intimidating, the good news is that there's really no "correct" way to go about it. Whether you're writing a few sentences in the notes app on your phone sporadically or setting aside a set time each evening to put your thoughts on paper, every little bit helps.
You can start out one way and switch to a different method later.
Whatever works.
It's helpful to set small goals along the way to encourage yourself to write. It's important to start small, and gradually work your way up depending on how you feel. A starter journaling goal could be to write in your journal 3 times a week for 5 minutes. If you're happy writing for longer, great! Keep going! If you find this overwhelming, dial it back.
Begin by asking yourself these questions to get a better idea of your goals:
How do I want to express myself when I journal?
How much time do I have to spend journaling?
Where do I want to do my journaling?
Is there an activity I love that I can use as a form of journaling?
What is my goal in creating this journal?
Answering these questions helps you choose the best method and time frame to begin journaling. Now all you need is to pick the right tools to begin.
If you're someone who finds comfort writing in the late hours, maybe keep your journal on your bedside table to record your thoughts before you go to sleep. Maybe you're someone who has to be sitting at a desk or table when journaling. In this case, keep your journal on your bookshelf.
Remember, there is no correct way to do this. Only your way.
CHOOSING THE RIGHT GRIEF JOURNAL TOOLS
Some widows find purchasing a brand-new journal specifically for the act of grief journaling helpful. Or you might just pick up an inexpensive lined notebook to start.
Here are some ideas to get your creative juices flowing:
Digital Grief Journal with Guided Prompts
There's no need to worry about what to write about with my guided grief journal because the prompts I include will help you identify and explore all of your feelings about grief. This is a digital file delivered in PDF format and you can print more than one copy if you want to reuse the journal at different points in your grief journey.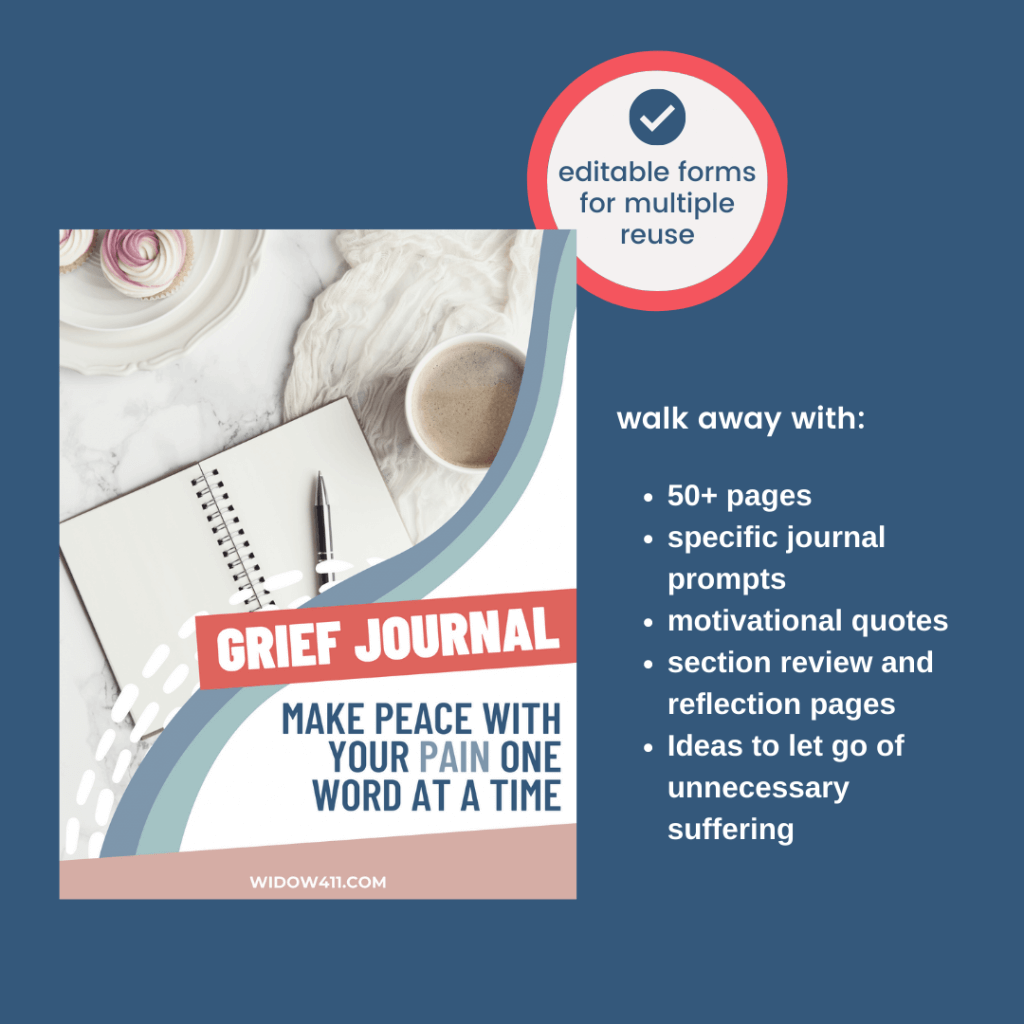 Make peace with your pain
This entire journal is available as a digital download so the pages can be reused or printed over and over again
Blank Spiral-Bound Notebooks
You can find all kinds of spiral-bound notebooks at office supply stores, Amazon, or even the grocery store. Keep your eyes open for lined notebooks to go on sale right before school starts. I stock up on these every August. When I don't need fancy or don't want to complicate things, I opt for a plain old 70-sheet college ruled spiral notebook.
Colorful or Inspirational Journal
There is no shortage of colorful or inspirational blank journals available. Just pick a topic, motivational message, or pretty cover and you can make a blank journal into whatever you want it to be.
I usually opt for a motivational cover like this one:
Electronic Journal
Did you know you can have the experience of writing with pen and paper, but automatically save your handwritten notes to popular cloud services like Google drive, Dropbox, Evernote, or iCloud?
Rocketbook makes smart reusable notebooks that are completely erasable when you wipe them with a dampened microfiber cloth.
Talk about high-tech journaling!
WIDOW WRAP UP
If you're not convinced about the benefits of using a grief journal, why not try dedicating just five minutes to writing your thoughts on paper sometime today?
If you find the process overwhelming, take a break and try again in a week or so when you're feeling more up to it. The most difficult part of grief journaling process is starting.
Whether you've written one word or 10 pages, every little bit helps.
Related Posts
The form you have selected does not exist.