Want to be your own boss? Follow these steps to a wildly successful business or side hustle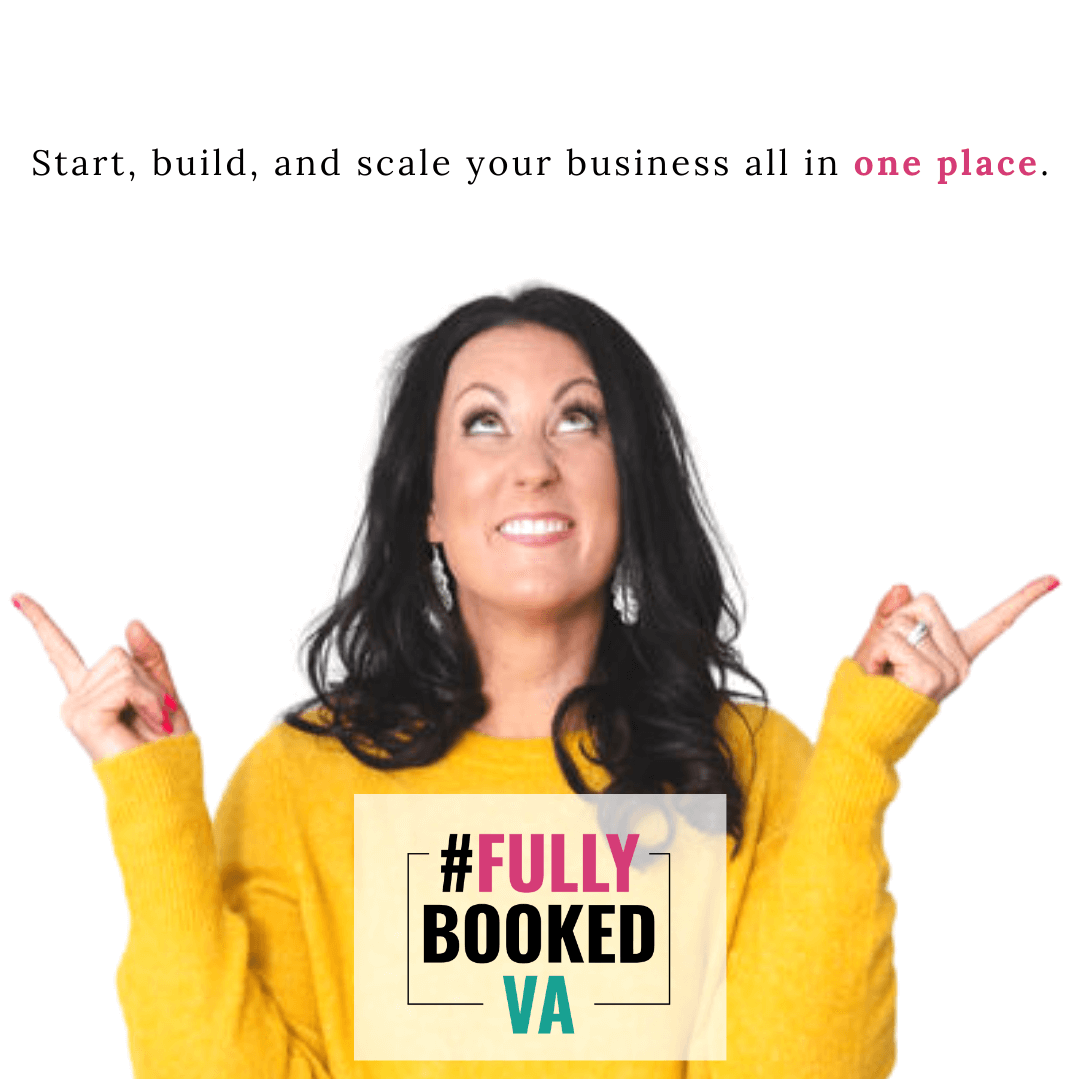 This post may contain affiliate links. Please read my affiliate policy for more information.
Short and Sweet Summary: If you're looking for a career option where you can put your unique talents and skills to work, make a decent income and enjoy flexible hours, you might want to consider starting a Virtual Assistant (VA) business. Here are the deets on what it takes to start a legit business if you want to be your own boss.
One consistent source of frustration for some widows is how to find flexible, remote work opportunities.
Some of you have young kids at home and need a job that allows you the freedom to accommodate your kids' schedules. Others just need a way to make extra income. Or maybe you're an empty nester searching for a way to be productive and find a sense of purpose.
If you're looking for an opportunity where you can put your unique talents and skills to work, make a decent income and be your own boss, you might want to consider starting a Virtual Assistant (VA) business. There are literally hundreds of services you can offer depending on your background, skills, and interests.
An outstanding way to guarantee a flexible work schedule is to start your own business or side hustle doing what you do best. This option is a good fit for those of you who are motivated, disciplined, and have a desire to be self-employed.
If this sounds like you, read on for my interview with Gina Horkey, creator of the #FullyBookedVA system. You'll learn what it takes to start your own wildly successful virtual assistant business.
(If this doesn't sound like you, check out some other flexible, remote work opportunities here).
You'll discover how and why Gina got started as a VA. And how she turned her skills into a lucrative side hustle and then created a full blown, step-by-step system to teach others how to launch their own virtual assistant business from scratch.
I took Gina's popular course 30 Days to Freelance Writing Success several years ago,, which helped thousands of freelance writers launch successful businesses. That was in my pre-widow days. I got sidetracked on my way to a freelance writing career when my husband got sick and died and I took over running his business. Anyway…I can personally attest to the immense value Gina provides in her courses and her complete commitment to her student's success.
Although the freelance writing course is no longer available as a stand-alone product, it's part of the #FullyBookedVA system. It includes lots of other specialty skills courses like how to be a social media, real estate or email management virtual assistant.
Gina's here to answer some of the more common FAQs about what a VA does. She'll also answer you questions about how she can help you launch your own VA business. If you want to be your own boss, this is a great way to begin.
Read on for more information about how to start your own legit business or lucrative side hustle working from the comfort of your own home.
HOW DID YOU GET STARTED AS A VA?
ANSWER: Hi, I'm Gina [waving].
I started a freelance writing business on the side of my full-time job (in personal finance), in the spring of 2014 to "test the waters" for a potential career change.
That fall, I added in virtual assistant services to stabilize my income, make it more predictable, and use some of my other skills to help small business owners. Landing my first VA client is what gave me the confidence to put in my notice and quit my day job. 🙌
I haven't looked back since!
WHAT DOES A VA DO?
ANSWER: A virtual assistant is really just anyone that trades tasks for pay from a remote location. Or in other words, an individual that offers services virtually as a contractor or self-employed individual to clients.
The types of VA services one can offer include everything from email management, content creation, bookkeeping, graphic design, social media and more! There are tons of services you can offer as a VA. Check out this list of 275 services to learn more!
HOW MUCH MONEY CAN YOU EXPECT TO EARN AS A VA?
ANSWER: From the little research that exists, the average North American virtual assistant earns between $25-40 per hour. 
Now keep in mind these rates will depend on your experience, skill-set and areas of expertise. For example, the more specialized your services and the more experience you have, the more you can charge. This number will obviously change over time as you develop more skills.
I've seen people in our community charge as little as $15 per hour, and others earn more than $100 per hour (including myself). Ultimately, it comes down to being really good at what you do and finding clients that value what you have to offer. And you probably have WAY more skills to offer than you give yourself credit for, so the key is to finding the clients who need your skill set.
How quickly you start earning honestly depends on how quickly (and frequently) you start putting yourself out there for hire.
In my opinion, contracting and working virtually is the way of the future. The demand for virtual workers is higher now than it's ever been, and it just keeps increasing.
People (clients and VAs like) crave increased flexibility. And what better way to obtain it than to build a business and/or team virtually?
Clients (typically small business owners, entrepreneurs, etc.) aren't always looking to manage people in-house or take on full-time help. Instead, they'd like to contract out for specific services they need help with. It makes it a win/win for both parties (including a HUGE savings in overhead)!
WHAT KIND OF PERSON IS A GOOD FIT FOR THIS WORK?
ANSWER: What I hear from clients over and over is that they're looking for someone that is:
Communicative
Organized
A self-starter
Reliable
So while they're looking for people that can provide select services, they're mainly looking for the above. As long as you're trainable, you've got a good shot at being a successful VA!
You also need to have a computer (desktop or laptop, doesn't matter) and reliable internet. Don't worry about having any fancy programs or applications. Most clients will give you access to their cloud-based tools and software programs that you need to complete your work for them.
HOW DOES A VA GET CLIENTS?
ANSWER: We cover almost a dozen prospecting methods in our VA Foundations course, which is the first step for folks that join our #FullyBookedVA system. A few of our favorites are:
Using social media
In-person networking
Tapping into your natural market
Methods for finding and attracting high-quality clients haven't changed much over the last decade. However, it's really important to understand what the methods are, which ones suit you best, and how to implement them in the right way. Luckily for our students, prospecting and building effective client relationships are kind of our jam. 
Beyond that, we share a ton of high-quality client leads within our community. Small businesses come to us looking for VAs to hire, so we naturally share those leads. We also regularly round up the "best of the best" remote and freelance gigs we come across and share those as well. Our goal is to make the marketing part AS EASY AS POSSIBLE and get our students "fully booked" in no time!
WHAT IS YOUR FAVORITE THING ABOUT BEING A VA?
ANSWER: Hmmnnn…the list is long! 
What ranks at the top of my favorite things is probably:
Flexibility to work from anywhere on my own schedule. I like that I don't have to keep "banker's hours" in most cases when working with my clients.
Freedom (that comes with the whole flexibility thing I guess!)
Unlimited income potential (you choose how much to charge and can raise your rates as you gain more experience, look into other ways to make money online, etc.)
HOW CAN SOMEONE INTERESTED IN THIS WORK GET STARTED?
ANSWER: I'd be honored if you joined our #FullyBookedVA system.
This all-in-one system literally walks members through starting their new business, building a full client roster, and scaling their income through specialization. It's perfect for newbies, but existing VAs have joined and moved their business to the next level as a result too.
Our VA Foundations courses covers everything from:
What services to offer and to whom
How much to charge and where to find clients
How to effectively pitch clients, interview and onboard them
All things invoicing and contracts (including templates)
Working with clients effectively and efficiently
In addition to that, you also gain access to:
VA certification
Weekly office hours which includes access to our team and your peers
Proprietary and non-proprietary client leads
5 skills courses to dip your toe into specialization
5 specialization tracks to help you achieve expert stats and command top-tier rates
Plus, much, much more!
WHO IS THIS SYSTEM FOR?
ANSWER: This system is for anyone who is motivated, disciplined, and has a desire to be self-employed. I show you how to get started and even provide the tools to succeed. However, it's up to you to do the work.
While the course provides a great framework for you to plug yourself into, there's still a lot of effort on your part. If you like to read all of the things, but don't really enjoy taking action, this system is NOT for you.
Point blank, you'll get results if you do what we tell you to. But if you think that all it takes to start a new business is spending a little bit of money to become a member (and not doing anything as a result), you're going to be sorely disappointed.
We do offer a very generous 7-day money-back guarantee. Meaning if you find out right away that the system isn't the right fit for you, just send us an email and we'll refund your purchase in full.
WHAT RESULTS CAN ONE EXPECT FROM YOUR SYSTEM?
ANSWER: Most students make their way through the Foundations course material in a month or less.
Many end up getting hired by their first client before they finish. Results will vary based on the time someone has available, the amount of action they take and the skill-set they enter the course with.
Some students have the goal of bringing in a few hundred extra dollars each month, while others want to replace a six-figure salary. We've watched numerous students accomplish both goals over the last several years – most land somewhere in between.
My personal favorite is when someone sends me an email or tags me on Facebook that they've just quit their soul-sucking job. 🤩
Here are a few of our successful students: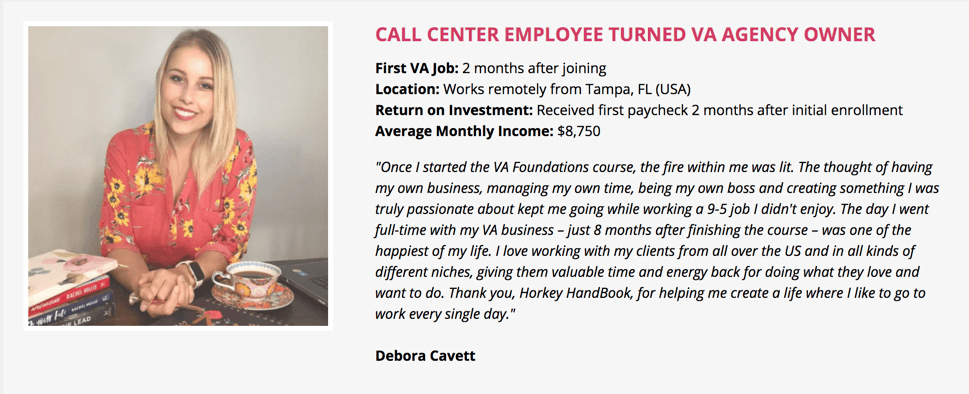 WHAT IS YOUR #1 PIECE OF ADVICE FOR BREAKING INTO THIS LINE OF WORK?
You'll never know what you're capable of if you never try. 
Don't think about what the worst-case scenario could be – instead think about what's the BEST POSSIBLE OUTCOME that can come from trying something new?
Why not you, why not now?
WIDOW WRAP UP
Well, there you have it. A step-by-step system to launch your own business.
Woot! Woot!
If I didn't already have a business (well, technically two businesses) I'd jump all over his opportunity. But, what about you? Do you want to be your own boss? Have you always dreamed of working for yourself? Or are you looking for a career change or a side hustle to keep you occupied?
Hmmnnn…this might be right up your alley. I guess I'd say give it some thought and decide if you really want to build a successful business or side hustle.
Because an investment is involved. Both time and money. I think it's a minimal monetary investment for the value received, but it's money spent nonetheless. So, maybe write out the pros and cons before making a decision?
However…if you're ready? If you know this is something you'd be a perfect fit for…why are you waiting? Hop over to the #FullyBookedVA system to start your self-employment journey.
Oh, and please let me know how it goes!
Related Posts
The form you have selected does not exist.