Widow Warriors – Darlene Dyck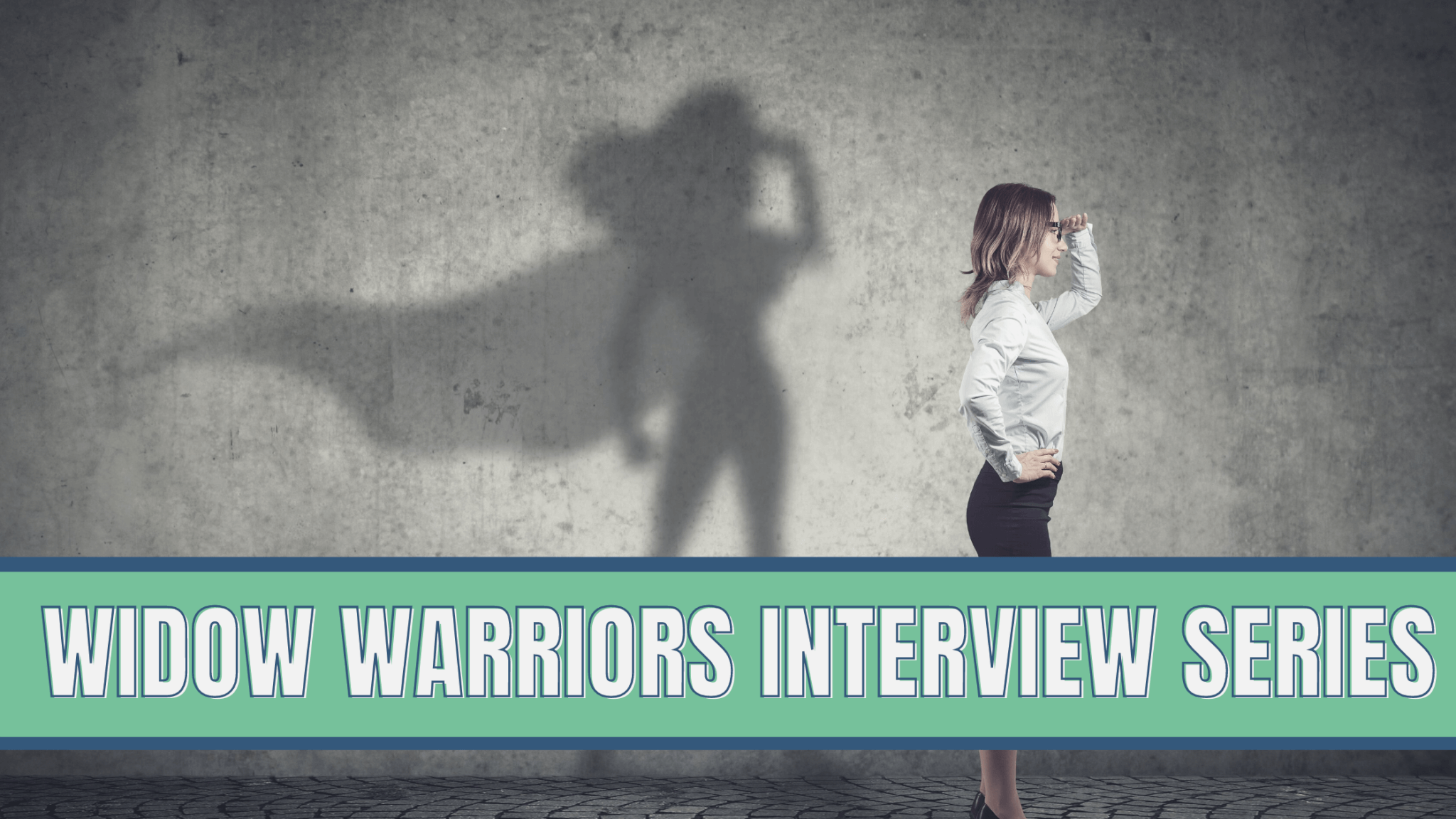 This post may contain affiliate links. Please read my affiliate policy for more information.
Short and Sweet Summary: In this series called Widow Warriors – Life After Widowhood, I interview widows who share their stories about how they've moved forward with grace, jumped out of their comfort zone and accomplished extraordinary things. These widows are here to show you the way. To help you see a sliver of light where there was none. Here's the story of one of our amazing widow warriors – Darlene Dyck.
As a part of this interview series, I had the pleasure of interviewing Darlene Dyck.
I asked Darlene to share her story because she, like me, took over running her husband's business after he died. I am seriously in awe of this amazing lady who now owns and operates a large grain farm in Canada, about an hour north of the Montana border. I resonated so much with her story because she had little experience with the business, but her husband's terminal cancer diagnosis threw her straight into the mix. Before she knew it, she was juggling both caregiver and business owner tasks.
I really wanted Darlene to tell us a bit more about her widow story because her grief journey has taught her more than she bargained for. Especially how running the farm since her husband's death is the farm is more of a blessing than a burden.
Are you on Instagram? You can follow Darlene here.
Here's a bit of background before we begin:

What's your widow story? Can you tell us when & how your spouse/partner died?

In one day, May 26, 2009, my life changed.
I took my otherwise healthy husband to the hospital and we were told he had kidney cancer.
Within seven months, he had a terminal diagnosis because the cancer had spread and he died on September 26, 2013.
Now I categorize my life as either before or after that day.
What was life like for you in those early days post death?
My husband died in the middle of harvest (we are grain farmers from southern Saskatchewan) and although I was in a grief fog, my kids and I spent each day in the field alongside the harvest crew and got the crop off.
I'd say the first year was almost pure survival – not really looking too far ahead but trying to
keep my head clear so I could keep the farm business going, about which I knew very little.
What surprised you the most about your grief?
I had never heard of the physical side of grief. I knew about the emotional and mental part, but not the physical.
Although I'm healthy, I had many issues develop from grief. My chest hurt, I couldn't see clearly, my legs felt heavy, and I had a lot of trouble sleeping for months and months.
I truly felt like my husband's death left me with only half of me. Specifically, half a head and half a heart.
Did you seek out any support groups or therapy? What was the most helpful or least helpful and why?
About four months after my husband died, I attended what was supposed to be a 10-week Griefshare program.
I only lasted that first session and couldn't go back because I didn't want to be surrounded with people that were so sad and hurting. I just couldn't do it, so I quit.
What's your work situation like? Did you work prior to or after your spouse's death? How has that helped or hindered you?
My husband and I owned and operated a grain farm. For almost 30 years, the only thing I really helped him with was operating some of the equipment, especially during the busy season. I was never responsible for the business side or management. I didn't even do the books – he did.
I didn't want to take that away from him as his cancer progressed, because running the business was the one thing he could still take care of. I thought, I learn it later if I have to. That being said, whenever he started talking about "after," I would go get our little blue binder and write things down. But I refused to start those conversations.
From the first day after his funeral, I continued running the business. I vowed to be in the farm shop office from 8:00 am – 5:00 pm (some days much longer) every single work day so our guys would see my commitment and availability.
A huge blow to our family was when our main and longest term employee said he was leaving right after that first harvest was finished.
Continuing to run the farm has been an incredible challenge, but it has absolutely been more of a blessing than a burden. It gives me purpose and gives me a huge reason to crawl out of bed each day and keep going.
What coping strategies do you find the most helpful?

I have a secret; I pray. Without my faith, I am not sure how I would have survived.
I also try to look after myself – spiritually, physically, mentally and give myself grace and time to do that. I could improve in that department but I'm still a work in progress.
Did you make any major life changes after your spouse died? Can you elaborate on what changes you made and how you feel about your decision now?
My husband and I had talked about moving. He felt that if one of our kids was serious about
farming, they should raise their family in the main farmyard (our home).
On a random drive, less than two years after he died, I saw a for sale sign on a house at a
nearby lake and I bought it within a few days. We had never talked about living at a lake, but it felt right, so I just did it. It's only about a 10 minute drive from the farm, so my farm work/responsibilities haven't changed – I just now drive instead of walk to the office each day.
Our son got married and they are raising their new little family in our old farmhouse and they love it!
When and how do you think your healing truly started?
Looking back, I think I healed a tiny bit every day, even if it didn't feel like it.
How did you decide to turn your negative experience into a positive one? Were there any "aha" moments that stand out to you?
I have been deeply disappointed in some of our old friends through this grief journey. I heard this happens but didn't think it would happen to me. But I've come to realize that although I can't control what people do or say, I can control my reaction.
I also realize and take responsibility for some of these changes, as I know I wasn't fun to be
around and I know I'm a different person now than they knew before. Things change and that's OK sometimes. I know I'm worth friends who support me, motivate me, inspire me and challenge me when I need to be challenged!
Gratitude is also very important to me. I KNOW there are so many people who have lost loved ones and some of those people never had a loving mother, father, or spouse to begin with. Although I lost my dad to cancer when I was 12, my mom to cancer when I was 36 and my husband to cancer when I was 49, I know I have been so very blessed to have them in my life and to have learned from them!
What is the most important thing you've learned about yourself as you cope with widowhood?
I am not the same person I was before I lost my husband. I have less patience for certain
people/things but also way more empathy for certain people/things. I used to grieve losing my old self. Now I accept myself as I am but also try to learn and challenge myself to be better each day.
Are you dating and/or remarried? How and when did you decide to start a new relationship? What's the best thing about your partner?
I have not dated or gone out on even one date, and doubt I ever will. No judgements whatsoever for those that do. I'm truly happy for those that find love again!
For me, the first and best choice was to live happily ever after with Steve. The second and next best choice is to live alone and put my energy into healthy friend relationships. I've met and made so many amazing new friends since being alone!
How are you living your best life now? What's the key to moving forward with grief?
I'm grateful for what I had and what I now manage. I know I'm responsible for what I do, no matter what I feel and I'm living my best life with what's been handed to me. I have an amazing family who all live close by and so many good, authentic friends!
The key to moving forward is gratitude and acceptance. My faith helps me so much with
those!
If you could go back and share one piece of advice to your newly widowed self, what would you say?
I would be kinder to myself, give myself permission to decide without regret. I would also remind myself to never push the grief away but actually, consciously, lean into it every single
day.
Want to read more Widow Warrior interviews?
Click here for all the Widow Warrior interviews – conveniently listed on one page!
Related Posts
The form you have selected does not exist.