Widow Warriors – Jen Zwinck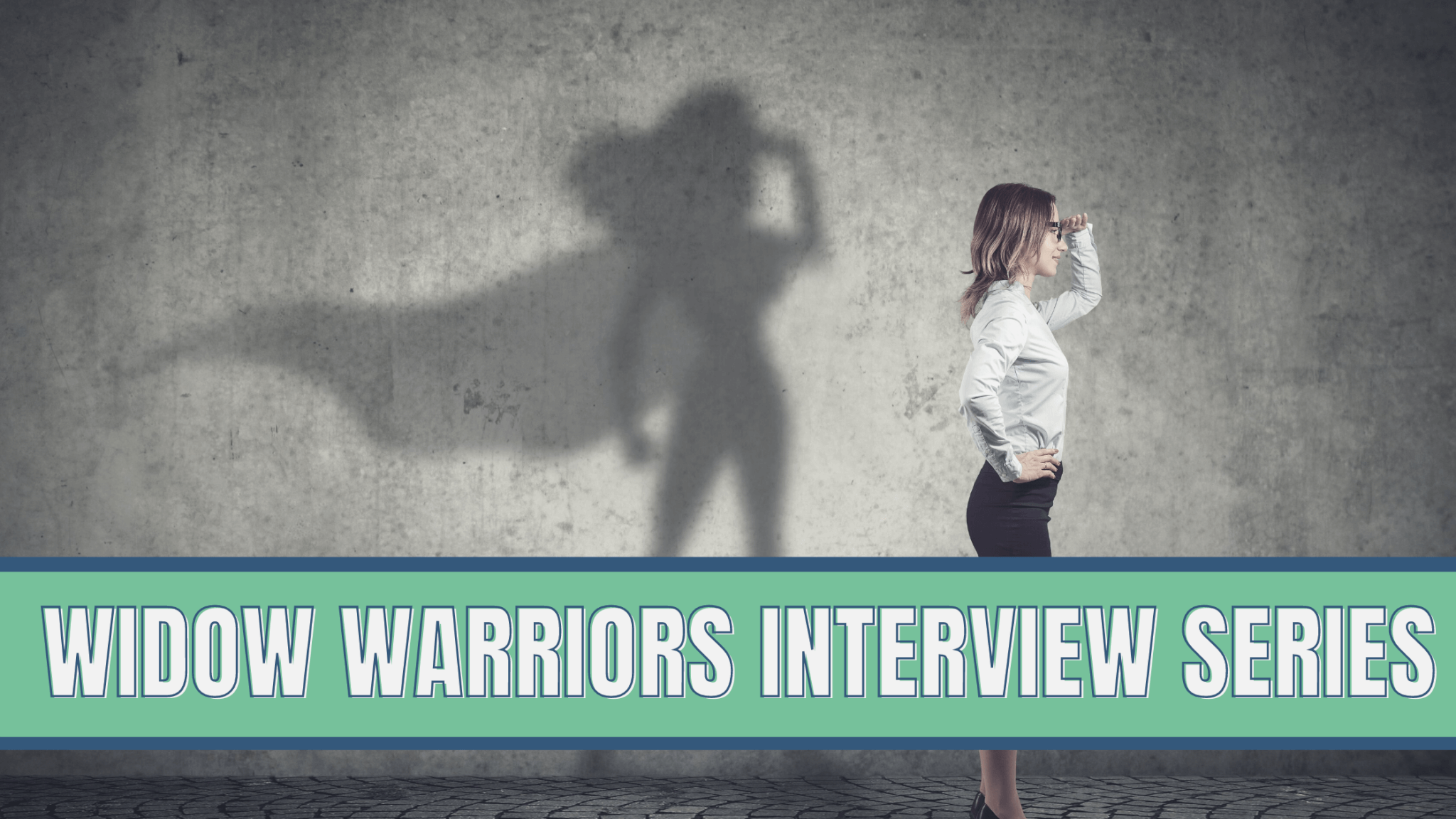 This post may contain affiliate links. Please read my affiliate policy for more information.
Short and Sweet Summary: In this series called Widow Warriors – Life After Widowhood, I interview widows who share their stories about how they've moved forward with grace, jumped out of their comfort zone and accomplished extraordinary things. These widows are here to show you the way. To help you see a sliver of light where there wasn't any. Here's the story of one of our amazing widow warriors – Jen Zwinck.
As a part of this interview series, I had the pleasure of interviewing Jen Zwinck.
Jen is the host of the Widow 180 Podcast where she interviews others about how to turn tragedy and loss into a life filled with meaning and purpose. You can listen to my interview with Jen where we talk about how I tried to avoid my grief by travelling nonstop for the first two years and eventually realized that running from grief wasn't the answer.
Her YouTube channel and dating course also helps widows learn how to move forward and remove the stigma attached to widowed dating.
I wanted to interview Jen because not only is she a super friendly and likable person, her story is a true testament to how one can overcome adversity and grow through grief.
Here's a bit more background before we begin:

What's your widow story? Can you tell us when & how your spouse/partner died?
My widow story begins the night of October 15, 2011. My husband, Brent, a total homebody and not a "party" guy, was attending a bachelor party for a close friend of his. He was out at the bar with the guys, got tired, and left around 4:30am to walk back to the hotel. He left the bar alone and was attacked from behind by two men who followed him. They hit him on the head, took his wallet and phone, and left him on the sidewalk.
The next day, when he didn't come home, we searched and retraced his steps from the bar. The following day the coroner's office contacted me to say they had located Brent.
I became a widow at 35. Our little girl Claire was two-years-old at the time.
What was life like for you in those early days post death?
I can say that I went into shock immediately.
I've often tried to explain what the intense shock of grief feels like. I know for me it was as if shrank into this tiny piece of myself. My body was there, as a shell, but the real "me" disappeared.
I had a hard time concentrating on anything anyone said to me. Basic things became difficult to do. I honestly had such an overwhelming sadness that I didn't want to be on this earth anymore. I knew he couldn't come back and so the only way we could be together again was if I took my life and went to be with him. And this thought brought me SUCH relief. But my daughter is the reason why I'm still here. I had to be here for her because I was the only parent left.
If you're in crisis, there are options available to help you cope. Please call the National Suicide Prevention Lifeline at any time to speak to someone and get support. For confidential support available 24/7 for everyone in the United States, call 1-800-273-8255.
What surprised you the most about your grief?
I heard someone describe grief recently and she said "I didn't realize you could feel so much pain and not die." That's exactly how I felt. How can a person endure so much pain? Grief is relentless. Grief is sneaky. I had never in my life to that point, ever had an emotion overtake my body and my mind like grief did.
Did you seek any support options like grief support groups or therapy? What was the most helpful or least helpful and why?
At Brent's funeral, a friend of mine came up to me and told me about her friend whose husband had passed away. She was my age and she belonged to a local widow group. I got her number and pretty much called her the next day. She was so gracious and kind and talked to me for over an hour. This perfect stranger who knew exactly how I was feeling.
She told me that their group met every month and they were getting together the following weekend. I showed up at that meeting, not knowing anyone, but already knowing I had a connection to every person there. Those women became my dear friends and soulmate sisters. They saved me and were my go-to girls through everything that I was going through. They were all my age with young children, so we had that in common, too, which was helpful.
I tried traditional therapy, but it wasn't a good match for me. I found my widows group to be the best thing for me and I'm so thankful to have them in my life still.
What's your work situation like? Did you work prior to or after your spouse's death? How has that helped or hindered you?
I'm an Optometrist and Brent was too. We met in Optometry school.
I was working part-time when he died. I took off six weeks and tried to go back, but my mind and my heart weren't in it. In my career, I have to be laser sharp and focused on patient care. I have to give 100%. But none of it seemed important to me anymore. And I've always loved my job and loved taking care of my patients. But at the time, when someone would come in complaining about their contact lenses drying out, I didn't care! If someone said their eyes were itchy, I didn't care! I thought their complaints were petty and trivial and I didn't want to hear about it. And MY JOB is to care! My job is to fix those problems. But, like I said, my heart wasn't in it. I had to step away for a while and regroup. I knew I would go back to it eventually, but I needed a break.
Did you experience any physical or mental setbacks? What was that like and how did you recover?
I had an enormous amount of anxiety when I became a widow. I couldn't stop my heart and mind from racing. Especially at night. I had so much trouble falling asleep and then when I did, I would only sleep a few hours then wake up in the middle of the night. Lack of sleep affected my mood, my physical state, my mental state.
I think so many widows suffer from this.
What coping strategies do you find the most helpful?
I began to journal right away after Brent was killed. At first, it was my way of talking to him and documenting our lives and the things we were doing and the things he was missing out on. Journaling was extremely therapeutic for me. I wrote in my journal every single day and it really helped me deal with what was going on.
I also spent a lot of time outside, in nature because I felt a need to be in fresh air and not feel confined.
Also, I found it most helpful to pay attention to what I needed each day and honor that. If I felt like I needed a nap, I did. If it felt like a day I just wanted to be alone, I did that. I know not everyone has that luxury and freedom, but I listened to what my body and soul and heart needed and tried my best to honor that.
Did you make any major life changes after your spouse died? Can you elaborate on what changes you made and how you feel about your decision now?
So, "they" say don't make any major life changes in the first year.
Immediately after Brent died, I felt unsafe. I felt like the world was closing in on me and violence was hitting too close to home. I felt like I needed to go away. And be alone.
A month after he died, I booked a trip for Claire and me to go to the Turks and Caicos Islands for a two-week vacation. We had been there several times on vacation as a family, so I knew the island and I felt safe. On our third day of vacation, I decided I wanted to stay and live there…just for a year. I found a condo on the beach and signed a lease before we left to come back home to the States. Claire and I moved to the island without knowing another person and without a plan, really. I was listening to my heart and my gut and my intuition was telling me to go there and find peace.
We ended up living there for almost three years and it was THE BEST decision I have ever made in my life.
When and how do you think your healing truly started?
My healing started when Claire and I moved away. I could be away from the noise and the chaos. Away from everyone looking at me under a microscope and watching me figure out how to be a widow. Away from everyone watching me stumble as I made my way through widowhood and solo parenting. I needed to heal, and I had found my place to do it.
How did you decide to turn your negative experience into a positive one? Were there any "aha" moments that stand out to you?
I had joined some widow Facebook groups in the past, and it always really struck me when I would see posts from widows who said they were going through their loss alone. They had no support group. No local widows group. No family members who could help them. They felt so alone and misunderstood. They didn't have what I had, that amazing group of widows who held my hand through it all. And it was their stories and their experience that showed me that it was possible to have a beautiful life after loss. I needed to see those examples of those who had walked this path before me and witness their ability to make it through it. I needed to have evidence that there was hope for me to have peace in my life again.
Then in 2022 you and I were on a call with another one of our widow friends and we created the Widow Squad membership and I couldn't be more excited about the opportunity to build this amazing community with and Melissa Pierce!
What is the most important thing you've learned about yourself as you cope with widowhood?
I know that I can do so much more than I thought I was capable of – I can endure. I have the strength within me to overcome anything.
Are you dating and/or remarried? How and when did you decide to start a new relationship? What's the best thing about your partner?
I am remarried!
I met my now husband Doug in 2015. Ten months later we were engaged. Ten months after that we were married. And 10 months after that we welcomed our baby girl, Penelope into our family. It is a fun and chaotic and unexpected family of four!
The best thing about Doug is his sense of humor and ability to make life into a game and make us all laugh. That's what I wanted in a new partner. Someone who enjoys life and wants to take advantage of our days as much as I do. The next best thing about Doug is his acute self-awareness. He is conscious of my emotions and understanding of what I have been through and very careful and kind with his words.
How are you living your best life now? What's the key to moving forward with grief?
I found my passion in my Widow 180 podcast, my YouTube channel, my Facebook group, and my new widow dating program.
It lights me up to help other widows and provide stories, resources, support, and advice! I have interviewed almost 60 widows on Widow 180: the Podcast, and I have found there are a few keys to moving forward with grief:
Every widow that I talked to started with the belief that she could see a different life for herself. She had hope. Grief can keep us stuck and we have no idea for how long. Everyone processes loss at their own pace. But there comes a point when you push through it. We have an awakening, per se, sometimes slowly, but still an awakening to a belief that we will survive this.
Every widow I've interviewed has also found something to be passionate about. She found a purpose. She found something that made her feel alive again. They all found something that they loved and poured themselves into it whole-heartedly!
If you could go back and share one piece of advice to your newly widowed self, what would you say?
I would hug myself and say:
"This is temporary. I promise. I promise you will make it through this. There will be incredible moments of joy in life again. I know it doesn't feel that way and you can't see that right now, but you have a miraculous life ahead filled with love and laughter and adventure and fun! Trust that those days will come."
Want to read more Widow Warrior interviews?
Click here for all the Widow Warrior interviews – conveniently listed on one page!
Related Posts
The form you have selected does not exist.