Widow Warriors – Leo Donnell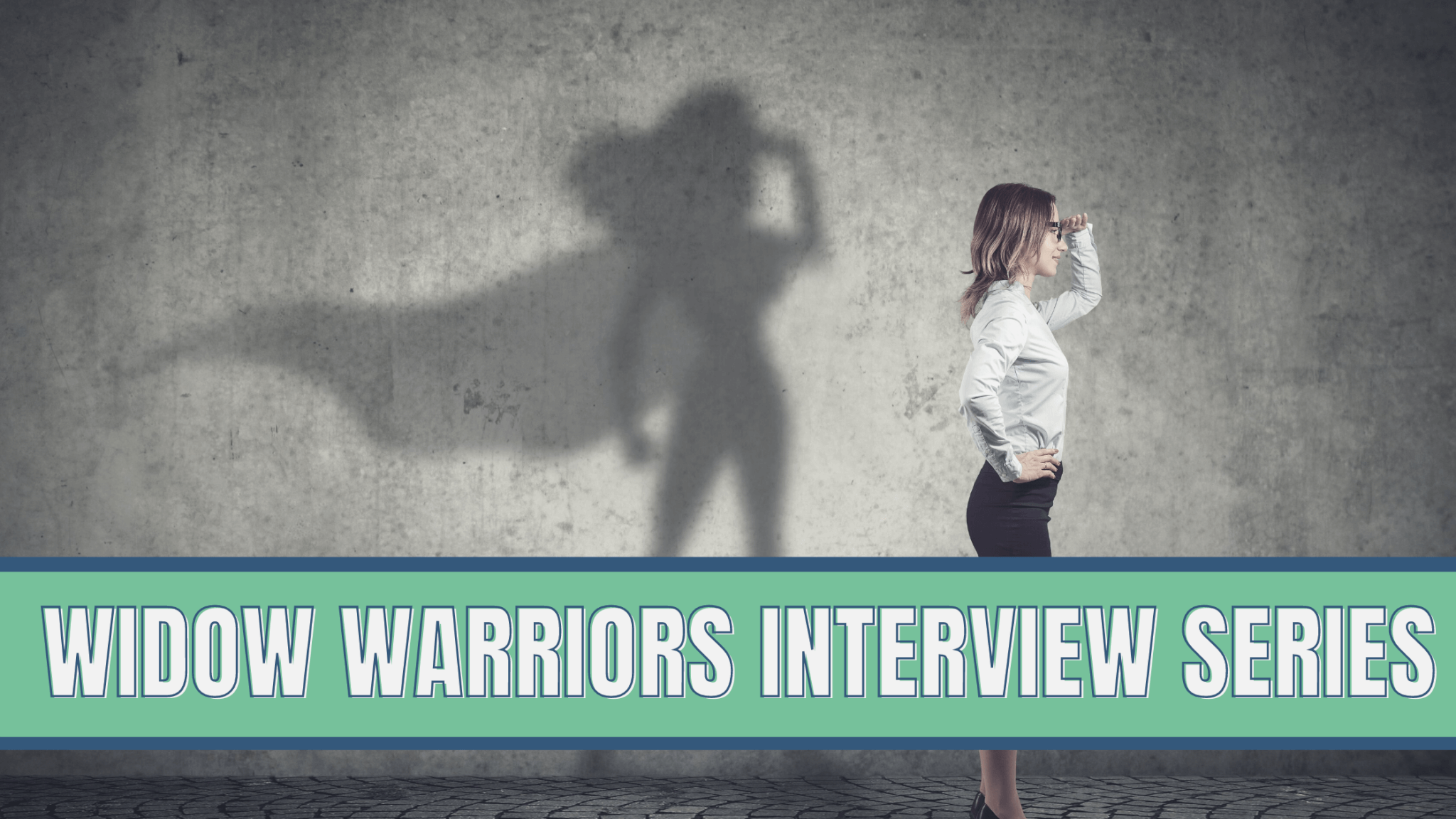 This post may contain affiliate links. Please read my affiliate policy for more information.
Short and Sweet Summary: In this series called Widow Warriors – Life After Widowhood, I interview widows who share their stories about how they've moved forward with grace, jumped out of their comfort zone and accomplished extraordinary things. These widows are here to show you the way. To help you see a sliver of light where there wasn't any. Here's the story of one of our amazing widow warriors – Leo Donnell.
As a part of this interview series, I had the pleasure of interviewing Leo Donnell.
I asked Leo to share her story because she's been such a tremendous source of support in the widow community. She shares what it's like to live in widowhood on her Facebook group and YouTube channel and viewers love her videos because she tells it like it is. As a mom of four, I guess she doesn't have much time to beat around the bush!
Oh, and she's funny too. Check out the video of her getting arrested by the "grief police" right here!
Here's a bit of background before we begin:

What's your widow story? Can you tell us when & how your spouse/partner died?
My husband, Dewey Bennett, was diagnosed with stage 4 Bile Duct cancer in February 2017. Although he was given a year to live, he only survived 4 months and passed away in June 2017. He was 42 at the time of his death, and I still had all four of our children living at home.
What was life like for you in those early days post death?
The early days were a blur, but since we already knew my husband would not survive his disease, it was also a relief to know he was finally out of pain. I know that sounds harsh, but I watched him suffer through so much pain during his illness that his death was the ultimate end to that pain. Guilt immediately followed that feeling of relief, of course, because grief is so complicated!
What surprised you the most about your grief?
For me, the grief was so spread out during his illness I had already been processing it. I thought it would be more intense when he died, but the waves were not as harsh as I expected. I later learned that was because of the anticipatory grief I experienced during his illness. The other big surprise was finding out how hard it is to raise grieving children. Much harder than my grief.
Did you seek any support options like grief support groups or therapy? What was the most or least helpful and why?
Therapy was not for me- I went to one session and didn't feel like the therapist could relate to my pain. Her advice was the same advice I could get from my mother. I wanted support from like-minded people, so I found Facebook groups for widows to be the most helpful.
What's your work situation like? Did you work prior to or after your spouse's death? How has that helped or hindered you?
I was a school teacher and I returned to work in the fall after Dewey died. I worked for two years and then realized I couldn't properly solo parent and care for my grieving children and their needs while working full time, so I switched to teaching half-time. In addition, I also changed to a new school because my old one triggered too much grief for me every day, so I found a change of environment helped me mentally.
Did you experience any physical or mental setbacks? What was that like and how did you recover?
I used retail therapy to cope, and I still do when things get stressful. I used it to make my children feel better, too. None of that worked, and I wouldn't advise it to others. In fact, it made my children feel entitled and became even harder to parent them as they got older. Not wise!
What coping strategies do you find the most helpful?
I actually turned to healthy eating and exercise because I was afraid of leaving my children orphaned if I died of a health-related, preventable disease. I lost about 40 pounds and felt the best I had in years (physically). The exercise became my therapy, and it helped my emotional state quite a bit. I have fallen off the wagon since I remarried, and I really should get back to it again, as I know it would help.
Did you make any major life changes after your spouse died? Can you elaborate on what changes you made and how you feel about your decision now?
As I mentioned, I changed jobs, plus I built a house and moved into it the year after my husband died. Those changes were all positive. I also remarried a fellow widower a little over 2 years after I became widowed. I can't say any changes I made were regrettable. Life is all about change, so I just go with it.
When and how do you think your healing truly started?
I think I had to force myself into healing, at least to the degree that I could function and keep a job and make sure I paid the bills. I had four children to finish raising, so I didn't have a whole lot of choice in that matter. Being forced to put one foot in front of the other, plus keeping myself busy with the responsibilities of life, all made me get on the healing journey. I'm sure I held some of that grief down, and it comes out at odd times, even now. But the healing is a constant, and it will never be "finished."
How did you decide to turn your negative experience into a positive one? Were there any "aha" moments that stand out to you?
I found that I was helping more new widowed members of the Facebook groups I belonged to, and answering the same questions over and over, as I began to see trends of questions in early grief. I realized I could just make videos to answer the most common questions, and share my experiences of the feelings that most widows struggle with. So I made a few videos and put them on YouTube, and they were well-received. The channel became popular, and I opened my own Facebook group for those who liked the channel and wanted to discuss the video topics. The members are very supportive, and the group remains very positive and encouraging. I did not want to start another group of "misery loves company" because I felt there are already too many of those. I really wanted to have a group of people who want to lift each other up in times of struggle. The members of my group do that very well.
What is the most important thing you've learned about yourself as you cope with widowhood?
 I am stronger than I realized, but I will never be "finished" with this grief. It is now a part of who I am and always will be.
Are you dating and/or remarried? How and when did you decide to start a new relationship? What's the best thing about your partner?
I am remarried, to a fellow widower. I was the first person he met after his wife died, and we didn't waste any time once we realized how we felt about each other. Since we have both lost a spouse, we don't have that awkward phase of wondering if the other person can handle our feelings about our lost love. We just "get it" and can focus on us. There are pictures of all family members all over our house (his kids, my kids, us together, and us with our late spouses). The memories of our deceased spouses don't threaten either of us, and we can support each other through tough milestones and emotional moments. It is truly a beautiful, loving, supportive marriage- and we are both better spouses because we understand how easily you can lose someone- and we take nothing for granted.
How are you living your best life now? What's the key to moving forward with grief?
The key is acceptance of what you are dealing with. Even though it's hard to accept, you can either live with bitterness and wish for something you can't ever get back, or focus on the present and work towards making your future the best it can be – in honor of your late spouse. I am living the life that Dewey didn't get to live, so I don't want to waste it by spending all my time in grief. It doesn't mean I don't have my moments, and I share memories with my children all the time. But I don't dwell on what I have lost.
If you could go back and share one piece of advice to your newly widowed self, what would you say?
I would tell myself to get help for my children sooner. They grieve so differently than us, and just because they might "seem" OK, doesn't mean they are. Getting them into therapy before I thought they needed it would have helped them, and I wish I had done that even before their dad died.
Want to read more Widow Warrior interviews?
Click here for all the Widow Warrior interviews – conveniently listed on one page!
Related Posts
The form you have selected does not exist.