How Would You Write Your Own Goodbye Letter?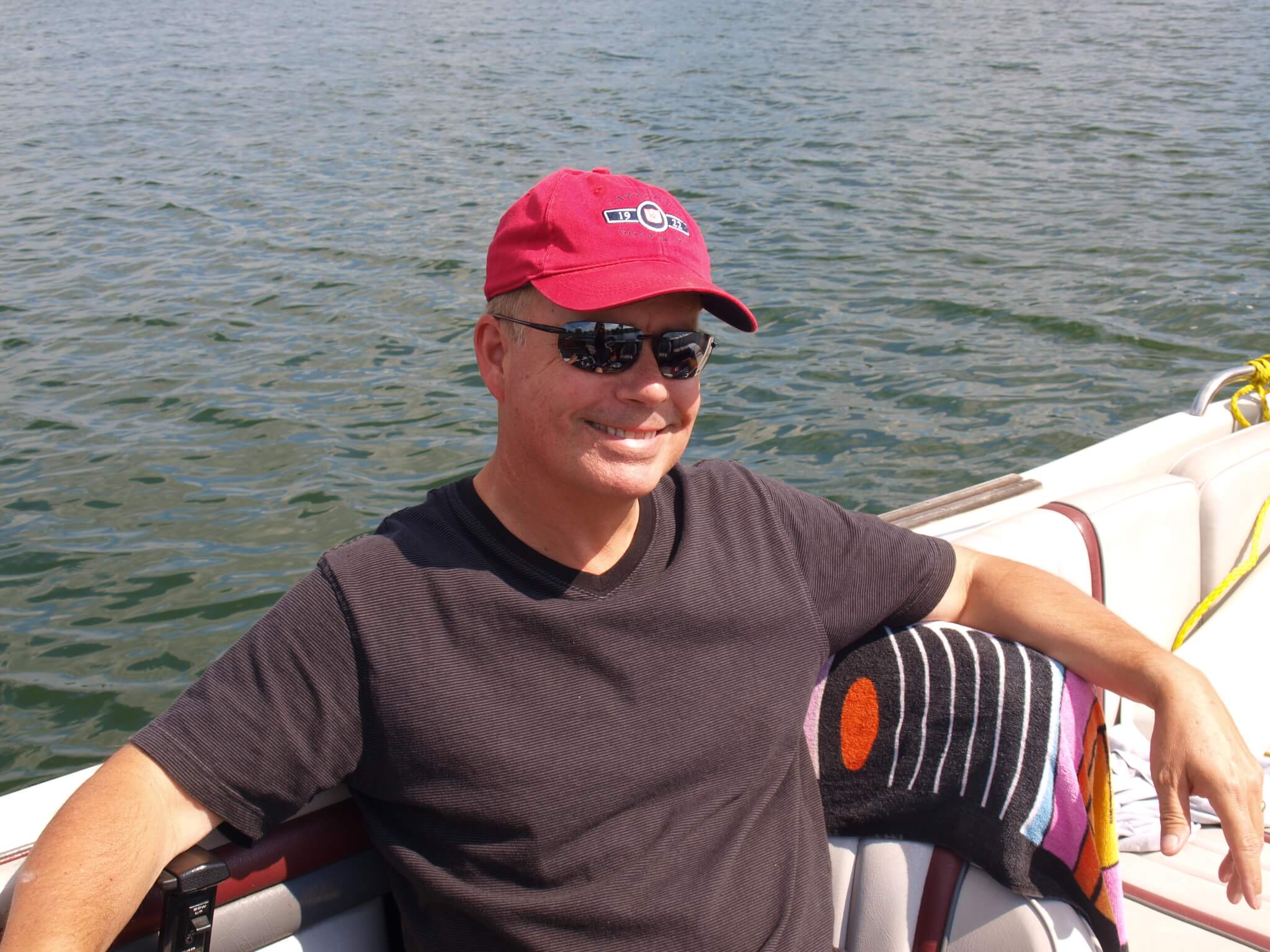 This post may contain affiliate links. Please read my affiliate policy for more information.
Short and Sweet Summary: If you knew you only had months to live would you be able to write your own goodbye letter? My husband was diagnosed with an incurable brain tumor and penned this letter less than 30 days after receiving the devastating news. Would your goodbye letter look anything like this one?
Not even thirty days after my husband's incurable brain tumor diagnosis, he penned his own goodbye letter.
He knew his Glioblastoma Multiforme tumor would kill him. He knew time wasn't on his side. So, while he was still of sound mind, he wrote his own goodbye letter to let everyone know he was OK.
I knew he wrote it. He told me he did. But he asked me not to read it until he was ready to show it to me.
I abided by his wishes, but when his mental acuity declined, we searched his hard drive and found it several months later. I still can't believe he had the forethought, right after his diagnosis, to write such a heartfelt letter.
He requested that we read it at his memorial service. I knew there was no way I could get the words out, so I asked the funeral director to read it instead.
The funeral director is a good friend of mine. He reminds me to this day how reading Mark's letter ranks at the top of his most memorable memorial service tributes.
Here's the letter in its entirety in case you ever wonder how one goes about writing his own goodbye letter.
Goodbye!
It isn't often a person has a chance to say goodbye for real. Every day you hear about some unfortunate soul having a funeral or memorial without the chance to say goodbye.
So let me start my goodbye letter.
The bottom line is that I have had a great life, a really terrific life. Yes, I wish it was longer. I wish I could have grown old with my wonderful wife, Kim. Yes, I wish I could have seen both of my wonderful boys grow into men and fathers.
Unfortunately, that was not how my life was meant to be.
So let me tell you why my life has been great, why I am a lucky man.
Let's Start From the Beginning
My life started out fantastic.
I was raised by two wonderful parents.
I had everything thing I needed, and my mother was active in everything from Cub Scouts to functions at school. We knew all our neighbors so if I did something wrong my mother knew about it before I got home.
My father worked very hard to give us all a good home and a good life. Even with his busy work schedule, he was first to volunteer for weekend Boy Scout trips and any number of other activities.
Now my parents are great at being grandparents.
They are always there to help us out watching the boys whenever we ask and especially on the late nights Kim and I had our Fisher Theater date night. They have always been there to witness everything from baseball games to piano recitals.
I really owe them a lot and I know they will continue to be there for Kim and the boys as time marches on.
The good news is that for some reason they come from a long line of relatives who live a long time. It looks like I cornered the market on brain tumors in the family.
I am confident that everyone else in the family will live for a long time. I'm counting on all of you to stay healthy and take care of each other.
A Shout-Out to the In-Laws
One of the benefits of having a wonderful wife is that I have great in-laws. Everyone has always treated me wonderfully. I've enjoyed getting to get to know all of you.
I know Kim's parents will continue to be there for her and the boys.
The visits to Florida have been great ways of catching up on what's been going on in everyone's life.
Even though the geographical distance is there, I know that the phone calls are keeping all of you up-to-date on the important things going on weekly.
Volunteering at the School
One of the great opportunities I have had as a dad is being active in the boys' school.
To all the teachers, administrators, and various volunteers I have had the privilege of working with let me say "thank you." I never would have dreamed how rewarding getting to know all of you could be (teachers and students).
When I first worked in Miss Farough's first-grade class to my time in Mrs. Shanahan's fourth-grade class and everywhere in between, it has been a real treat.
All of the teachers and staff have been wonderful in helping my family when it was really needed.
An Amazing Support Network
I'm amazed at the outpouring of support from all the people who brought over meals, listened to us when we needed to vent or took the boys overnight when we needed some quiet time.
Our friends are amazing. And the care and consideration taken to provide us with so many healthy, good tasting dinners was great. There were times when I felt guilty with all your generosity.
Thank you all so much!
I have fond memories of all the families I have had the privilege of knowing – from the Mom's Club to our wonderful neighbors – and all the special people I've met along the way.
I've really enjoyed watching your children grow up playing with mine. I know that you will continue to be a big part of the boys' lives as they go through elementary then high school and college.
Loyal Customers
To all the people I have had the honor of working with, be it from Aldoa to Sterling to Freiborne and all my loyal customers like Superior and Chemical Processing, thank you for working with me as things got difficult.
Kim got thrown into my business but is learning fast, and your support means more to me and my family than you'll ever know.
The one thing I've learned over the years is that the "people" part of the business is the real reward. I have enjoyed hearing about your husbands, wives, children, and grandchildren.
I have been lucky to have all of you in my life. Thanks for being there for me over the years.
The Hardest Part of My Goodbye Letter
Now the part I have been regretting the most. My last goodbye to Kim, Nicholas, and Christopher.
Where do I start?
I'll start with saying I have the best wife a man could ask for.
I remember our first date and I knew you were someone special. Every day since then has been a blessing. I don't think you could ever find two more compatible people.
I'm so sorry we don't get to grow old together because you really deserved to have that in your life. I can honestly tell you that we have packed more love as a family in our few years together than most people do in a lifetime.
Because you are a good person with a good heart and a solid moral foundation, I know I can count on you to raise both Nicholas and Christopher the right way.
Children learn by example and you are a great one.
They are polite, loving boys because of both of us and I know that will continue throughout their adulthood. As the years go by and they grow up and start their own lives, never let them forget that they had a father who loved them very much and will never stop loving them.
Nicholas, I remember bringing you home from the hospital like it was yesterday. Everyone said how much you looked like me. I also remember just as clear the day we brought Christopher home. He looks like his mom.
Your mom makes great babies. You are both damn good-looking boys. I love both of your happy faces and my favorite thing in the world was to hear "I love you, Dad." I remember asking both of you if you knew how much I loved you and you both would say "yes, you tell me all the time." 
Good for me as a father. 
If any of you know anything about me, you know that one of my goals is to have two great piano players in the house.
So far so good.
I am confident that even though they often complain about the lessons, they will graduate high school as accomplished pianists. I am confident that you will be listening to some quality piano playing as the years go by.  
Sage Advice
Nicholas and Christopher, I want both of you to make the best out of your lives. Accept all challenges with a positive mindset because you both can be anything you want to be.
You will learn more from your failures than from your successes, so I am officially giving you permission to fail and know that it's OK. That's how we learn.
I know through your mother's guidance you will continue to be kind, loving men. Remember you will always be brothers and no matter if you live thousands of miles apart, the family is always first.
There is one thing you must promise to do for me. I want each of you to take your mother out to dinner every Christmas season. Make it a nice restaurant and please, never forget. It's a tradition I started with Grandma Murray and it is worth continuing.
One of the greatest regrets of my life is ending my time with my wife so soon and not seeing both of my boys grow up.
It's not fair but it's my life.
As you boys grow up, continue to ask your mom about me and she will tell you everything she can. She knows me better than anyone and as I stated earlier, she will always let you know how much I love you. 
I know everyone is sad, but please remember that I had a great life. I love all of you!
Mark Murray
Son, Husband, Father and Friend – And a very lucky man.
Related Posts
The form you have selected does not exist.