Here's an unusual way to reduce your anxiety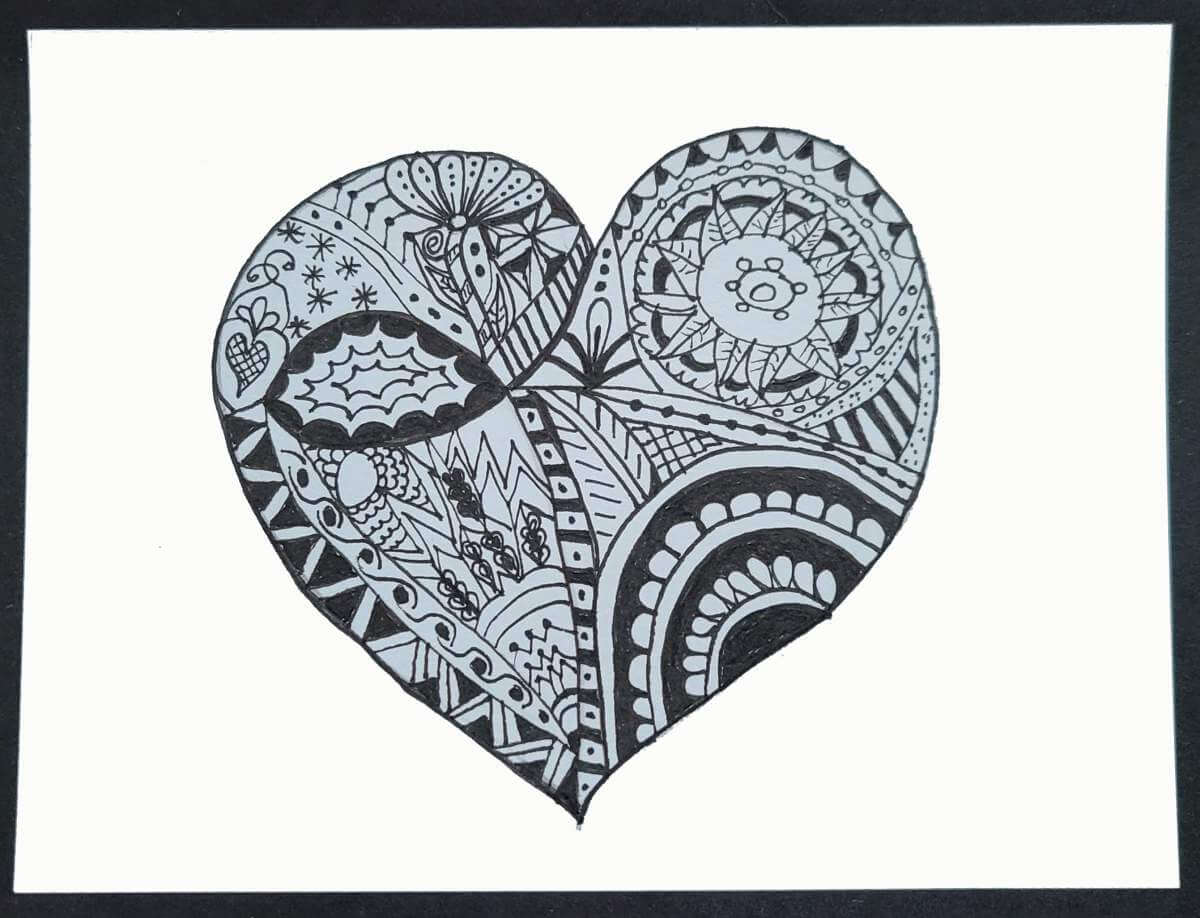 This post may contain affiliate links. Please read my affiliate policy for more information.
Short and Sweet Summary: When the dread that follows you around becomes too much to bear, try this unusual way to reduce your anxiety. Get in touch with your creative side, increase your self-confidence and let go of perfectionism all with the stroke of a pen.
When my kids and I attended a family grief support group after my husband died, the facilitators used art as a helpful form of grief expression. They hauled out the art supply bins weekly and instructed us on how to color memorial candles, paint Christmas tree ornaments and draw many, many heartfelt cards.
And, just for good measure, they suggested we share our creations with everyone else in the group. The kids loved sharing their art!
Me?
Not so much.
As good as the art exercises were for my kids, they were an angst-ridden mess for me. I hate to admit this, but I was terrified every time the markers and coloring paper came out because I can't draw. My heart pounded when I saw the art supply bins. I knew I'd have to share my hideous creations with everyone. It's like I was transported back to my middle school self who prayed the art teacher would never, ever call on me.
I felt stupid for feeling so insecure about my art skills, or lack thereof. It was quite debilitating and embarrassing. I don't know why I got all crazy lady about drawing because not everyone in the room was Leonardo da Vinci. The exercises were about expression, not perfection. But I let my anxiety get to me anyway.
Until I found Zentangles and figured out a way to exorcise those drawing demons. I learned to take pride in my creations once and for all.
And the best part?
This new way of creative expression taught me how to reduce my widowhood anxiety, too.
WHAT IS ZENTANGLES?
I decided that it was absolutely ridiculous how worked up I got over drawing in our grief support group. So I searched online for drawing lessons or courses or some simple way to learn how to draw.
And I found Zentangles.
According to Zentangle.com:
The Zentangle Method is an easy-to-learn, relaxing, and fun way to create beautiful images by drawing structured patterns. We call these patterns, tangles. You create tangles with combinations of dots, lines, simple curves, S-curves and orbs. These simple shapes are the "Elemental Strokes" in all Zentangle art. These patterns are drawn on small pieces of paper called "tiles." We call them tiles because you can assemble them into mosaics.
So you basically start with a line or curve and add tangles (patterns) at your leisure and discretion. Learning patterns is easy with various step-by-step instructions.
Each of these squares is a pattern. I was practicing patterns so I just sectioned off the paper into an equal number of squares. Next, I drew one pattern per square instead of trying to combine them into a more advance drawing. I even shaded some of the squares using a pencil and my imagination.
If I can do this, you can too!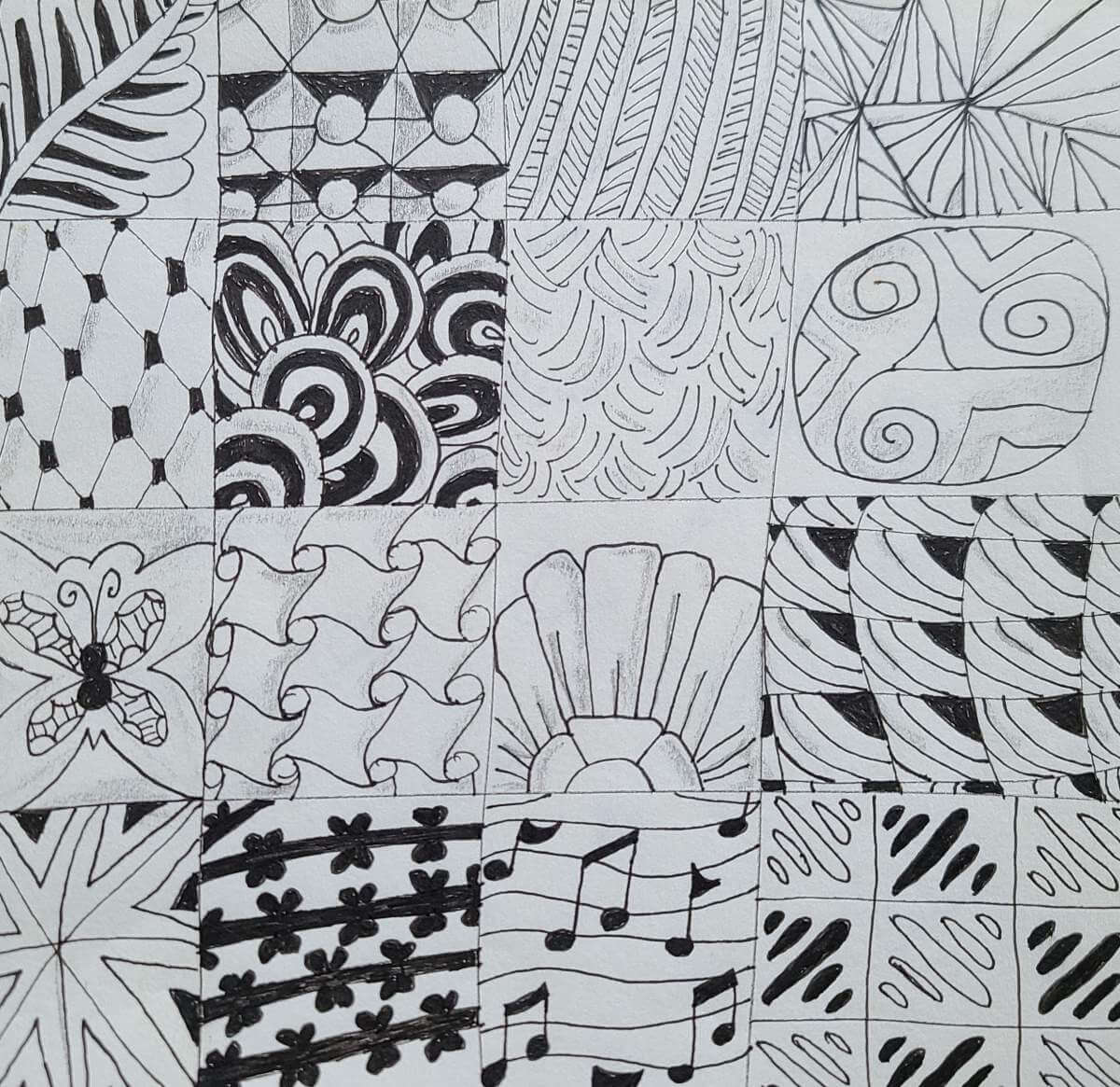 Even if you draw a line or pattern you don't like, or you missed a step on the instructions, you can change it by incorporating it into the design.
Because, there are no mistakes in Zentangles. As a matter of fact, the "no mistake" philosophy is preached pretty consistently among zentanglers. The Type-A perfectionist in me jumped for joy! Zentangles gave me permission to be imperfect!
I created patterns, made mistakes (or what I considered a mistake), changed direction and incorporated it into my drawing or started a new pattern and just keep going.
I could feel my anxiety melting away with each stroke of my pen.
Now, this way of drawing made sense to me. I didn't have to stare at a blank page and decide the end result (which is highly distressing to me). Also, I could start with one line, add to it as much or as little as I want, create a pattern and end up with an actual finished piece. I could take one hour or 10 days to complete it. Or, I could start one pattern and keep adding on to it or do one pattern per page.
The ideas are endless.
MY EXPERIENCE WITH ZENTANGLES
Zentangles helped me in our grief support group art exercises because once I learned how to draw a simple pattern, my anxiety over what to draw disappeared. I usually started with a line or curve, added some dots or zig-zags and off I went.
I noticed how calm I felt when I was drawing. So Zentangles also became my go-to exercise when the struggles of widowhood were to much to bear.
We all know widowhood is an anxiety-ridden rollercoaster. Add in caring for young kids and the anxiety exponentially increases. I was at my wit's end in my second year as a widow and I needed to release the overwhelming dread that followed me everywhere.
So, whenever I felt the anxiety tsunami coming for me, I took out my Zentangle supplies and got to drawing. I noticed that the more I focused on creating a Zentangle pattern, the less I worried about whatever I was worried about in the first place.
I mean, you can't be hyper-focused on two things at once, right? Anxiety or drawing? I chose to draw.
And I created some pretty amazing art. That's my heart drawing above at the beginning of this post. This flower tangle below is another creation I can't evem believe is mine.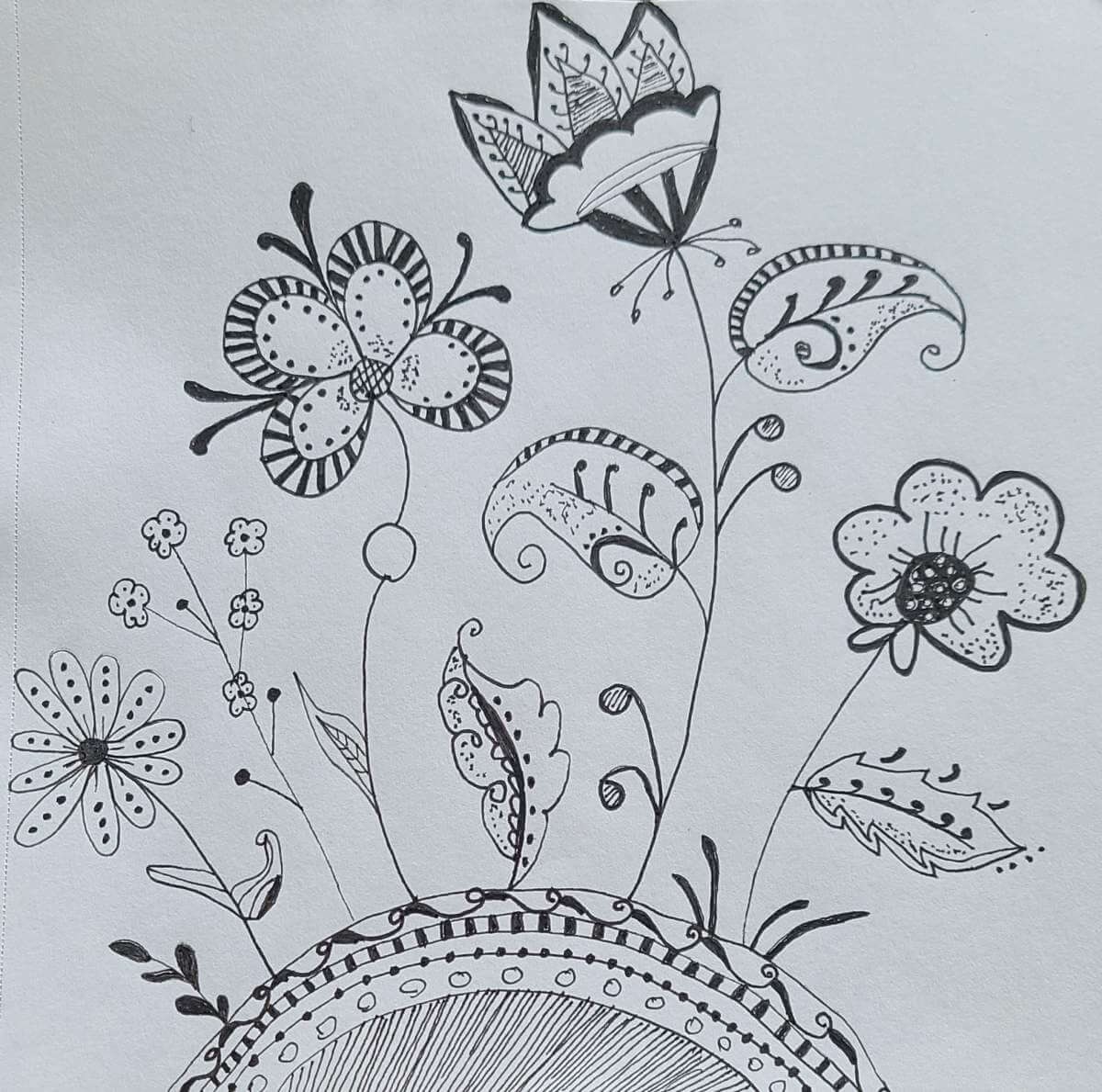 For someone who thought she couldn't draw, is a bona-fide perfectionist and has some ridiculously high standards, Zentangle allows me to create beautiful patterns without worrying about doing it "right."
The greatest thing about Zentangles is there are no mistakes. The fact that Zentangles encourages you to be perfectly imperfect helped me realize I could be perfectly imperfect in other areas of my life too.
I didn't have to have everything figured out beforehand. I could figure it out as I went along and change direction when needed.
In order to make it easy for me to draw, I keep all my supplies in a small bag by my living room chair. I just reach for my bag whenever I feel the urge to decompress and get away from it all for a few minutes or a few hours.
INCLUDE THIS UNUSUAL WAY TO REDUCE YOUR ANXIETY
If you're suffering from debilitating bouts of anxiety, it's important to redirect your brain away from doom-and-gloom thinking. The more you sit and contemplate all the things that are wrong or could go wrong, the more you facilitate your own suffering.
I'm not saying things aren't difficult or problematic in your life. I'm sure you have lots of reasons to be anxious. I know I did. But you still have control over how you react to those situations. You can decide to limit the amount of anxiety you feel by giving those anxious thoughts less prime-time programming.
When you give your brain something else to do besides think horrible thoughts, those horrible thoughts can't take up extra space in your brain.
BENEFITS OF ZENTANGLES
The benefit of using something like Zentangles to reduce your anxiety is that you:
ALL YOU REALLY NEED TO GET STARTED
You don't have to buy supplies to create tangles. If you'd rather get a feel for it before investing in any materials, you can Google "Zentangles" for patterns, watch YouTube Videos with step-by-step instructions or save Zentangles pins on Pinterest. And draw everything with a regular ol' pen or pencil and a piece of paper.
But, honestly, once I figured out the Zentangle benefits, I was all in. You can go crazy over Zentangle supplies but I've included a list here of what I used to get started.
All you really need are an illustrated guide, some good pens, and decent paper.
The Joy of Zentangle is a useful guide to start with because it showcases over 100 tangle patterns that are perfect for a beginner. I used this book to learn how to draw simple patterns to incorporate into my own tangles.
Micron pens are often used in Zentangle because they glide smoothly on paper and don't bleed through. The different sizes allow you to decide how fine you want your detail to be. You'll notice a marked difference in using Micron pens vs. a ballpoint or some other pen when you start drawing.
This size paper is perfect for practicing Zentangle patterns. The tiles are 6 x6 inches so you can draw one large pattern per tile or use the tile to create multiple patterns. It's easier for me to draw in a smaller, contained space.
WIDOW WRAP UP
If you struggle with anxiety like I did, you have to give your brain a break from the constant 24×7 worrying that accompanies the many facets of widowhood.
It's not wrong to feel anxious and I'm sure you have many legit struggles, but it's not healthy to be on high alert all the time. It's important to give your brain something else to do besides think horrible thoughts all day long.
This simple and unusual way to reduce your anxiety lets you opt out of doom-and-gloom thinking and make way for lots of creative fun. You don't have to have an ounce of artistic ability (I didn't) to follow patterns and create beautiful Zentangle designs.
Anyone can do this.
I know for sure if I can do it, you can too.
So, what are you waiting for?
Go get in touch with your creative side, increase your self-confidence and let go of perfectionism all with the simple stroke of a pen.
Related Posts
The form you have selected does not exist.