Unique Memorial Ideas to Honor Your Dead Husband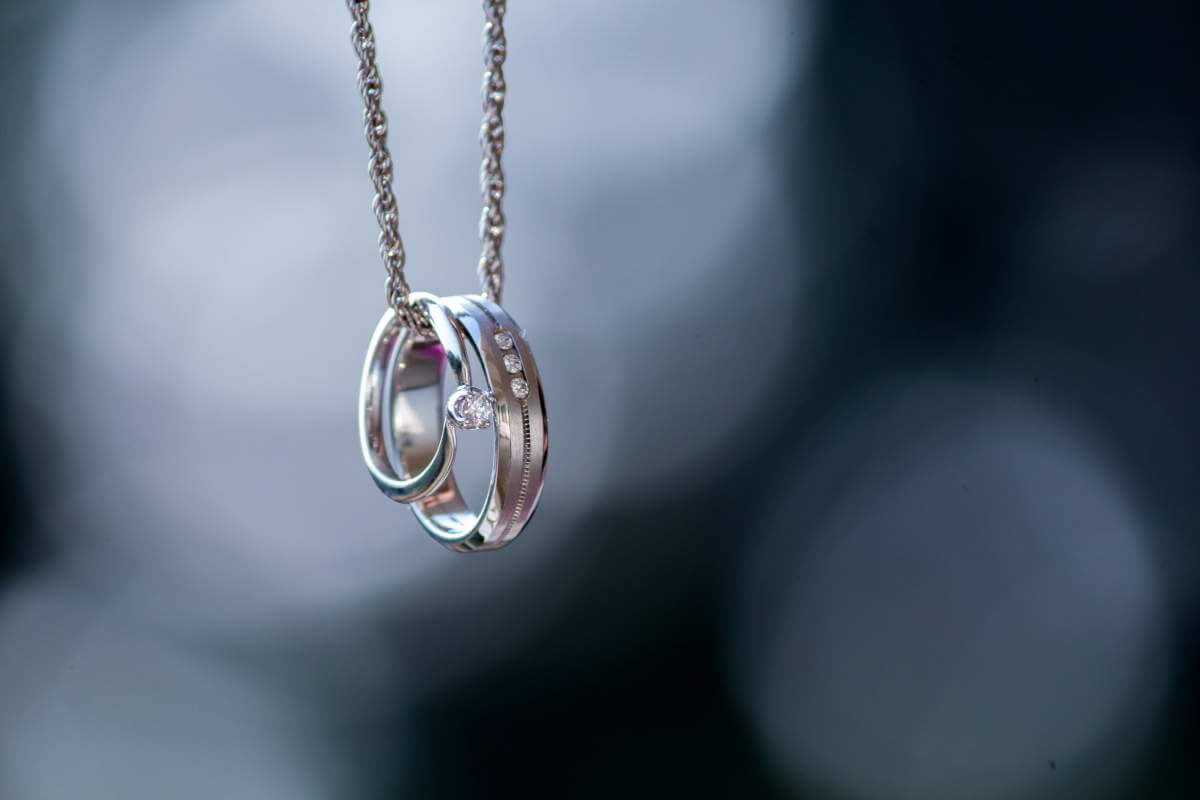 This post may contain affiliate links. Please read my affiliate policy for more information.
Short and Sweet Summary: There are lots of creative ideas to honor your dead husband through keepsakes, tributes and dedications. If you're looking for unique ways to ensure your husband's memory lives on, consider these one-of-a-kind ideas.
Are you searching for ways to celebrate your husband's life and honor his memory?
Maybe you're coming up on an angelversary. Or maybe you're just restless and long to give meaning to your deceased spouse's existence.
If you're looking for unique ways to honor your dead husband and ensure his memory lives on, consider these creative suggestions. Imagine creating something that lasts not only for this generation but possibly for future generations to come.
We widows know how hard it is for others to keep saying our deceased spouse's name. Remind people it's OK to say his name when you proudly display these memorial ideas to remember your loved one who died. It's important to honor your dead husband in a way that speaks to you, and no one else.
I've personally created a keepsake book, created new jewelry out of my wedding ring and planted tress in my husband's memory.
Which one of the following creative, one-of-a-kind ideas will you choose?
CREATE A KEEPSAKE BOOK
A fun way to create a lasting memory is to create a keepsake book. The book can either be a book of remembrance with family pictures or a memorial book with pictures of your husband's prized possessions. Or maybe even just a book of things that remind you of him.
By taking a picture of special items that belonged to your husband, you can preserve the memory without the need to keep the actual item. You could create a memorial book with short blurbs describing what you know about the object or your special memory of it. Maybe even enlist friends and family to help write their own special memories regarding the object/picture.
My favorite way to create keepsake books is by using Mixbook – I've had remarkable success creating Mixbooks over the years. I love their templates. Choose from pre-made templates or personalize your memory book by making your own template.
Shutterfly is another option with easy-to-use templates and complementary elements to coordinate your keepsake book.
MAKE NEW JEWELRY OUT OF OLD JEWELRY
A big question for widows is how long to wear your wedding ring?
There's no right or wrong answer, but it's possible to take your wedding ring and create a new piece of jewelry out of it. That way you're not abandoning your wedding ring, you're just repurposing it.
I had the diamond removed from my wedding band and created a necklace out of it instead. That way the diamond is closer to my heart anyway 💗. I then created a new birthstone ring out of my wedding band.
The ideas are endless. If you're on the fence about what to do with your wedding ring, talk to a jeweler about how to create a new piece of jewelry instead.
THE MAP OF EVERYONE
The Map of Everyone helps you to create personalized, wall-worthy prints that celebrate the places that mean the most to you. You come up with the landmark memory and the Map of Everyone creates a beautiful personalized print of where it happened.
PARTICIPATE IN (OR START) A FUNDRAISER
If your husband supported a particular charity or cause you can take part in a fundraiser in his name. Or, if you'd like to support a new charity or cause you can do it in honor of your deceased husband to acknowledge him year after year.
If you're having trouble deciding on a fundraiser to support, you can start your own. Tell your story and connect with donors using Fundly.
COMMEMORATIVE BRICK PAVERS
Many zoos like the Detroit Zoo or St. Louis Zoo offer an option to purchase brick pavers with your own inscriptions as a unique way to honor your deceased husband. Check with your local zoo to see if they offer a similar program.
You could write a 1-3 line verse or use his birth and death dates as the inscription. Or just inscribe with your family member's names.
The options are varied depending on the size of the commemorative pavers and how many lines of text they can support.
MEMORIAL OR CREMATION JEWELRY
So many talented, creative people create memorial jewelry on Etsy. There are literally thousands of entries if you just search "memorial jewelry" or "cremation jewelry."
Because thousands of entries can be overwhelming and not all memorial jewelry relates to widows, you might want to just look at memorial gifts specific to a spouse.
You'll find options for all kinds of necklaces, bracelets, and rings, but to narrow it down even further you can create unique memorial jewelry from your spouse's handwriting or ashes.
Or carry your spouse's ashes in a special locket.
PHOTO CANVAS
Another great Etsy find is a memorial photo canvas with angel wings that lists your spouse's birth year and death year along with the phrase: I will carry you in my heart until we meet again.
Or a different option is a personalized sympathy print with the phrase: Your wings were ready but my heart was not.
MEMORY BEAR OR PILLOW
If you can provide a shirt your spouse used to wear, this talented Etsy creator can make you a one-of-a-kind memorial teddy bear or pillow.
Or do a generalized search on Etsy to see all of your options.
MAKE A T-SHIRT QUILT
Did your husband have a whole t-shirt collection you don't know what to do with?
How about ordering a t-shirt quilt from Project Repat. These t-shirt quilts are made in American factories by workers earning a fair and living wage.
Choose a size between lap and queen, send in your t-shirts, and receive a meaningful, beautiful quilt in just a few short weeks.
CHOOSE A GARDEN STONE
When my husband died someone gave us a garden stone that I cherish.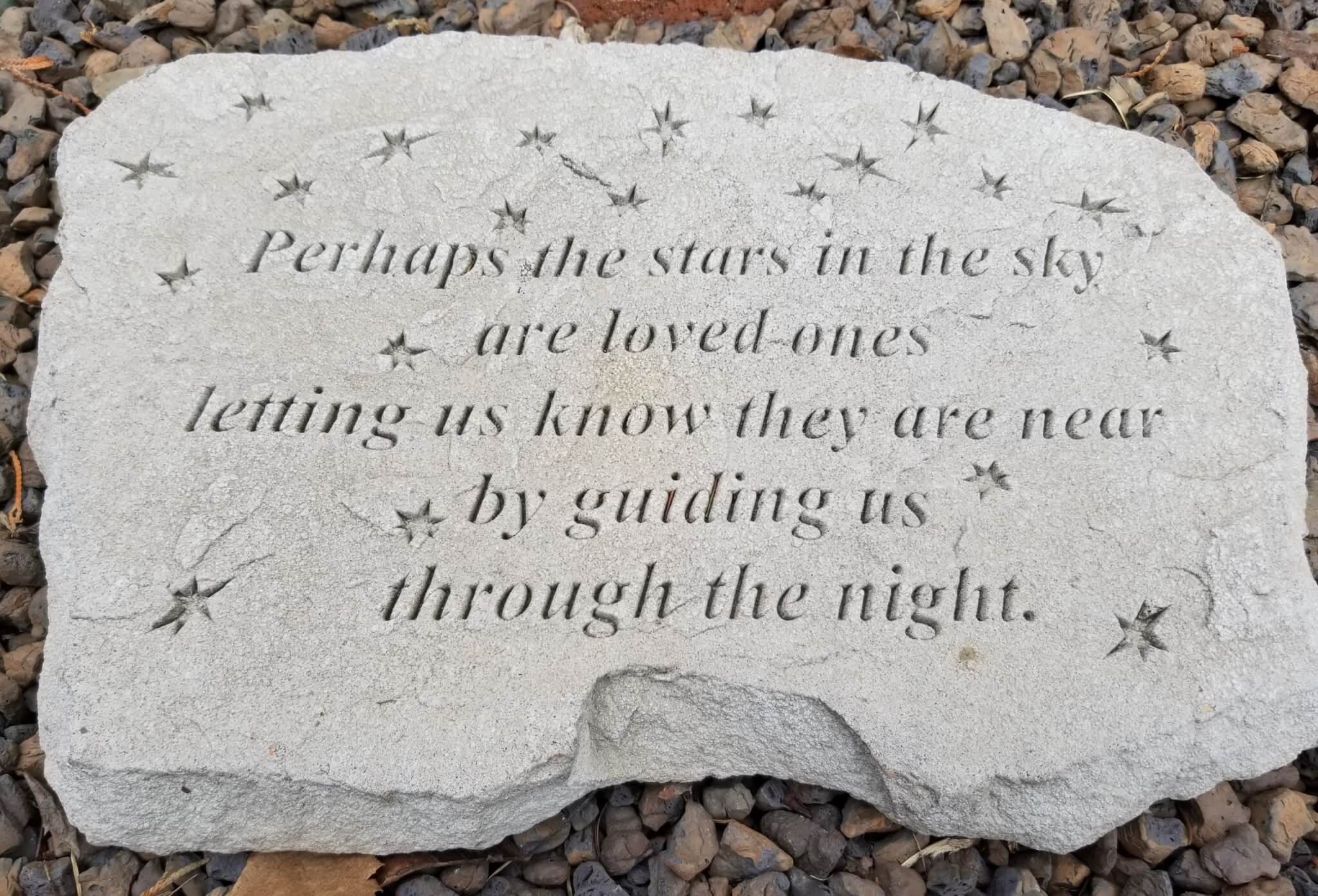 You can find a similar one here that includes personalization. Or search for other sayings or other sizes here.
PLANT A TREE
The Arbor Day Foundation will plant a tree in your spouse's honor. Not only can you memorialize your spouse's life, but you can also contribute to the Arbor Day Foundation's reforestation efforts.
Or plant a tree/bush or other landscaping item in your own backyard.
Planting a tree in your spouse's memory benefits everyone in this life and generations to come.
GET A TATTOO
Lots of widows get tattoos with their late spouse's handwriting, heartbeat, a favorite picture, or whatever else you can think of. If your husband was cremated, you could add his ashes to the tattoo for a really unique spin.
Kids who've lost parents get tattoos, too. My son got a tattoo above his heart with his dad's initials.
You can always search Pinterest for memorial tattoo ideas.
NAME A STAR
A very unique way to honor your spouse is to register and name a star after him at the Online Star Registry.
After the star is registered, you'll receive a gift pack with a star certificate and instructions on how to use the star finder app. You can even create a customizable star page.
WIDOW WRAP UP
There are lots of creative ideas to honor your dead husband through keepsakes, tributes, and dedications.
These one-of-a-kind ideas are a great place to start when you're ready to give meaning to your deceased spouse's existence. Some of these ideas ensure that his memory lives on forever and last for generations to come.
Related Posts
The form you have selected does not exist.