Widow Warriors – Donna Carcich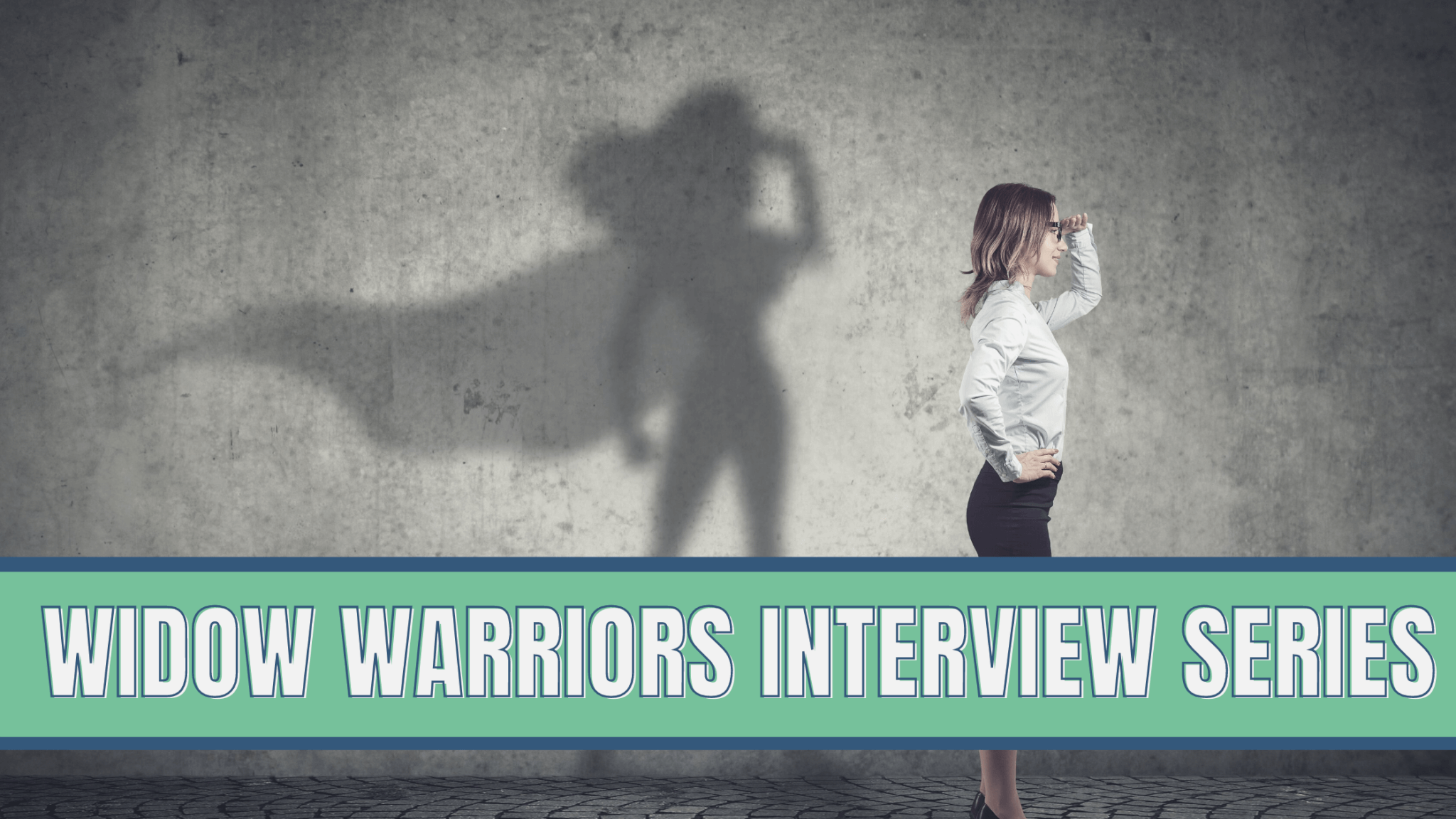 This post may contain affiliate links. Please read my affiliate policy for more information.
Short and Sweet Summary: In this series called Widow Warriors – Life After Widowhood , I interview widows who share their stories about how they've moved forward with grace, jumped out of their comfort zone and accomplished extraordinary things. These widows are here to show you the way. To help you see a sliver of light where there wasn't any. Here's the story of one of our amazing widow warriors – Donna Carcich.
As a part of this interview series, I had the pleasure of interviewing Donna Carcich.
I asked Donna to share her story because her upbeat demeanor intrigued me. Here she was, widowed less than three weeks prior, emailing me all about her breast cancer treatments and how she was driving herself to and from her radiation appointments. I'm thinking to myself, how is she doing this all alone?
When I tell people we widows have to do EVERYTHING by ourselves, I don't think people understand that can literally mean everything. And Donna is an excellent case in point. Sometimes widows must go through, and drive themselves to, their cancer treatments alone. 
So, I really wanted Donna to tell us a bit more about her widow story because she's an inspiration to me and I know she'll be an inspiration to you, too. 
Here's a bit of background before we begin:

What's your widow story? Can you tell us when & how your spouse/partner died? 
Frank and I both developed a sore throat and a cough on February 4, 2021. 
I felt better in two days, but Frank did not. By the weekend, he wasn't feeling well, but didn't want to go to the doctor. Neither of us had a fever, so we didn't think anything was terribly wrong. 
Frank started having diarrhea for a few days, which wasn't a big deal for him since he had a sensitive stomach. This aggravated his hemorrhoids, though. These two issues were causing him a lot of discomfort. He then developed breathing issues. On February 11th, he told me he wanted to go to the emergency room. I had been asking him all week if he wanted to go to the doctor and he said no. Around 6:00 pm that evening, we went to the COVID testing site at the hospital. I couldn't stay since I had no symptoms. I went back to the car and waited. A few hours later, he called me and said he was being admitted because he tested positive for COVID. He said to go home and would call me the next day. They transferred him to the COVID ICU when his treatment started.
Frank was delirious because the doctors prescribed high doses of steroids. He called me saying they were hurting him, and he asked me to please pick him up and call the police. I was beside myself with worry, and I didn't know what to do. Then our doctor called and said Frank had calmed down.
He was in the ICU for two months and I never saw him again.
None of the numerous procedures the doctors tried worked. He was on a ventilator for two weeks and developed a lot of issues as a result. He had three brain scans plus other various tests. His brain function was good, but he just didn't wake up.
On April 2, 2021, the doctor called to tell me that Frank had a temperature of 103 degrees, pneumonia and had suffered cardiac arrest. 
He passed away a few hours later. My 73-year-old, active, healthy, full-of-life husband who had no underlying conditions was gone. 
This was four days after my surgery for Stage 1 breast cancer. I was diagnosed in December 2020 and we were supposed to go through my cancer journey together. After Frank died, I drove myself to every radiation treatment and all my doctor's appointments by myself. 
Thankfully, I am now cancer free, but Frank wasn't here to share the good news.  
What was life like for you in those early days post death? 
I was grieving, but I was also recovering from Breast Cancer surgery. I had postponed the initial surgery in February because Frank was in the ICU, and I couldn't focus on myself. 
When I woke up in the morning, the first thing I would do was cry. I'd cry for myself and for my husband's suffering. I relived the days when Frank was in the ICU and the nurse would FaceTime me. Even though Frank was unconscious, I still talked to him. I took photos of him lying in that damn bed with all the tubes and machines attached to his body – I was looking for any sign of recognition! Every time a nurse or doctor called, I took notes and reread those notes to see if I missed any information they were telling me. I even typed them up for Frank in case he wanted to know about his care when he came home. I prayed every day for his recovery.
After Frank's death, my friends always called, texted, and visited. My friends were and still are amazing.
What surprised you the most about your grief? 
How hard it hit me every time I'd hear a song, look at photos, or even see a favorite pair of his socks. I felt I would never enjoy the music we shared, our favorite restaurants, or even our vacations every again. It also felt like I was erasing Frank's identity when I took his name off accounts or transferred the car to my name. I was sad whenever I saw the words "estate of."
Did you seek out any support options like grief support groups or therapy? What was the most helpful or least helpful and why? 
I attended Zoom COVID Grief Counseling Sessions for eight weeks. My hope was it was only for spouses, but it was for anyone who lost a loved one because of COVID. I met a few nice people who I am still in touch with. It was nice to talk with other people. I think it helped. 
What's your work situation like? Did you work prior to or after your spouse's death? How has that helped or hindered you?
I retired in 2015, so I did not have the diversion of work to occupy my mind. 
What coping strategies do you find the most helpful?
I like to laugh. I have a wonderful sense of humor which I haven't lost. 
Did you make any major life changes after your spouse died? Can you elaborate on what changes you made and how you feel about your decision now?
Once I was cancer free, I volunteered at the hospital that treated Frank and me. I also attended post cancer treatment counseling sessions via Zoom. The other women in the counselling sessions went through so much more than I did. I felt thankful that I was healthy, even though I was grieving. They unknowingly supported me through my grief process as well. 
When and how do you think your healing truly started?
I realized I was healing when I didn't wake up crying or have a feeling of despair and when I stopped waiting for Frank to walk through the door. I talk to him all day, every day, like he is still here. Frank had a beard and even seven months after he died, I still find hair from his beard when I'm cleaning the house. It's very comforting and I say, "thank you Frank!"  
How did you decide to turn your negative experience into a positive one? Were there any "aha" moments that stand out to you?
I help as many people as I can. Volunteering has helped so much, and I've made new friends. I make sure I keep in contact with my friends, old and new. 
What is the most important thing you've learned about yourself as you cope with widowhood?
I am strong, and I am very decisive. When I say I'm going to do something, I do it.  
Are you dating and/or remarried? How and when did you decide to start a new relationship?  What's the best thing about your partner?
No. I keep saying I would never date again, but everyone tells me never say never! 
How are you living your best life now? What's the key to moving forward with grief? 
I am living my "now" best life, which is different from my "old" best life. When I was married, I focused on my husband. If he didn't want to do something, we didn't do it. Now I do what I want. My husband always made dinner. He never wanted me to help or try anything new. He would ask me why I watch cooking shows. Now I amaze my friends with my cooking. It was always a joke that Donna can't cook. I love trying new recipes.
If you could go back and share one piece of advice to your newly widowed self, what would you say?
I can't believe I'm saying this, but it will get better, the crying will stop, and the happy memories will sustain you for the rest of your life. 
Want to read more Widow Warrior interviews?
Click here for all the Widow Warrior interviews – conveniently listed on one page!
Related Posts
The form you have selected does not exist.