Widow Warriors – Michelle Collins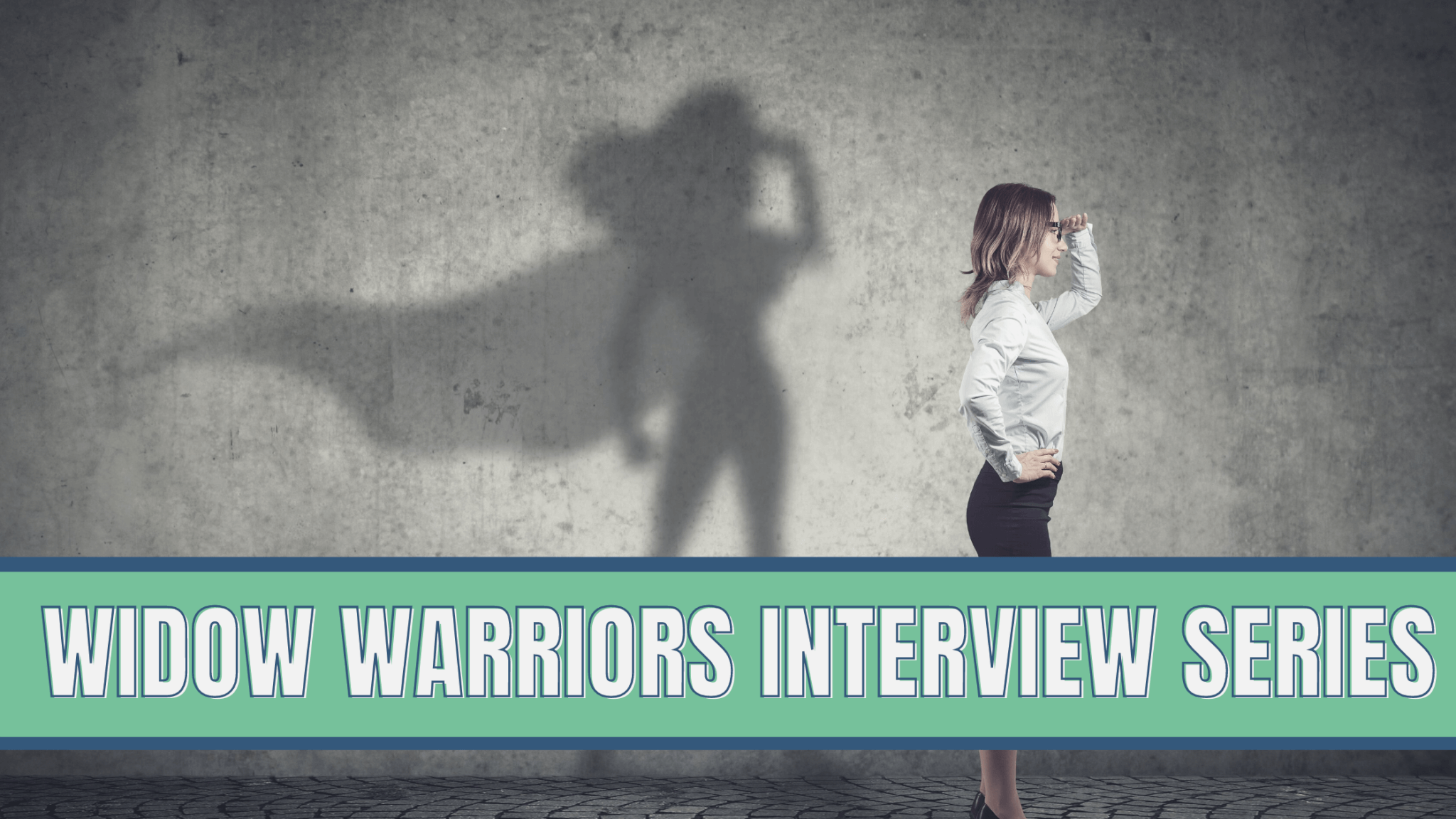 This post may contain affiliate links. Please read my affiliate policy for more information.
Short and Sweet Summary: In this series called Widow Warriors – Life After Widowhood, I interview widows who share their stories about how they've moved forward with grace, jumped out of their comfort zone and accomplished extraordinary things. These widows are here to show you the way. To help you see a sliver of light where there wasn't any. Here's the story of one of our amazing widow warriors – Michelle Collins.
Content warning: This blog post contains references to suicide that may be triggering for some individuals.
As a part of this interview series, I had the pleasure of interviewing Michelle Collins.
I asked Michelle to share her story because, as the founder of Inhabit Joy, Michelle partners with individuals who have suffered grief, injury, or other types of loss as they recover, reclaim their wholeness, and build resilience for life's inevitable challenges.
With the addition of a certification in grief education and several bestselling books in which she shares her story, Michelle is helping others transform from barely surviving to joyfully thriving.
Here's a bit of background before we begin:

You can find more information on her books, Surviving Spouse or Partner Suicide Loss and Supporting a Survivor of Spouse or Partner Suicide Loss, on her website here.
What's your widow story? Can you tell us when & how your spouse/partner died?
My husband, Glen Collins, died by suicide at age 51 in 2016.
What was life like for you in those early days post death?
I was devastated, barely ate, barely slept, and I was very anxious.
What surprised you the most about your grief?
This is a great question! I think what surprised me most was how long the really dark times went on, and the giant ripple effect it had through the rest of my life.
Did you seek any support options like grief support groups or therapy? What was the most or least helpful and why?
I did. I sought everything.
My therapist was great, but after I developed PTSD I went to a trauma therapist and she really helped me learn how to calm my nervous system enough to start the healing process.
Returning Veterans Project helped me with counselling services, and I really made significant progress when I started attending Tender Hearts at Grief.com. Eventually, I became certified as a grief educator and it helped me heal further.
The least helpful were some of the Facebook groups I joined. At first, small groups can be very, very supportive, like Widows Guide to Healing, which I still visit often. But some groups, once they grow big and stop monitoring members (like some suicide loss groups, which I won't mention by name) allow graphic posts that are very disturbing.
What's your work situation like? Did you work prior to or after your spouse's death? How has that helped or hindered you?
Prior to my spouse's death, I worked as a yoga teacher, yoga therapist and coach. However, I didn't work for six weeks after he died and actually lost one of my jobs because of my absence.
I couldn't function, much less teach yoga, so I didn't give my employer a time when I might be back. They had to give another teacher my classes. Overall, it turned out well because I ended up working in more places I loved and doing more yoga therapy and less general yoga classes, which is what I wanted.
As I continued my grief journey, I found writing to be very healing, so I ended up writing for several group authorship books and now have two books on suicide loss. I certainly never envisioned that happening.
Did you experience any physical or mental setbacks? What was that like and how did you recover?
I experienced setbacks like crazy.
After Glen died, lack of sleep and not being able to eat really shredded my health. I also became dependent on drugs to ease my suffering (and drug dependence, as we know, ultimately only increases suffering).
So when I got very sick and about 6 months after Glen's death, a friend threatened to put me in rehab. That really changed things for me. I quit drugs, and eventually even became alcohol free.
I've learned that taking care of my physical body is key to how I feel emotionally, and I need to take care of myself to maintain my resilience and strength.
What coping strategies do you find the most helpful?
Well, I'm a yogi, so of course yoga. I would also include mindfulness and meditation as helpful strategies without question. Spending time in nature, self-compassion, and gratitude practice all help so much.
Did you make any major life changes after your spouse died? Can you elaborate on what changes you made and how you feel about your decision now?
OH MY GOODNESS! Did I ever make some major life changes.
I added a grief educator certification to my repertoire. In addition, I studied mindfulness and meditation and am becoming a certified teacher in the field. I also started writing about grief, trauma and loss, recovery, and resilience.
I volunteer moderate grief groups and am a peer mentor to other suicide widows. So yes, everything changed, and I feel great about all of those decisions. The more people I can reach to teach tools to help them suffer less, the more meaning I give to my loss.
When and how do you think your healing truly started?
About 11 months after Glen died, with the help of my trauma therapist, I stopped doing drugs and cut way back on my drinking.
I also went to a mediation retreat at the Chopra Center for well-being. While I was there, I practiced mantra meditation and really felt like I came back home to my body for the first time since Glen's death.
I am still meditating daily and practicing mindfulness. I believe those two things were the biggest boost to my healing.
How did you decide to turn your negative experience into a positive one? Were there any "aha" moments that stand out to you?
This is a two-part answer.
The first part of the answer is about nine months after Glen died, the husband of a good friend of mine died by suicide. Of course she called me. At first I was so hesitant to take her call because I was still so deep in grief and trauma I didn't think I could help. But talking with her over the next several months really made me realize that even though I was only nine months ahead of her on my journey, I could be helpful by being there, listening, and commiserating. I couldn't fix anything, but it made me realize that because of my experience, I could actually be comforting and helpful to another.
The second part of the answer is not something I decided but was told.
On the day I spread Glen's ashes, on the one-year anniversary of his death, I actually got a message from the other side. Call it God or the Universe or Spirit or my soul, or maybe it was from Glen, but I heard a voice telling me to write a book about surviving my husband's suicide.
I went through several book coaches, drafts, and advanced avoidance techniques, but finally, after five years, I finished writing the book Surviving Spouse or Partner Suicide Loss. The night I turned in the draft to my publisher, I got another message to write a book for supporters of suicide loss survivors, and I wrote Supporting a Survivor of Spouse or Partner Suicide Loss that week.
What is the most important thing you've learned about yourself as you cope with widowhood?
I have learned that even though I don't always feel strong, I am very strong.
I'mindependent. I can change lightbulbs, fix computers, hang pictures, and do all the things by myself that I need to do to keep the house going. Sometimes I'm really mad that I have to do these things by myself, but I am also a little proud of myself.
I even learned a trick to zip up my dresses all by myself.
Sometimes I hate it, and that's ok, but I can do it.
Are you dating and/or remarried? How and when did you decide to start a new relationship? What's the best thing about your partner?
I have tried to date a few times but haven't found a good match. I am certainly open to it, but I've created a really wonderful life for myself and am unwilling to compromise my independence and freedom, so he is going to have to be really kick ass.
Happiness, fulfillment and joy all come from within. I have become a really whole person. I miss companionship for sure and would love a partner to share all the good things life offers, but if I never find one, I know I'll be okay.
Whew, never thought I'd say that!
How are you living your best life now? What's the key to moving forward with grief?
My best life now is filled with only what I want it to be. I have fought hard to become resilient and independent, and I relish my freedom. I am fiercely protective of my independence and self reliance.
The key to moving forward with grief is knowing that you are still here, you are still a living, breathing human worthy of love and deserving of joy. We must live a life of joy and fulfillment while we are still here.
The love of your late spouse will always be with you and love lives forever.
If you could go back and share one piece of advice to your newly widowed self, what would you say?
Oh so much!
I guess If I have to narrow it to one thing it's be kind to yourself. You don't have to do everything at once. You can take one step at a time, one breath at a time, one day at a time.
And you will not always feel the way you do now.
Want to read more Widow Warrior interviews?
Click here for all the Widow Warrior interviews – conveniently listed on one page!
Related Posts
The form you have selected does not exist.