Widow Warriors – Terri Butzbach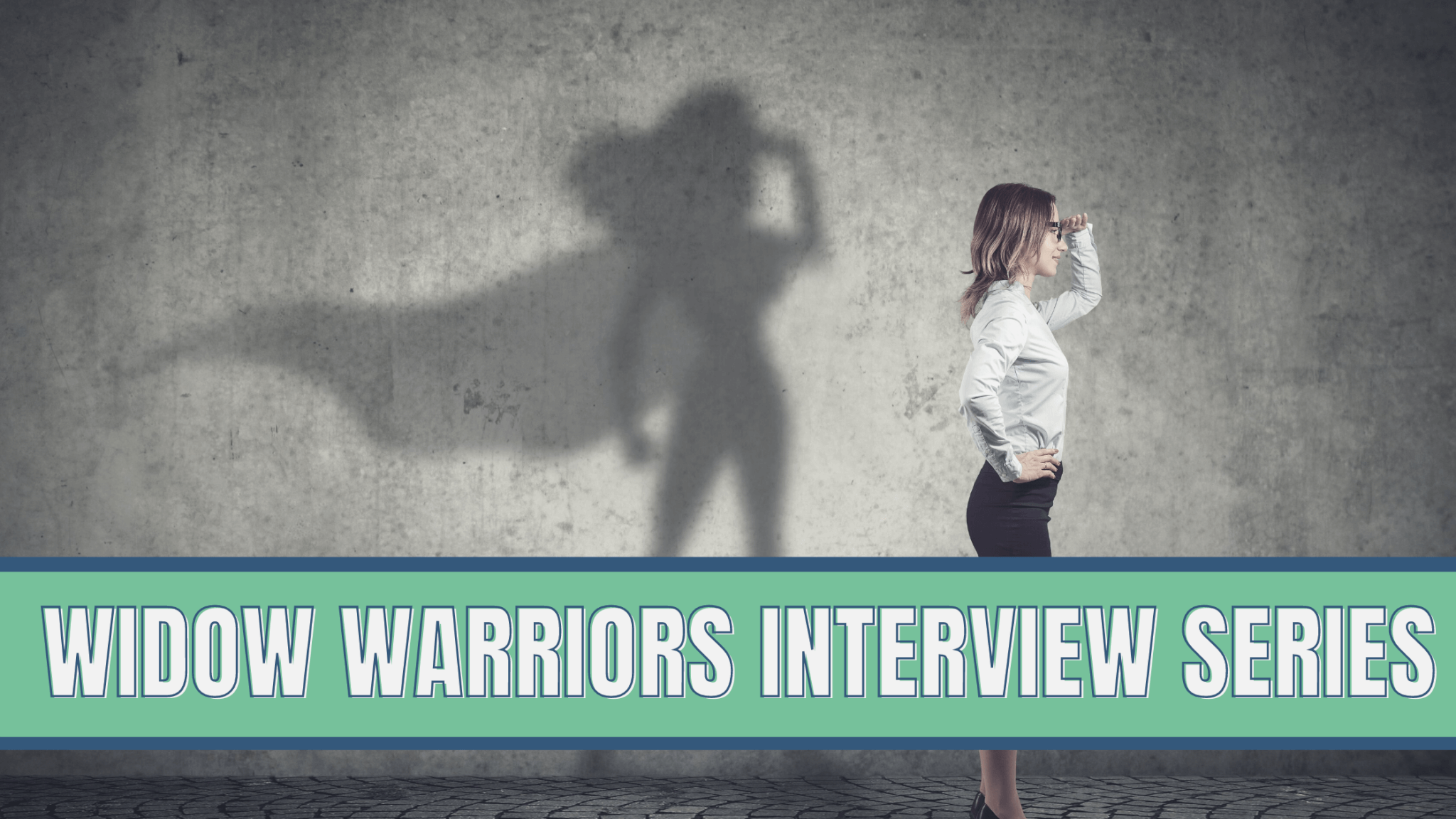 This post may contain affiliate links. Please read my affiliate policy for more information.
Short and Sweet Summary: In this series called Widow Warriors – Life After Widowhood, I interview widows who share their stories about how they've moved forward with grace, jumped out of their comfort zone and accomplished extraordinary things. These widows are here to show you the way. To help you see a sliver of light where there wasn't any. Here's the story of one of our amazing widow warriors – Terri Butzbach.
As a part of this interview series, I had the pleasure of interviewing Terri Butzbach.
Terri's husband, like mine, died of Glioblastoma, so we've gotten to know each other over the years through our shared history of experiencing this awful terminal cancer and its aftermath.
But that's not why I wanted to interview Terri.
I asked Terri to share her story because I was so impressed with her courage to move and start over somewhere new after her husband died. I know she struggled with the decision because she planned to move to another state with no family and no friends around. But she also didn't think she could move forward with her grief if she didn't move. A conundrum, for sure.
Now I'll let her tell the rest of the story.
Here's a bit of background before we begin:

What's your widow story? Can you tell us when & how your spouse/partner died?
My husband, Tom, was a handsome, healthy 59-year-old, and we were living our best life and preparing for his retirement. Every single morning, my husband would send me a "good morning" email before 9:00 am. On November 19, 2018, the email never arrived. I started having a terrible feeling in my stomach and at 9:20 am, Tom's director at work called to tell me that Tom suffered a seizure and was being rushed to the hospital.
As I listened to that message, I truly knew in my heart this was the beginning of the end for my love.
I arrived at the hospital to find Tom alert but unaware of his surroundings and unable to process what was happening. Within a few hours, the doctor found two tumors on his brain's left lobe. They brought in a specialist and asked us tons of questions and, of course, the word cancer kept coming up, but Tom was in complete denial.
I knew something bad was coming.
The doctor said he would need to do a biopsy to confirm what he suspected. But after he removed Tom's tumors, the doctor told me Tom had Stage 4 Glioblastoma without needing to see the lab results. There's no cure for Glioblastoma and the doctor said Tom had less than a year to live and whatever time he had left would be difficult.
When Tom came out of his surgery, it was immediately apparent he wasn't the same. He struggled to speak, couldn't process information, and lost parts of his memory. He couldn't read very well, and he had a sense of anger about him he never had before.
The care team never sat us down and said exactly how much time he had, what would happen over the next months, or what to expect. All I knew was I had to get it together and take care of him 100% now. You see, Tom was my everything on every level and in every aspect. But within days, I felt the most excruciating pain as I watched his capabilities leave him little by little.
I had to take over the world he created for me.
Tom started radiation and chemo that February. On March 22nd, my 49th birthday, the doctor told us he thought the tumor grew back already. By the end of April, Tom suffered a seizure so severe they had to resuscitate him three times. I sat in the waiting room in total despair and disbelief because I knew what was coming. But I wasn't ready for it this soon. I dropped to my knees and begged God for more time.
As a result, I quit my job to be his full-time caretaker and the challenge began when I brought home a very different man, almost like a stranger. He couldn't comprehend things, basically had no short-term memory, couldn't go up and downstairs or dress himself and struggled to walk. Over those first few weeks home, I mourned my husband but fell in love with the new version of him – head over heels in love.
When his tumor came back even larger than before, his current care team didn't have the knowledge to treat it and suggested we ride it out till the end or seek a second opinion elsewhere. I dug my heels in and found a new care team. They gave him a new treatment plan that wasn't a cure but starved the tumor by stopping the blood flow to it.
The Tom I knew came back to me. He still struggled with walking, dressing, bathing, and reading, but he could mentally comprehend things. He laughed, remembered our life together and even taught me how to care for all the things he managed. Especially our finances. I told him this special time together was called retirement! Not sick time! I took him to hit golf balls. We spent nights at fancy hotels we never would have treated ourselves to. I rented a cottage in our favorite area to take him fishing. And I'll never forget our favorite way to spend time together – long rides in his truck holding hands.
We had five glorious months together until the tumor grew bigger, the treatments stopped working, and new tumors popped up like popcorn.
I took him out of state to Boston for a clinical trial, but he did not qualify as the tumor was too small (go figure). He slowly slipped away from me once again. I knew I just had to continue to smile and make his days the best days I could.
He lived 13 months and 10 days past his diagnosis. He died on 12/28/19 at 2:41 am.
I sang him to sleep, told him Jesus was calling, and said it was time to rest. I laid down in our bedroom and he died less than five minutes later.
What was life like for you in those early days post death?
Honestly, it was a relief for the first few days and total numbness. It was over not only for him, but also for me.
Watching your husband, who was a powerful man both physically and mentally, lose the ability to walk, eat, talk, dress…. basically, EVERYTHING, is beyond words. We didn't have a nurse or anyone helping me care for him. He only wanted me taking care of him, and I only wanted it to be me. I was his wife and caretaker.
So, when it was over and done, I felt relief, guilt that I felt relief, and then I was numb. I was a robot. I would wake up and just attend to the tasks that needed to be done. Then the waves of grief slammed into me, and my grief journey began. I was in such disbelief and unable to process things. I couldn't even bear to pick up his urn.
What surprised you the most about your grief?
For 13 months and 10 days, I tried to prepare myself in hopes it would ease my pain and shorten my recovery time. The joke was on me. I found that to have been a waste of time-time I deeply regret, as I could've focused more on living in the moment than trying to prepare for the abyss of grief.
It's been 19 months now and I still can't find the words to explain what grief is like. It's shocking that my love for him is still as strong as it was three years ago. I thought grief would remove that feeling of love or at least soften it. But it doesn't. I have learned so much about him and what he did for me that I love him even more. It's unbearable to have that much love with no place to share or release it. There is no place to run and hide from it, either. You can't take a break or a vacation from it. It's with you always and a sort-of crazy comfort, as it keeps me close to him. It's a contradictory feeling, for sure.
Did you attend grief support groups or therapy? What was the most helpful or least helpful and why?
A group grief setting was just awful. I was shocked at the attendees' behavior of whose situation was worse than the others. Some had been a part of this group for over a year. When I attended, it was just two weeks after Tom passed away. The lack of compassion and support shocked me, so I stopped going.
Because of the trauma from seeing Tom's seizures, his falling spells, and other anxiety from being his caregiver, I suffered panic attacks. My pastor sent me to a Christian therapist that specializes in grief. The therapist recommended Eye Movement Desensitization and Reprocessing (EMDR) therapy. I had to share with her, and relive, the worst moments I went through with Tom. While I retold those moments and basically went into a panic attack, she conducted the EMDR treatment. The therapy includes following the therapist's hand motions with your eyes as you recall a disturbing event. Then, the therapist guides you to shift your thoughts away from panic to more pleasing thoughts by reprogramming your response to the traumatic event.
It worked! I still have those awful memories, but I don't have the panic attacks any longer. And, I still see a grief therapist about once a month. I also found that Pilates is a great therapy for me. It forces me to focus on my breathing, coordinate my thoughts and movements, and neutralize my anxiety.
Self-care has been a critical part of my healing. At first I felt guilty about it, but then I realized it was necessary for me.
What's your work situation like? Did you work prior to or after your spouse's death? How has that helped or hindered you?
Before Tom died, I worked from 10:00 am to 3:00 pm in a tiny real estate office. When Tom came home after his last seizure, I quit working because he required full-time care. After he died, I never thought I could work again. I had horrible brain fog, no energy, anxiety, low self-esteem and fear that I had no skills.
But as my healing began, my brain function and self-esteem returned, and I felt stronger, both physically and mentally.
Now I work two part-time jobs that I absolutely love! I work at Club Pilates in a sales position and at The Loft as a sales associate. I couldn't be happier at both my jobs. I'm in awe of my healing, even though sometimes I feel like it's at a snail's pace.
What coping strategies do you find the most helpful?
Praying and journaling, or as I would say, writing him a love letter every night. I told him in my letters what I did that day, asked questions about "how do I" and just reiterated how much I missed him.
I'm a born-again Christian and the day after he died, I couldn't get to church quick enough. I knew it was the only way I would ever survive. My faith helped me understand that his death is not the end of our story, just a temporary separation.
While we waited for our car at the hospital when Tom was sick, he saw people getting dropped off in taxis and heading into the chemo until all alone. He would ask me why they were alone. I would explain they probably live alone and don't have anyone to care for them. That really upset Tom. He would take my hand and thank me for caring for him. Then he would ask, "how can we help them?" as he sat in his wheelchair barely functioning. That's when I knew what my life would be like after he died. A life led to honor Tom and serve the Lord.
Watch a video of Terri's journey created by her church here.
When and how do you think your healing truly started?
I think I started feeling hope stir after about four or five months. The feeling was like being held underwater and then coming back to the surface. I knew I wanted more of that feeling, which led me to realize I had a decision to make. I knew I could stay in the shell I was in, or I could fight for healing. It wasn't a quick decision and some days I still struggle, but in the end, I always fought.
I found the best healing happens when I reach out to others that are hurting for whatever reason. It helps me forget about my pain for a moment and brings joy into my life. Once the brain fog lifted, I really believed I would be OK. I felt a sense of hope. This process has been very gradual for me. It's like peeling the many layers of an onion.
After 20 months, I still feel like some days I'm crawling, but I also look back and see tremendous healing and growth.
How did you decide to turn your negative experience into a positive one? Were there any "aha" moments that stand out to you?
I just knew the only way I would survive was if I could bring "beauty for ashes" out of our story. That finding a positive message was critical in my healing. Something I knew I had to "spin" even before he died.
We are both Christians and feeling God give me the strength to care for him the way I did was what led me on this new journey of serving. It was Tom who was so concerned with others hurting or being alone at the hospital. Looking through his eyes, I see that helping others means the most in this life.
I do what I can to honor Tom.
Did you make any major life changes after your spouse died? Can you elaborate on what changes you made and how you feel about your decision now?
We moved to an apartment after Tom's diagnosis because I couldn't care for him in the house we lived in. He died six weeks after we moved. I couldn't bear to live in the place where he died and suffered the most, so I moved our belongings to storage and stayed in my mom's spare bedroom.
My shock, brain fog and pain were so bad I couldn't process my situation, so I stayed with my mom for 10 months. During the first eight months, I would just pray to get through the day. After about eight months, I thought about moving and looked for apartments near where we lived, but nothing felt right to me.
The area was just too painful to stay in and even the wonderful memories were painful as it was just a reminder he was gone. I thought about moving to West Virginia, Tennessee or North Carolina, but didn't know how to even attempt finding a place to live.
So, my mom and I hit the road in search of my new home on what would have been my 19th wedding anniversary. I found West Virginia and Tennessee nice, but nothing stirred in me. When we arrived in Asheville, North Carolina, I felt my sadness and anxiety lift. I felt such peace. At that moment, I knew I had to move from New York to North Carolina.
I found an apartment, signed the lease, drove home, and packed. I moved to North Carolina alone 11 months after Tom died. Moving alone made me feel strong and empowered. I believe it helped me overcome my anxiety. I absolutely love where I live.
Whenever someone asks me about it, I say that I live a very beautiful life here, full of deep pain. It's all about balance. It's coming up on a year that I've been here, and I'm thinking of buying a place of my own in a year or two.
I've never looked back on my decision to move with any negativity at all. I know this was the very best thing for my healing and recovery.
What is the most important thing you've learned about yourself as you cope with widowhood?
I never thought I would pick up and move to a new state without a job, family, or friends, but I did.
At first, I thought I wanted to move because I lacked the courage to stay in our hometown and suffer through the daily pain of seeing our memories everywhere. But then I realized it takes courage to pack up and leave and start over somewhere new.
I'm learning that I love my solitude. Even though I have friends and am social from time to time, I like to be alone. I'm learning to value myself and remove friendships where I don't feel valued. I've never done that before.
Are you dating and/or remarried? How and when did you decide to start a new relationship? What's the best thing about your partner?
I truly am very satisfied in my life and have no plans or desire to date.  
How are you living your best life now? What's the key to moving forward with grief?
I live a completely different life now than what I lived with Tom. I'm a different person, after all. I spend my days exercising, working, and studying the bible. It's a very quiet and peaceful life. I feel the key to grief is deciding how you're going to let it be a part of your life.
I had to make peace with grief because I realized it wasn't going anywhere and now I have a love/hate relationship with it. At times, it's a comfort. The sweet pain keeps my love close to me. Other times I am completely exhausted by it, want to run from it and just hate it. It's hard work, but I fight hard to not let it control and consume me any longer. The waves that take me down are further apart and the pain doesn't last as long as it used to.
I went from grief taking me down for days to a few hours to now only moments.
If you could go back and share one piece of advice to your newly widowed self, what would you say?
Be kind to yourself. Love yourself. You suffered a severe loss and self-care is critical.
Want to read more Widow Warrior interviews?
Click here for all the Widow Warrior interviews – conveniently listed on one page!
Want to see more?
Watch a video of Terri's journey created by her church here.
Related Posts
The form you have selected does not exist.