How to Protect Your Identity – Expert Tips for Widows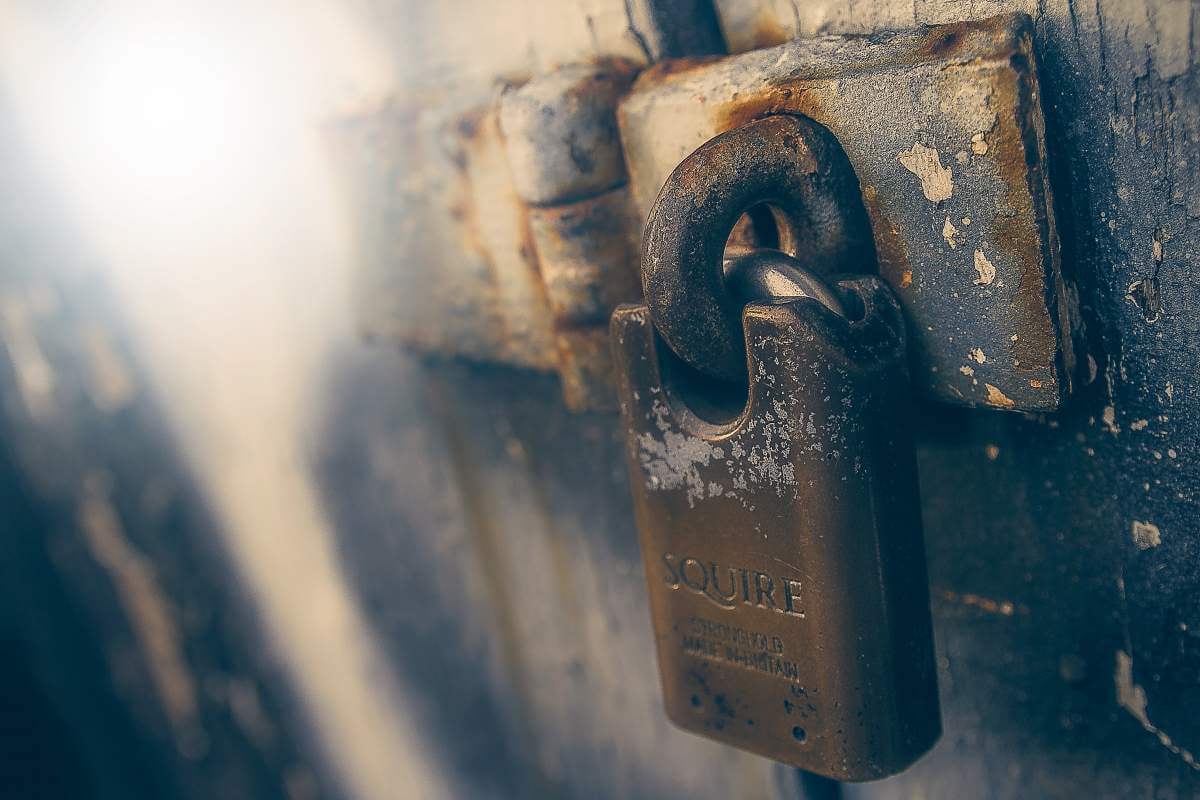 This post may contain affiliate links. Please read my affiliate policy for more information.
Short and Sweet Summary: Thieves like grieving widows. Because we're more susceptible to gimmicks and ruses when our pain clouds our vision. But these tips for widows can help to protect your identity and thwart thieves' attempts to take advantage of you.
Identity theft is a big problem in our technology-driven world.
When we put all our personal information online as a matter of habit and ease and buy things online with our credit cards, we're at risk. Additionally, paying bills online and entering personal information on social media sites ups the risk factor.
So, hackers gain access to our most personal, valuable information through company data breaches (think Target or Equifax), mail theft, phishing schemes and a host of other ways.
Ultimately, it's up to you to protect your identity so the thieves can't take advantage of you in the first place. The good thing is, many practical ways exist to protect your identity.
Stay tuned…we'll go over both free and paid services below.
FIRST A PERSONAL STORY
About a year after my husband died a thief stole my purse from my car. Yep. I left my purse in the front seat. In plain view. Like a dumbass. Doh!
Would you believe this is something I seriously never, ever do? Probably not, because I did it that day.
So, why, you ask, did I leave my purse in the front seat of my car like a dumbass?
Well, I had a hell week for one. My mammogram showed a "suspicious area" so I was called back for a second image (everything turned out OK). My boys had piano recitals and baseball playoff games, so it was a week of non-stop practices and games for both. And, our grief support group's balloon release event was especially gut-wrenching for my youngest son.
Bah humbug.
So, my older son's baseball team picnic rounded out my hell week. After rushing from the piano recitals on Sunday to the park for the team picnic, my brain was mush. 
And here's what happened next…I left my purse in the car because the park was empty except for the families from our team. It was raining, and I didn't want to leave my purse out on the picnic table. No one else was in the park for Pete's sake!
OK. Enough excuses. I did a dumb thing and my purse was stolen. Luckily, I had my keys and phone with me. Whew! But the thief had my driver's license, credit cards, my marriage certificate, and my husband's death certificate.
So, why, you ask, did I carry the marriage and death certificates in my purse like a dumbass?
Well, as we widows know, we're asked for one or both documents incessantly as you wind your way through closing out a shit-ton of accounts. It was always just easier to carry them on me.
In this case, it was a really, really bad idea…you know, hindsight being 20/20 and all.
---
WHY I USE IDENTITY GUARD TO PROTECT MY IDENTITY
One of the first things I did after canceled my credit cards was to sign up for an identity theft protection service called Identity Guard. I don't have the time or inclination to continually monitor all my personal accounts plus my credit report, so I'm more than willing to pay for this service.
Truly, the peace of mind that's priceless. This is MY #1 TIP for widows to protect your identity.
Here's why I love Identity Guard.
What it Monitors:
Social Security Number – They monitor your social security number on your credit report and the Internet's "black market," including the dark web and deep web.
Address – They can alert you if someone files a Change of Address with the United States Postal Service.
Credit Cards – If your credit card number is detected on the dark web, you can receive an alert. You can also be notified of any detected credit report inquiries.
Bank Accounts –

Your bank accounts are better protected because you'll be notified if a bank or investment account in your name has been opened, closed, or changed.
Theft Expense Coverage
They provide up to $1,000,000* in coverage if you need to recoup certain identity theft expenses. Please refer to the actual policies for terms, conditions, and exclusions.
You can read my full Identity Guard review here.
---
FREE WAYS TO PROTECT YOUR IDENTITY
You can monitor your accounts and credit cards on your own if you take the time to periodically review your financial statements.
Here are some free and low-tech ways to protect yourself:
Place a Fraud Alert on Your Credit Report
A fraud alert means a business must verify your identity before it issues credit. The business will call you to confirm you're applying for credit. If they can't get a hold of you, no credit is issued. I added a fraud alert to my credit report after my stolen purse incident. However, it only lasts for 90 days, but you can continually renew it if you so choose.
Bonus: If you place a fraud alert with one credit bureau, the other two credit bureaus are also notified.
Review Your Credit Report Annually (or More Often)
You can get a free credit report when you place a fraud alert on your account. Or, thanks to the Fair Credit Reporting Act, you can request a free copy of your credit report once every 12 months from each of the three major credit bureaus.
It's best to stagger your requests from the three major credit bureaus and theoretically review your credit report for free once every 4 months.
You can protect your identity with this solid tip for widows to include annual credit reviews.
Keep Your Social Security Number Private
Your social security number should be stored in a safe place like a bank safe-deposit box or fireproof safe. Never carry your social security card with you.
Don't give your social security number to anyone who calls, texts or sends email messages. Maybe some of these emails look legit – but they're not.
Because your bank, or really any company for that matter, isn't going to email you asking for a social security number.
Ever. Like, never.
Capiche?
Limit Your Personal Information on Social Media Site
You don't need to include your date of birth, mother's maiden name or other identifying information thieves could use to access accounts.
Seriously. You don't.
But, I know you want to open Facebook on your birthday and see all the "happy birthday!" messages because it makes you feel good that your 1,367 friends recognize your birthday, but you're trading your identity security for a few measly Facebook messages.
I will personally send you a happy birthday message myself if you take your birthdate off Facebook.
Sign up For Text Alerts From Your Bank or Credit Card Companies
You can sign up to get email or text alerts from your bank for any number of transactions. The most common alerts would be for large withdrawal amounts or if your account drops below a certain limit. Setting alerts keeps you in the loop on everything happening at your bank.
Additionally, the same thing applies to credit cards. My credit card companies alert me when my card is used online (not in person) or if a purchase exceeds $100 (or any number you set). If I can't identify a purchase, I immediately call the credit card company before any serious damage occurs.
Review Bank Statements
Make sure you look at your bank statement monthly to see if any money is missing or if checks were written or cashed against your account that you didn't write or cash.
Review Credit Card Statements
When your credit card bill comes due, look at it line-by-line to uncover any items you didn't purchase. Mistakes happen. ALL. THE. TIME.
A simple tip to protect your identity is to review your credit card statements. A simple tip for widows that can help protect your identity is to review your credit card statements.
Use Strong Passwords
It's hard to continually come up with good passwords so I suggest using a site like strong password generator to randomly suggest strong passwords for your online accounts and even home Wi-Fi network.
I keep all of my passwords in a Word document table. Old school, I know. But I back up my files daily with IDrive, so I can look up my passwords whenever I need to.
Only Use Secure Wi-Fi
Never check a bank balance or financial statement using an unsecured Wi-Fi network like at a coffee shop or library. I don't even check email using an unsecured Wi-Fi.
You never know who's lurking around those free networks ready to pounce on your personal data. A serious tip for widows that can help protect your identity is to only use secure Wi-Fi.
Shred Personal and Financial Documents
Invest in a shredder to shred personal and financial documents. Thieves can go through the trash and recover documents, credit card receipts, ATM receipts, bills, etc. printed with your name, address or account numbers.
---
PAID WAYS TO PROTECT YOUR IDENTITY
If you don't have the time or inclination to monitor all your reports and statements on your own, you can pay for services to do it for you.
As I've said, protecting your identity is imperative, no matter how you do it.
Sign up for Identity Guard
The easiest way to protect your personal information is to sign up for an identity theft protection service like Identity Guard that does all the monitoring for you.
Why do I feel comfortable recommending their service? Because I've used Identity Guard for 7+ years now, they are super easy to work with and have all the coverage options I need.
Membership Organizations
Membership organizations like AARP or Costco offer members-only discounted credit monitoring services.
By all means, review all of your resources.
Banks or Financial Institutions
Research your bank or financial institution's offering because many banks offer their own version of identity theft protection for their account holders.
Most importantly, do your due diligence and verify if it's more or less (both in terms of cost and what's monitored) than a comprehensive identity theft protection service.
---
WIDOW WRAP UP
Being a vigilant consumer requires time and attention. I'm trying my hardest to make it damn near impossible for anyone to steal my identity and you should too. Even though a thief stole my purse and got away with lots of personal information, my identity hasn't been hacked.
But, I have protection in place if it does.
*Identity Theft Insurance underwritten by insurance company subsidiaries or affiliates of American International Group' Inc. The description herein is a summary and intended for informational purposes only and does not include all terms' conditions and exclusions of the policies described. Please refer to the actual policies for terms' conditions' and exclusions of coverage. Coverage may not be available in all jurisdictions.
Related Posts
The form you have selected does not exist.