Are Tiny Homes a Good Idea for Widows?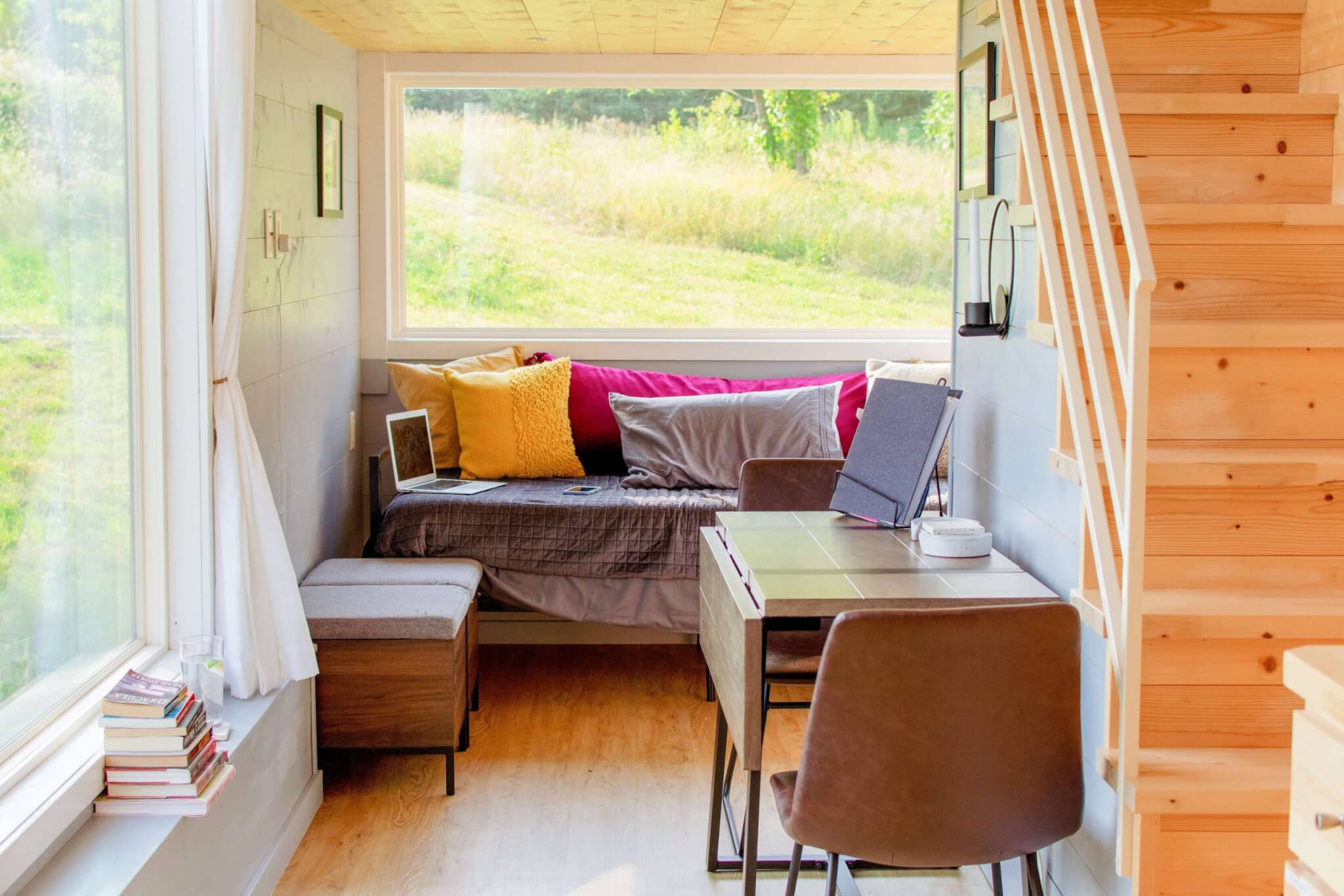 This post may contain affiliate links. Please read my affiliate policy for more information.
Short and Sweet Summary: There are many reasons why tiny homes might be a great housing choice for widows, including the flexibility not found in other types of dwellings.
It can be overwhelming making all of those life-changing decisions by yourself after your spouse dies.
I bet questions like should I stay in the house by myself? or is it time for me to downsize? or should I sell the house to free up some cash? keep you up at night. I know this because they've kept me and countless other widows up a night.
Deciding whether to stay in your house is one of those BIG LIFE decisions. It's easy to get caught up in feelings of guilt and remorse at the mere thought of selling your house. Add to that the anxiety over whether or not to relocate and what type of dwelling to choose (ranch, condo, apartment) and you're likely to get stuck in analysis paralysis.
But what if you could have a home that didn't require a ton of upkeep or maintenance? What if you could save money, enjoy a minimal lifestyle and have the freedom to move around if you want to?
Then a tiny home might be a good fit for you.
WHAT IS A TINY HOME?
Tiny homes, as seen on programs like Tiny House Hunters, provide advantages for those who are downsizing, including widows.
These houses are much smaller than conventional homes, sometimes under 500 sq. ft. Often used as an alternative to paying high rent prices, tiny houses are economical options for anyone who needs a smaller space.
Although somewhat rare, there are communities made up exclusively of tiny houses. Some of these communities may have similar amenities to apartment communities. Depending on your location, you may be able to set a tiny house up on your own land.
One of the things that people enjoy the most about tiny homes is how many unique kinds there are. Some tiny house owners build homes from scratch with reclaimed materials, while others might build using kits.
Tiny homes may take many forms from log cabins to bungalows. Some of these houses come on wheels so you can use them for camping or move easily. You don't have to worry about being too restricted by choosing to go small.
Many of these homes have loft-style sleeping areas, while others combine the living, eating, and sleeping areas into one space. An advantage that comes with tiny houses is the ease of adding eco-friendly features like solar panels and composting toilets.
HOW MUCH DO TINY HOMES TYPICALLY COST?
Tiny homes have a range of costs, with some starting from $3,000 – $5,000.
At the higher end of the price range, these houses could cost $86,000 – $96,000. Many companies that build tiny homes have payment plans spread out over 25 years, making affording one of these homes more manageable.
Many traditional mortgage companies have been overly cautious about approving financing for tiny houses, which makes the options that the companies building the houses have all the more important. One of the reasons traditional financing is often unavailable for these homes is because many models have wheels.
One of the most important factors related to costs is where you place the home. Some locations may require placement in a mobile home or RV park for tiny homes on wheels. These properties charge rent that helps cover maintenance and utility costs.
If you are able to place the tiny home on a lot, you might need to think about the costs of having utilities put in if the lot is undeveloped, which may vary by location. Another important consideration is whether the home will use municipal water or require a well and septic system. Costs for new wells and septic systems are often higher than the costs of connecting to a municipal water and sewer line.
Tiny homes might be a good idea for widows looking for affordable housing options.
HOW ARE TINY HOMES CONSTRUCTED?
Most tiny houses are built on a trailer, making them easier to transport. If the home will be in a location that it remains in permanently, adding a foundation is usually an important part of the construction process.
Regardless of the design, these houses will have walls, roofing, siding, and insulation similar to what would be part of traditional houses. Because of the smaller size, many of these houses feature lofts to keep the sleeping area separate from the rest of the home.
One of the most important things prospective tiny home owners need to know is that many of these homes feature a mini-split system for air conditioning and heating. These systems work particularly well with tiny homes and save the expenses involved with trying to use HVAC systems designed for larger homes.
Tiny homes can feature many of the same amenities that you would see in larger houses. You can opt for ceiling fans and exterior light fixtures in popular styles. One of the primary differences is that many of these types of features will be more eco-friendly.
These little houses can accommodate a variety of style choices. You could opt for something that resembles a favorite vacation home or go with something in a cutting-edge style. Contemporary open styles can be popular choices for tiny houses.
One thing consistent about how most of these homes are constructed is that they are built according to current building codes. Current building code compliance means materials are healthier for you and the environment, making this a winning situation.
WHERE CAN YOU FIND TINY HOMES?
Tiny homes are available from different sources, including mobile home manufacturers, builders who specialize in tiny houses, and major retailers. If you're lucky, you can find tiny homes already set up on land.
Some mobile home sellers maintain tiny homes in their inventories. One of the advantages of buying a tiny house from one of these companies is that you may be able to get land for placing the home for a reasonable cost.
Tiny house manufacturers will customarily offer financing. In addition to financing, these builders might have deals on homes with land or own communities where buyers may place their homes. You may benefit from not having to search for land for your house.
Online retailers, as well as big box stores, have gotten into the tiny home market in recent years. Sometimes the houses arrive in kits, requiring someone skilled in assembly to help. If sourced from a local big box store, the retailer can deliver the house and provide leads to professionals who can connect the utilities and other services.
Once more common in rural areas, tiny homes have started to make their way into urban areas, as well. If you're in a city that is not tiny house-friendly, don't give up, there may be a community nearby that welcomes tiny houses. Sometimes, a neighborhood zoned outside the city limits or in an unincorporated county or township location may welcome these structures.
WHY A TINY HOME MIGHT BE A GREAT IDEA FOR WIDOWS
There are many reasons widows may find a tiny home a great choice for housing. The loss of a partner brings about a lot of changes in life. Sometimes, a change of pace gives you the best means of moving on from your loss.
One of the things that widows, unfortunately, have to think about is possibly living on a decreased income. The lower costs associated with tiny houses can reduce some of the stresses of paying a mortgage on more expensive property. Another advantage of the savings is avoiding increasingly higher rental costs.
For some widows, living in a house or apartment filled with items acquired during your marriage makes it difficult to move on from the loss. Sometimes, the space you've shared together is impossible to enjoy without your partner. Moving into a new home may help you move through your loss, and tiny homes make it more affordable in many cases.
Tiny houses offer more flexibility than many other types of homes. In most cases, you can customize these types of houses as much as you like. When you're living in a new chapter of your life, a house designed according to your needs makes it easier as you adjust to a new reality.
If you've considered moving out of the area after losing your partner, a tiny home makes it easier in some ways. For example, you won't have to think about apartment or house-hunting. You'll be able to focus more on getting the most from life in your new location.
THINGS TO CONSIDER BEFORE CHOOSING A TINY HOME
Before you take that final step and move into a tiny house, you'll need to consider some of the most important factors. As you've seen, there are many important factors to consider, and some play a greater role in helping you make a final decision.
One of your most important considerations will be affordability because these homes often require alternatives to conventional funding. Unless you inherited the money to pay for one of these houses outright, you are likely to need to consider financing.
An important thing to consider, from a legal perspective, is whether your chosen municipality treats tiny homes as RVs. One of these houses requires a foundation, rather than a trailer to not be considered an RV.
If you prefer a home already built, you may sometimes find a move-in-ready home on land through a conventional real estate site. Many of these sites offer virtual tours that can help you decide if the house you prefer is a good fit for your needs.
When you opt to build a house, you will want to think about who will do the construction. Although sympathetic family and friends can prove helpful, you may need a professional for some or all of the project. You'll need to think about how to pay professionals if needed.
You'll also need to think about the costs and other responsibilities involved with moving. Although putting everything in the car may seem ideal, there may be more involved, such as giving unused items away.
If you've thought everything through, getting a tiny home may be the perfect solution.
You can watch Tiny House Hunters on fuboTV.
Related Posts
The form you have selected does not exist.