Widow Warriors – Melissa Pierce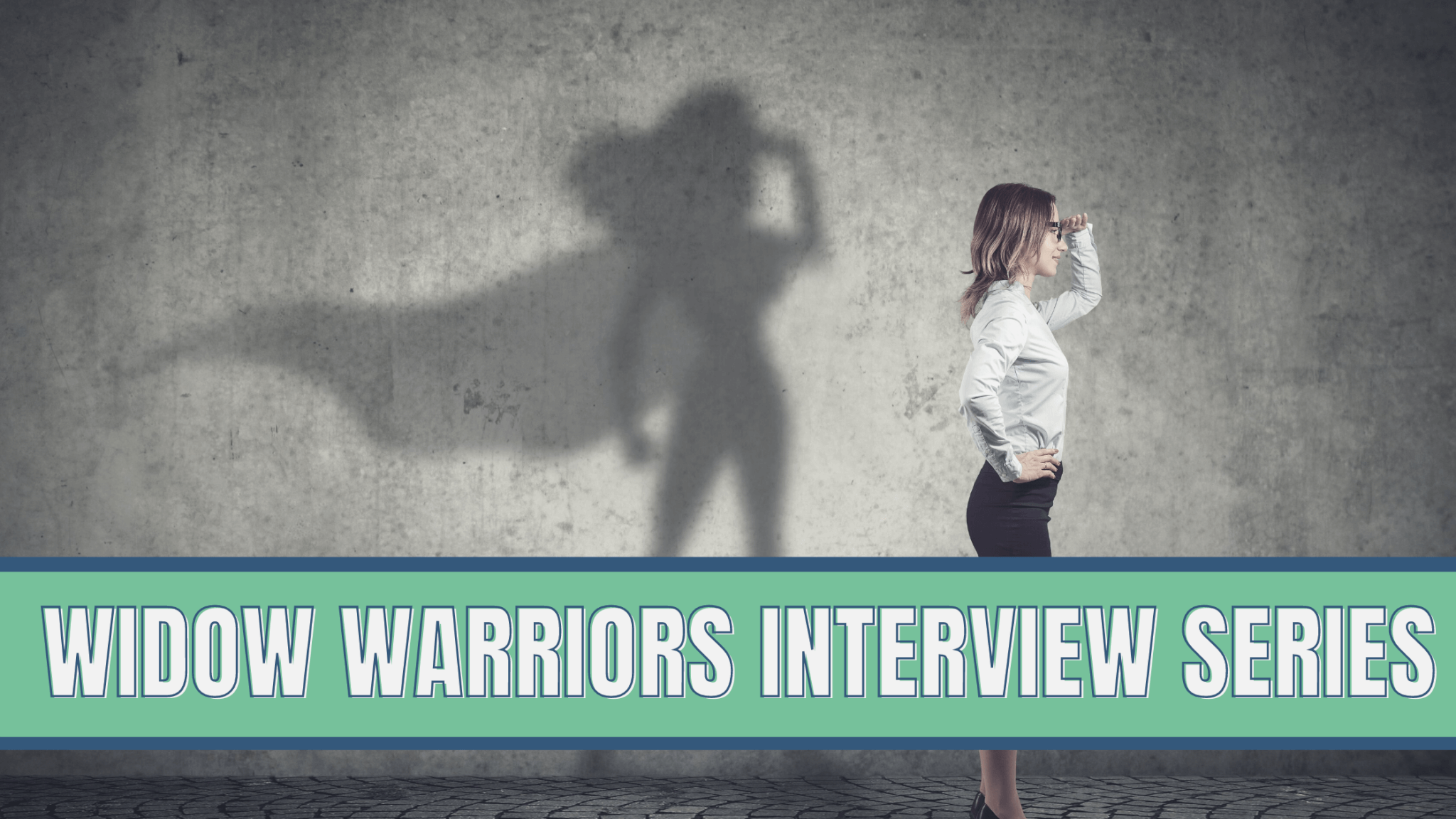 This post may contain affiliate links. Please read my affiliate policy for more information.
Short and Sweet Summary: In this series called Widow Warriors – Life After Widowhood, I interview widows who share their stories about how they've moved forward with grace, jumped out of their comfort zone and accomplished extraordinary things. These widows are here to show you the way. To help you see a sliver of light where there wasn't any. Here's the story of one of our amazing widow warriors – Melissa Pierce.
As a part of this interview series, I had the pleasure of interviewing Melissa Pierce.
Melissa is a widow force who's taken her tragedy and turned it into a beacon of hope for other widows. She is one of my co-hosts in the Widow Squad membership and she also wrote a book called Filled with Gold: A Widow's Story to share the challenges she faced as a widow and single parent.
As soon as I met Melissa I knew we'd be great friends because she's down-to-earth, funny, and kind. I asked Melissa to share her story because she is a testament to trusting her gut, standing behind her choices and going from surviving to thriving in widowhood. She is happily remarried to her husband-in-this-life, Sean, and they now call the Oregon coast home.
Here's a bit more background before we begin:

What's your widow story? Can you tell us when & how your spouse/partner died?
Dave and I and our two young sons were living in eastern Oregon at the time where Dave was
teaching math and music at the local school.
He died in January 2011.
The night Dave died, he told me he wasn't feeling well, like a chest cold was coming on. The next morning I found him dead in our bed. His body was gray and his fingers had started to curl towards his palms. I touched him. He was cold. He was stiff. I started to scream and shake. I called 911. The dispatcher asked me to do CPR. I knew Dave was dead, but I did it anyway.
His cause of death is "undetermined" with secondary causes of sleep apnea and a respiratory
illness.
He was 46 years old.
What was life like for you in those early days post death?
The first two days, I didn't sleep until my doctor convinced me to take a sleeping pill for a while. My heart was beating abnormally so I had to go to the hospital for an EKG and was put on a heart monitor – I felt like my heart was literally broken. I was scared that I would die too so I
immediately had a will drawn up to establish care for our kids in case something happened to
me.
I was also terrified that they would stop breathing in the night so I regularly checked on
them in the middle of the night, sometimes waking them up to make sure they were still alive.
What surprised you the most about your grief?
For several months, I didn't believe Dave died and had to remind myself that, yes, he really is
dead – that I performed CPR on his dead body, I picked out clothes for his funeral, I saw his
body at the funeral home. I had to convince myself that he was not coming back. I had to
convince myself that I was alone now.
For those first few months I didn't cry that much and I thought that was weird. Like I didn't love
him enough to fall apart and cry all the time. I literally had no feelings about anything – I moved
through life like a zombie and it really scared me.
The tears would come later after the shock wore off and I allowed my emotions to move through
me.
Did you attend grief support groups or therapy? What was the most helpful or least helpful and why?
I did try a young widow/widower group after six months but it just didn't resonate with where my
head was at during that time.
I took my kids to the Dougy Center in Portland to support them with their grief and ended up finding a grief counselor through the center.
I started grief counseling to help me understand what I was going through and to also help me
help my kids. It was helpful to have her tell me I wasn't going crazy, that all my thoughts and
feelings were pretty "normal" in deep grief. She also guided me to the awareness that I was
being really hard on myself and to acknowledge that I was moving through an unimaginably
difficult time with Dave's "out of order" death and that I really needed to honor all that I was
doing to keep my family afloat.
What's your work situation like? Did you work prior to or after your spouse's death? How has that helped or hindered you?
When we moved from Portland, Oregon to eastern Oregon four years prior to Dave's death, I was
able to work remotely for a Fortune 500 company in their sales & legal departments.
I took five weeks of short-term disability after Dave died because the company only had a three-day bereavement policy. My teammates and co-workers at my job were incredibly supportive and gracious. I continued to work full-time for that company for another year and half until I made the decision to step away from that career and be a full-time parent to my kids and go back to school.
Did you experience any physical or mental setbacks? What was that like and how did you recover?
Yes, the abnormal heartbeats really freaked me out but I had several workups and medical tests
and my heart is healthy. I was in such shock after his death and could feel the adrenaline
running through my body, but eventually I could calm myself once I started taking better care of myself.
What coping strategies do you find the most helpful?
Self-care, self-care, self-care. Oh, did I mention self-care?!
Did you make any major life changes after your spouse died? Can you elaborate on what changes you made and how you feel about your decision now?
Moving off the mountain so soon after Dave's death may sound crazy but I had to. Plowing
snow with a 4-wheeler to clear the driveway every morning to get the kids to school was not
going to work. Moving 15 miles to the town where our community could help was a good
decision. The boys finished out the school year there then we moved back to Portland where my
support network was – another good decision.
When and how do you think your healing truly started?
Probably around the 6-month mark when we moved back to Portland.
I knew in my gut that I had to start taking better care of myself so that I could take care of our kids. It's like when you're flying on a plane and they tell you to put the oxygen mask on first before assisting your child with theirs. I knew I couldn't help my kids process their grief if I wasn't dealing with my own.
So I started writing in a journal. I was never someone who journaled, but it did help. I noticed that a specific theme was coming up around how a lot of my emotional pain showed up in my body.
There were times when I felt like I was going to burst out of my skin and I knew I needed to
shake loose that pain – the grief that was literally stuck in my body. I needed to loosen it up
and release it so that I could have some clarity and space to deal with the trauma of Dave's
death.
I decided to be open to anything that might make me feel something (hopefully good). I started
with my body and got regular massages and pedicures. In the past, I generally didn't pay that
much attention to bodily self care. I took a lot of baths because I liked the feel of warm water on
my skin. It didn't feel indulgent to do this. It was like I was giving myself permission to take care of me and writing myself a prescription for it. A few times when the massage therapist was working out a particularly nasty knot near my shoulder, I cried. It wasn't really from the physical pain, it was more like a release of the emotional pain I was carrying around.
The more I moved my body, the better I felt. I regularly walked miles around my neighborhood. I
was pretty much open to anything because I wanted to feel better – to feel good, even if it was
just for five minutes.
Each step I took on my self-care quest built self confidence and gave me courage to move
forward in healing and processing my grief. Self-care was a game changer for me as I began the work of processing my deep grief and practicing tons of self-care to move forward.

It took time, but I did find that I wasn't alone and I could experience joy, confidence, and even
love again.
How did you decide to turn your negative experience into a positive one? Were there any "aha" moments that stand out to you?
Being widowed young (and solo-parenting) is not the "norm." I felt like I was the only one
moving through this experience. I was frustrated that there were not more books or resources
for me to access and that's why in 2017 I wrote and published my book, Filled With Gold. It's
the book I wanted to read to feel not so alone.
Then in 2022 you and I were on a call with another one of our widow friends and we decided to create the Widow Squad membership and I couldn't be more excited about the opportunity to build this amazing community with and Jen Zwinck!
What is the most important thing you've learned about yourself as you cope with widowhood?
Prior to Dave's death it was not easy for me to be vulnerable or express difficult emotions. It
was hard for me to ask for what I wanted. I was a classic pleaser.
By sharing my story and my gifts and in moving through actively grieving Dave's death I came to know myself in a deeper way. I am different now. I speak up, I trust myself, and I trust my gut in all that I do.
Are you dating and/or remarried? How and when did you decide to start a new relationship? What's the best thing about your partner?
I am a remarried widow. In 2015, in front of our family and friends, Sean and I were married on
the Oregon Coast.
Eighteen months after Dave died, I felt ready to explore the dating world. I was curious about the idea of potential companionship, physical intimacy, and maybe even love and partnership again. I was also raising my kids and had to be thoughtful about what I was doing so I got very clear about what I wanted in dating and partnership and started making a list.
Dave and I had been in a very solid partnership. I knew what love looked like, and knew its
challenges. I knew I was different now and had grown. My list of what I wanted in a new
partnership came out to almost four pages.
When Sean and I first started dating, I found myself glossing things over. I had dug so deep into
Dave's death with my own research on grief, and I had made genuinely huge healing strides, but I still was not 100% ready to share parts of the life I'd led with Dave, with a new man. I found
myself walking the line of being appreciative and somewhat in awe of Sean's willingness and
desire to hear about my "previous" life and not be intimidated or uncomfortable.
Sean is kind, generous, funny, open and willing to put in the work to have a healthy partnership.
It's as if the Universe put him in my path.
I have enough space in my heart for both Dave and Sean. It's a beautiful thing.
How are you living your best life now? What's the key to moving forward with grief?
I feel like sharing my story with the book, my podcast and providing a way to nurture and
practice self-care with the subscription box helps others to know that there is hope and they are not alone.
I'm passionate about serving our widow community! There are others who have gone through
and are going through similar painful experiences and there are ways to move through them
with some grace and ease by connecting with each other and sharing our experiences with
each other.
If you could go back and share one piece of advice to your newly widowed self, what would you say?
Notice how you are talking to yourself and don't be so hard on yourself.
After Dave died, I had to make a change in the way I was speaking to myself. My thoughts were not always the kindest.
One mantra that I relied on was "I'm moving through hard things right now and I'm doing the
best I can. I am proud of myself. I love myself."
Want to read more Widow Warrior interviews?
Click here for all the Widow Warrior interviews – conveniently listed on one page!
Related Posts
The form you have selected does not exist.