How Widows Can Uncover Free Money for College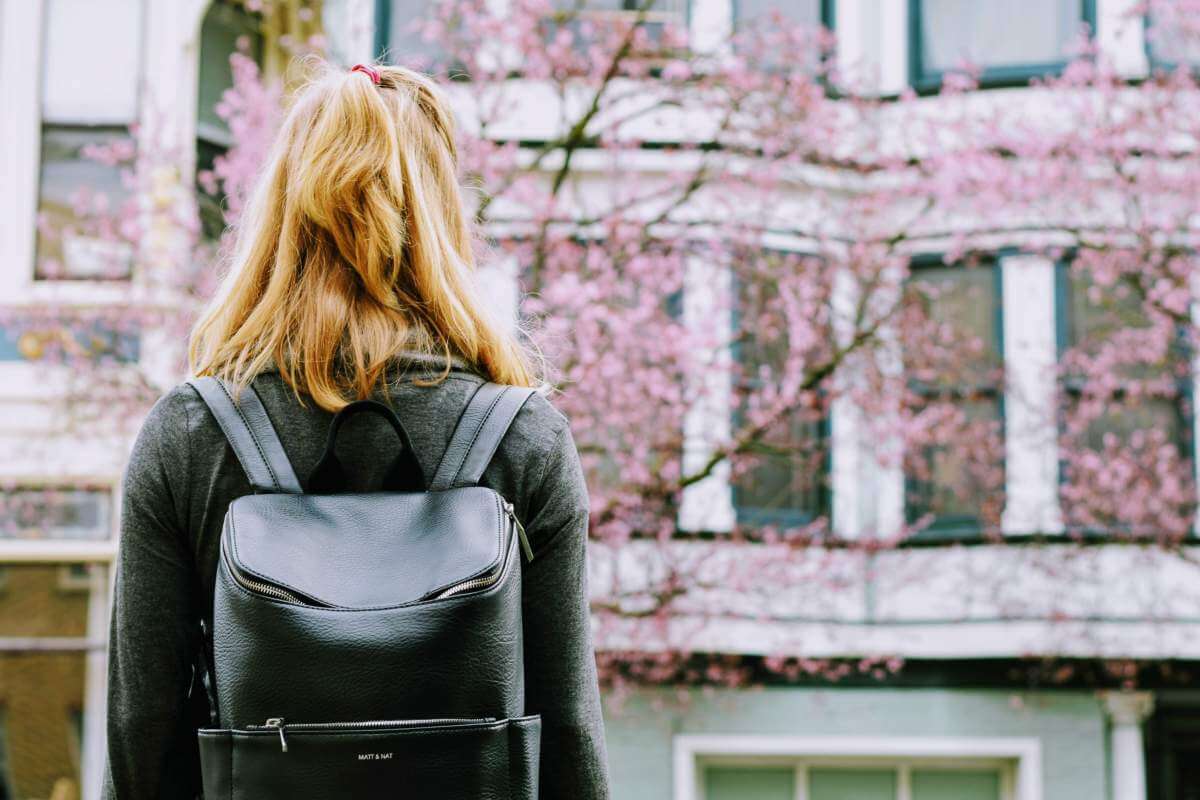 This post may contain affiliate links. Please read my affiliate policy for more information.
Short and Sweet Summary: The cost of higher education is enough to make your head explode. But lots of scholarship and grant opportunities exist if you know where to look. Learn how and where to uncover free money for college so you or your kids don't take on any unnecessary debt
The rising cost of college tuition presents pretty significant challenges to families trying to figure out how to afford the exorbitant costs of higher education.
Tack on the challenges of solo-parenting, solo-bread-winning, and solo-decision-making, and figuring out how to navigate higher education decisions with your kids is enough to make your head explode.
I get it.
I suffer from extreme analysis paralysis every time a large decision looms ahead of me. My kids are nearing the college or no-college phase of high school and I want to help them make the best financial decisions for their future.
But, damn it's expensive.
Because I'm always looking for ways to stretch a dollar or save a buck, I researched ways for widows to uncover free money for college so unnecessary debt isn't part of your future. 
However, this work shouldn't fall completely on your shoulders. Your son or daughter has just as much skin in the game to finish college as debt-free as possible. Put your kids to work doing some of the investigating and see how you can tag team to come up with as many resources as possible.
Listed below are some good places to start.
Keep in mind some applications deadlines already passed, but keep the ideas open for the future.
ATTEND A TUITION-FREE INSTITUTION
Did you know that some colleges and universities have tuition-free programs? Like, you go to school for FREE?
I had no idea!
U.S News & World Report lists 14 Tuition-Free Colleges that offer free tuition for students that live in a specific state or have a low-income background. Some programs require students to work on campus or agree to a specific term of service after graduation.
But, hey, other than that it's free!
Also, check out the Several Cities Offer Free College Tuition Programs article that outlines, by state, government-sponsored free tuition programs.
If none of those options work for your student, try searching "tuition-free colleges in (your state)" and you might come up with even more ideas.
I searched "tuition-free colleges in Michigan" and found that the University of Michigan offers free tuition for families with income under $65,000 and assets below $50,000.
Columbia University in New York, Texas A&M University in College Station, Texas, and eight other colleges offer 100 percent free tuition for families with adjusted gross incomes of less than $60,000 [source].
---
USE FEDERAL GRANT PROGRAMS
The first step in applying for federal financial aid is filling out the Free Application for Federal Student Aid (FAFSA®).
The FAFSA determines your student's financial aid eligibility. The application asks questions about your financial assets and potential monetary contributions along with your student's. Start there to uncover free money for college because federal grants don't have to be repaid.
You can't be awarded federal financial aid like a Pell Grant without it.
Learn the 12 Common FAFSA Mistakes before you even begin so you're ahead of the game. Make sure you have the following documents available before you start the FAFSA application process:
Social Security Number
Driver's License Number
Copies of Tax Returns
Bank statements and records of investments (if applicable)
Records of untaxed income (if applicable)
List of possible schools
If your child receives Social Security child survivor benefits you do not need to include that amount on the "total of your other untaxed income or benefits" when filling out the FAFSA form. 
However, it's prudent to call the Federal Student Aid Information Center (FSAIC) at 1-800-4-FED-AID to clear up any questions.
---
SEARCH FAST WEB
There are tons of scholarships out there. Tons.
A good way to search relevant scholarships opportunities in one place is on a website/app called Fast Web.
Fast web matches scholarships to a student's educational goals, activities, and interests. Once you set up a profile based on your student's info, Fast Web pushes scholarship opportunities to your dashboard. Keep opportunities open or decline the info and move it to the "not interested" tab.
When filling out your student's profile, be sure to edit EVERY section including the Parent Activities section. The parent attributes drop down, for example, has options to select that the student has a single parent, deceased parent and parent deceased due to cancer.
You can also include any associations and membership to which you belong.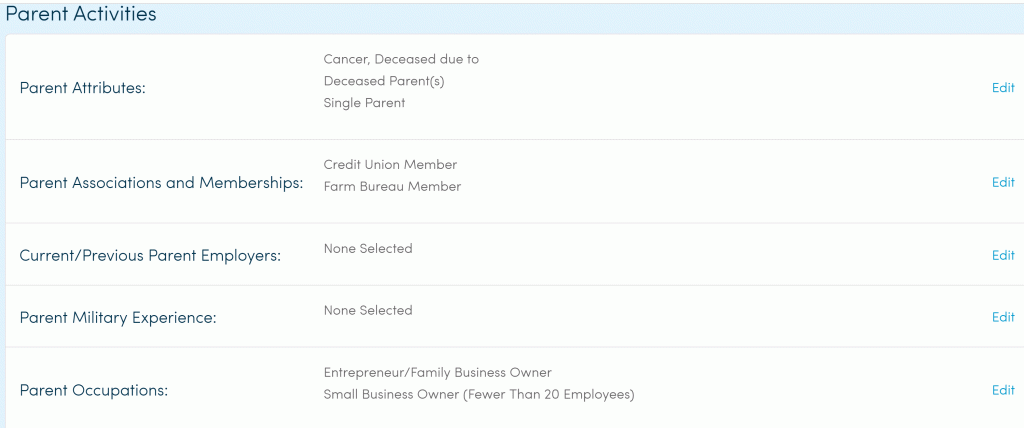 Every section has specific attributes. If you don't expand (edit) each section you might miss out on scholarship opportunities for students who come from an entrepreneurial, government worker or military family.
---
STATE-SPECIFIC AID
Lots of scholarships and grants are available by state for different types of assistance.
Google, "scholarships and grants in (your state)" or use the Scholarships.com website to search for scholarships by state.
For example, Michigan offers a Tuition Incentive Program for students who have (or have had) Medicaid coverage for 24 months between the ages of nine and high school graduation.
If you live in Massachusetts, you might be eligible for the MASSGrant program providing need-based financial assistance to undergraduate students.
It's worth a Google search to uncover some free or significantly reduced tuition options right where you live.
---
SCHOLARSHIPS FOR CANCER-RELATED DEATHS
Kids whose parents die from cancer could be eligible for any number of scholarships depending on the type of cancer.
The best way to compile a list of scholarships specifically related to your deceased spouse's cancer is to Google it.
I suggest a search along the lines of:
"Scholarships for students whose parent died of (brain, lung, colon, etc.) cancer"
I did a quick search and found the John Atkinson Lung Cancer Foundation Scholarship for example that awards up to $2500 scholarships for students whose parent died of lung cancer. The George Bartol Memorial Scholarship awards a scholarship to students whose parent has been impacted by brain cancer.
---
CHILDREN OF SINGLE PARENT SCHOLARSHIPS
Your kids could benefit from the following single-parent scholarships. We widows know the financial hardship of losing a parent can have a lasting effect on families. Take advantage of those opportunities based on your unfortunate circumstances.
Some scholarships are one-time, merit-based awards. And, some renew annually. Others are granted for the duration of a 4-year program.
Life Lessons Scholarship Program
The Life Lessons Scholarship Program is open to students whose parent died leaving little to no life insurance. Students must write a 500-word essay describing the financial and emotional challenges experienced as a result of their parent's death. 
Students apply online annually from February 1 to March 1. Scholarship recipients are notified sometime in June or July of each year.
Official rules and essay instructions can be found here.
The Quell Survivor Scholarship
The Quell Survivor Scholarship is awarded to select undergraduate/graduate students who have experienced the devastating loss of a parent to suicide.
The Toby Merrill Scholarship
The Toby Merrill Scholarship helps students who demonstrate high character traits such as kindness and strength during times of adversity, specifically those who've experienced family issues related to a parent's death from cancer.
You can watch a video about Toby and why the scholarship was started here or learn more about the application process here.
Ulman Foundation Scholarship
This Ulman Foundation Scholarship awards aid to students impacted by the cancer diagnosis of, or loss of, their parent. The student must be 15-years-old or older when the parent was diagnosed and in treatment.
---
SPECIAL ATTRIBUTES SCHOLARSHIPS
Did you know you could get a scholarship if you're a vegan? A female farmer? Or have been cyber-bullied?
My kids won't qualify for these specific scholarships but read on to see if yours will.
Pink Tractor Scholarship
Any girls out there living on farms who demonstrate an interest in managing a farm or pursuing a degree in agricultural business management, farm & ranch management, livestock management or agricultural sales and marketing?
If so, scholarship money is waiting for you! The Pink Tractor Scholarship offers a one-time, non-renewable $1,000 scholarship for females in the agricultural industry.
Plenty of other scholarships and ways to uncover free money for college are available if you're a member of the Future Farmers of America (FFA). Click here for other FFA scholarship resources.
The Vegetarian Resource Group College Scholarship
The Vegetarian Resource Group will award a scholarship to a U.S. high school student who has promoted vegetarianism in their schools and/or communities.
Delete Cyberbullying Scholarship
Students committed to the cause of ending cyberbullying can benefit from the one-time, $1,000 Delete Cyberbullying Scholarship by writing a short essay about how cyberbullying personally affected them.
---
WIDOW WRAP UP
Lots of scholarships and grants exist but it can take some deep digging and relentless searching to find them.
It's not easy finding ways to uncover free money for college. But all the investigating pays off in the end when your student gets free money to pursue a degree in higher education.
It's not completely up to you to do all the investigative work. Your son or daughter has just as much skin in the game. This would be a good opportunity to demonstrate how diligence has its rewards.
If you know of any other resources, please share in the comments!
Related Posts
The form you have selected does not exist.