How To Save Your Sanity With This Smart Sprinkler Solution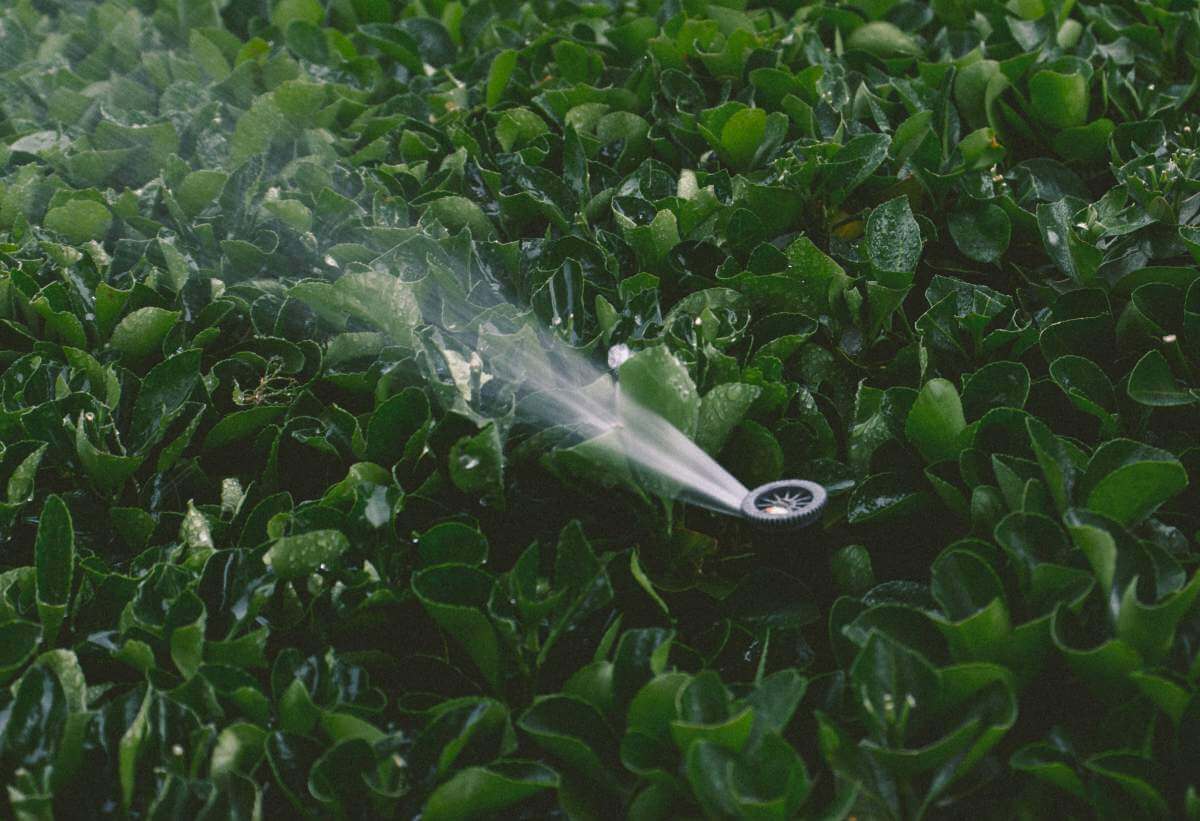 This post may contain affiliate links. Please read my affiliate policy for more information.
This smart sprinkler solution post is Part 2 of the 5-Part Blog Series, The Sophisticated Widow's Guide to Smart Home Gadgets.

This blog post series is dedicated to helping you learn why you need smart home gadgets in your life and how they'll make your tasks easier and less stressful. For real!

You can read the other parts of the series here:

Part 1: A Simple Home Security System
Part 3: Why You Need a Smart Garage Door Opener
Part 4: Are You Ready to Cut the Cable Cord?
Part 5: Monitor Your Home WiFi Settings
Is your lawn irrigation system the bane of your existence?
It's mine. For sure.
If you have an underground sprinkler system, you know what I mean. Even though it shouldn't be complicated, it is. Even though it seems like it should be easy to set a sprinkler schedule, it's not.
Let me tell you, it there's one home maintenance task I dread, it's turning on/off water sources every spring and fall. Then making sure each zone is operational and sprinkler heads are functional. Finally, ensuring all the grass is getting covered with the necessary amount of moisture so as not to under or over water the lawn.
Ugh. It's too much.
I hate it.
But, I hate it LESS now that I have a smart sprinkler controller. Actually, I'm the cool kid on the block now because the other suckers are still managing their irrigation schedule from a silly box in their garage while I turn zones on and off with my phone.
#widowwin
I'm going to share with you why I switched to a smart(er) solution, which controller I recommend and how to turn your sprinkler on or off from your phone or by using a virtual assistant.
The Dark Ages of Irrigation Control
When we built our house several years ago, the builder put our irrigation system timer control box in our basement.
Why? Who knows? It's a stupid location.
Realistically, most timers are installed in the garage. You know, because it's CLOSER TO THE LAWN. And you just have to turn on a zone, walk out of the garage and verify it's operational.
Not me.
I had to turn on a watering zone in the basement. Run upstairs to verify it was on. Then run back down to the basement to check the next zone. Go back upstairs to repeat the process.
Eight times. I have eight zones.
I cursed my dead husband every single time I ran up and down those stairs. Damn you for not making them put the timer in the garage!
Cardio bonus aside, it was a ridiculous waste of my time to be running up and down from the basement to the yard. Outside and back inside. Again and again. And if a sprinkler head was broken or nonoperational, fuhgeddaboudit . There was simply no way to manage this from the basement.
For that reason, I requested some quotes to move the timer control box to the garage. Which consisted of hacking through brick to run electrical lines through spaces that didn't have electrical lines. To the tune of about $500.
AAAGGHH. I panicked. Cried. And stomped my feet like an irrational toddler.
And then I found a better answer.
The New Smart Sprinkler Solution
It finally dawned on me that with Wi-Fi enabled everything I figured there had to be an app for irrigation systems, too.
After researching several options I landed on the Rachio Smart Wi-fi Sprinkler Controller, because it had great reviews, seemed simple to install and had everything I needed (and more) on the app.
Using the Rachio, I only needed to replace the controller, not the whole system. I got to keep my existing pipes, sprinkler heads, and controller location. Which means I kept the controller in the basement, but I never go down there anymore. I do everything sprinkler-related right from my phone.
The bonus is the Rachio controller costs less than the cost of moving my prehistoric timer to the garage.
Don't get me wrong – several other smart sprinkler solutions exist. There are lots of them. So as not to overwhelm or confuse, I'm sticking to describing the Rachio system only.
Because it's what I use, what I'm familiar with and what I recommend.
Easy Installation or Call in a Professional
I had a friend install my new Rachio controller, but if you're the do-it-yourself type, the typical install takes about 30 minutes.
Or if you're not into learning about Wi-Fi and wires, you can hire a Rachio professional who can do the installation for you.
You can read the installation guides here to get a better idea of what the installation process entails.
[custom_blockquote style="#blue"] BONUS TIP: make sure you take a picture of your old controller's current wire configuration so you can keep the wires in the same order as they correspond to your zones. [/custom_blockquote]
I'm not a DIYer and I don't want to learn about connecting wires, like ever, so if my friend wasn't available I would've hired a Rachio professional.
Just sayin'.
Benefits of a Rachio Smart Sprinkler Solution
I can't believe my husband never had the opportunity to experience the ease of my new wi-fi enabled smart sprinkler solution.
Seriously, it's the best thing ever!
And, in case you're not completely sold on why you need one (you totally need one), there are at least 5 reasons why I use and LOVE my Rachio:
Mobile Control
The Rachio app on my phone controls everything.
Everything.
As a matter of fact, the Rachio controller doesn't even offer an option to program anything at the controller box. From the app, you can set watering schedules, customize zones, manually run zones, review usage data, and more.
One way I consistently use my app is during the brutally hot summer days. I might run the zone that covers my begonias more often than what's scheduled so my flowers get enough to drink.
Or, I sometimes run zones more than once a day if there's a specific zone where the grass is more brown than green because it's getting beat up by the hot sun.
Weather Intelligence
The coolest feature that I LOVE is when the watering schedule is skipped because rain is either predicted or it's already rained and provided enough moisture for the lawn.
My Rachio app reads the weather reports from the weather station near my house. So, the watering schedule is skipped when it rains .125″ or more.
You can change the threshold to whatever level you want, but this level is satisfactory for me. Even if the weatherman gets the forecast wrong (we didn't get any rain) and Rachio skips my watering schedule, I can just manually run the zones with the push of a button on my phone.
It's worth mentioning, this weather intelligence feature also provides a wind skip and freeze skip. Well, the freeze skip is for obvious reasons. But if the wind is above 20 mph, Rachio skips my watering schedule to prevent waste. Because it's obviously not necessary to run a watering schedule when the wind just blows the water around and my water ends up on the street or somewhere unintended.
Water Savings
The best part of using a smart sprinkler solution is the money you save on your watering bill because water waste is minimized.
Because Rachio adapts to your lawn and makes adjustments based on weather, plant types, sun exposure, and water evaporation, you'll never use more water than your lawn needs.
And…you might even be eligible for a rebate. Call your local water company to inquire about rebates for irrigation controllers or search for specific rebates on the EPA Watersense website.
Low Maintenance
The Rachio controller and app are virtually maintenance free, save for a few hardware updates on the app.
The system itself is low maintenance because once you set up a watering schedule, Rachio does all the work for you. Rachio gets to know your lawn and watering schedule and adjusts accordingly.
Another bonus is that problems are discovered via the app quicker than with a wired timer.
Voice-Activated
The Rachio controller is already easy peasy to set up and use.
But you can make it EVEN EASIER by talking to your Rachio via Amazon Alexa or Google Assistant. Or integrate Rachio with other smart home brands like these.
For an example of all the commands, you can use with Alexa, click here. For Google Assitant commands, click here.
"Alexa run Zone 3 for 10 minutes"
"Alexa, turn off the sprinklers."
I'm telling you, it doesn't get much easier than that. I mean, for real!
Product Links
You can buy from Rachio directly on their website or if you have some Amazon or Walmart shopping to do you can use the (aff) links below:
Widow Wrap Up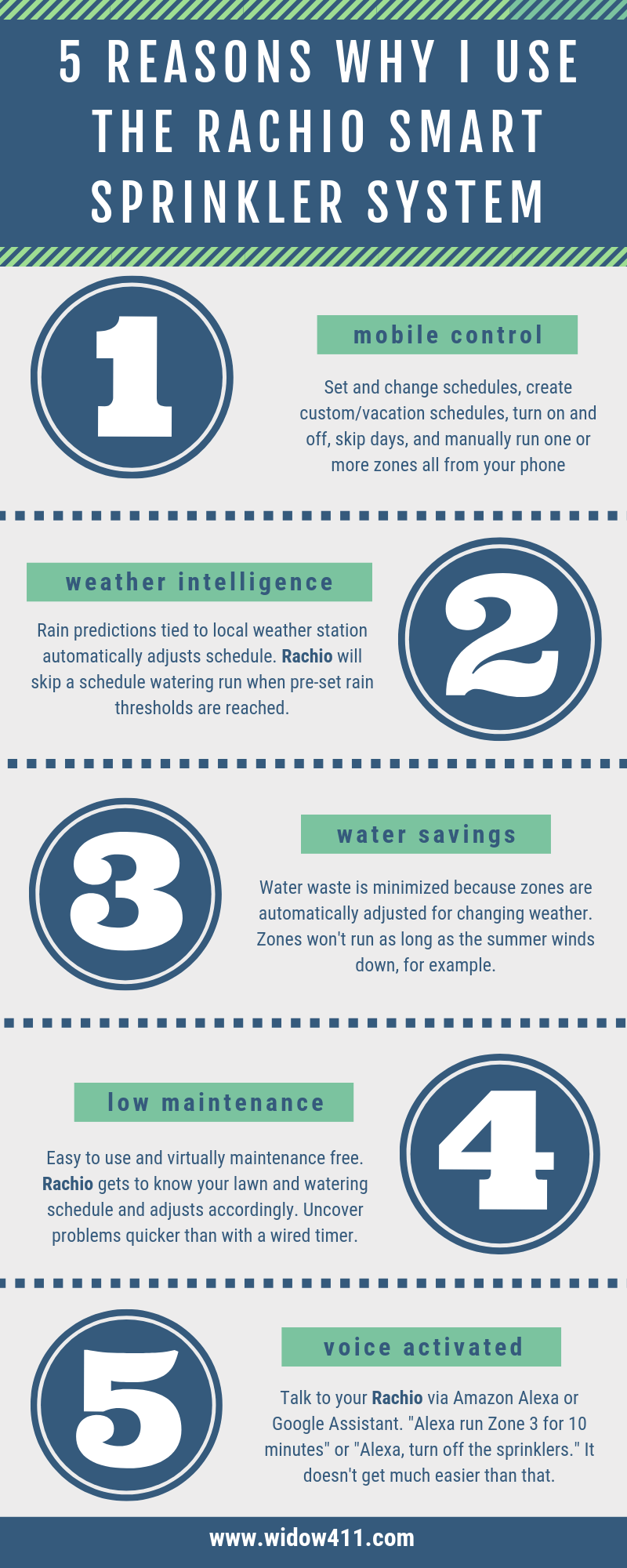 If you like doing things the easy way, it doesn't get much easier than running your lawn irrigation system right from your smartphone.
I've worked really hard over the past few years to streamline my life and make these types of mundane tasks as easy as humanly possible. I don't love lawn maintenance, but it has to be done. I've found that using smartphone apps is one sure-fire way to make my life simple and less stressful. Even for the jobs I hate.
By using the Rachio controller, I'm keeping up with my lawn watering schedule with little to no effort on my part. My home maintenance jobs get done and I don't lose my sanity.
It's a win-win!  
Related Posts
The form you have selected does not exist.