Why You Need a Smart Garage Door Opener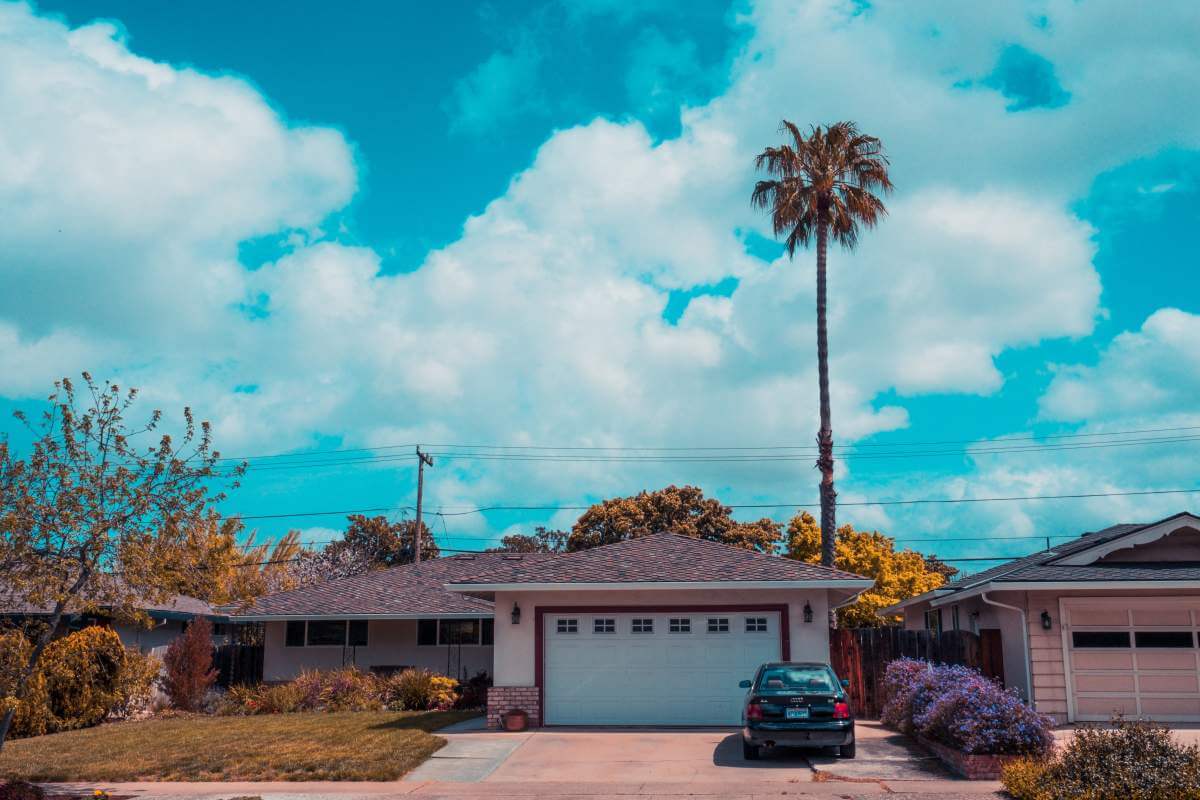 This post may contain affiliate links. Please read my affiliate policy for more information.
This smart garage door opener post is Part 3 of the 5-Part Blog Series, The Sophisticated Widow's Guide to Smart Home Gadgets.

This blog post series is dedicated to helping you learn why you need smart home gadgets in your life and how they'll make your tasks easier and less stressful. For real!

You can read the other parts of the series here:

Part 1: A Simple Home Security System
Part 2: A Smart Sprinkler Solution
Part 4: Are You Ready to Cut the Cable Cord?
Part 5: Monitor Your Home WiFi Settings
I never knew how wonderful a smart garage door opener was until I had my hot little hands on the app that controls the world's best smart garage door opener.
I've always had a garage door opener. You know, push the button on the remote attached to your car visor. But I had never experienced anything like this garage door opener.
I'm going to share with you why I switched to a smart(er) solution, which smart garage door opener I recommend and how to use an app on your phone to do everything for you.
THE BYGONE DAYS OF LIMITED OPTIONS
When we built our house several years ago, we installed a garage door opener like everyone else's. The typical, builder-grade opener with remote control and keypad.
It worked fine.
Until it didn't.
Keypad Problems
The fact that I could open my garage door from a remote control or a keypad was significant enough. I loved the keypad option because my kids could open the garage door whenever they needed to.
I used the remote control from the car and the boys used the keypad to enter the 4-digit PIN and open the garage when they got home from school or somewhere else.
The only problem was, after 15 years of punching in the pin number, the keys on the keypad wore down. The keypad became less and less reliable as a means to open the garage door.
It also irritated me on more than one occasion when the keypad was unresponsive after I got back from my morning walk. I would have to open and close the keypad cover several times. Or try to open it halfway. Type in the keypad sequence just so.
It was just so annoying.
I finally had to take the remote opener with me on my walks. And I had to carry it if I didn't wear pants or a coat with pockets.
How To Confirm if It's Closed?
The other problem I encountered was leaving the garage door open at night because the last person to come in from the outside forgot to close it.
Hint: It was the kids. It was always the kids.
I can't tell you how many times my neighbor called to tell me that our garage door stayed open well into the night.
I finally purchased a sensor and attached it to the garage door. The sensor came with a corresponding unit for my bedroom that would show a green light (closed) or red light (open) for the current garage door position.
If I went to bed and the light was red I knew the garage door was open. So, I'd schlep back downstairs to close the garage door.
Unless the garage door was actually closed but the sensor wasn't working correctly because it was wet from snow or the battery was dead or some neighbor kid threw a ball at the garage door and knocked the sensor off.
GRRRRR…the "easy" solution wasn't so easy.
Fix or Replace – The Most Important Question
I could've just replaced the keypad. I could've researched better sensors.
But my garage door opener was old. It was also LOUD. So loud, I could hear it open when I was at the other end of the basement.
So, I started looking at replacing the whole damn opener. Why not get an up-to-date model with new and improved options?
You know, make life easier?
WHY I CHOSE THE CHAMBERLAIN SMART OPENER
I specifically researched wi-fi enabled garage door openers with sufficient app options and a QUIET open and close.
I'd been having so much success with my smart gadgets that I just knew a smart garage door opener would simplify my life.
I landed on the Chamberlain 1/2 HP Ultra-Quiet Belt Drive Smart Garage Door Opener.
The reason I picked this one is that I talked to several different workers at Home Depot and Lowe's. I try to talk to at least three different people because I always get different answers. Some more detailed answers than others.
Surprisingly everyone seemed to agree on the Chamberlain brand for the efficiency, options, and cost. I could've purchased a more robust option, but frankly, the B550 is perfect for what I, and most likely you, need.
The Chamberlain B550 model is currently #3 on the Amazon list of best selling garage door openers. The #1 spot is also a Chamberlain, but with more horsepower and additional features. In other words, more than what I needed.
I also chose a belt drive vs. a chain drive because I wanted a quieter garage door opener.
Do you know I can not even explain to you the difference in noise reduction with this new model? I could hear my old LOUD garage door opener from remote parts of the house. It was so freaking loud.
This new opener is so quiet. I mean whisper quiet. I can't even believe they make garage door openers this quiet.
COMPLETE CONTROL FROM ANYWHERE USING THE MYQ APP
So here's where it gets good. Here's where I share how amazing the options are on this smart garage door godsend.
The MyQ Smartphone App lets you connect to your garage whether you're home or away. It lets you do tons of other things, too.
Open and Close From Anywhere
Yes, I can open and close my garage door from anywhere. With just my phone. Just the click of a button.
Click the button to open. The icon even shows the door is open.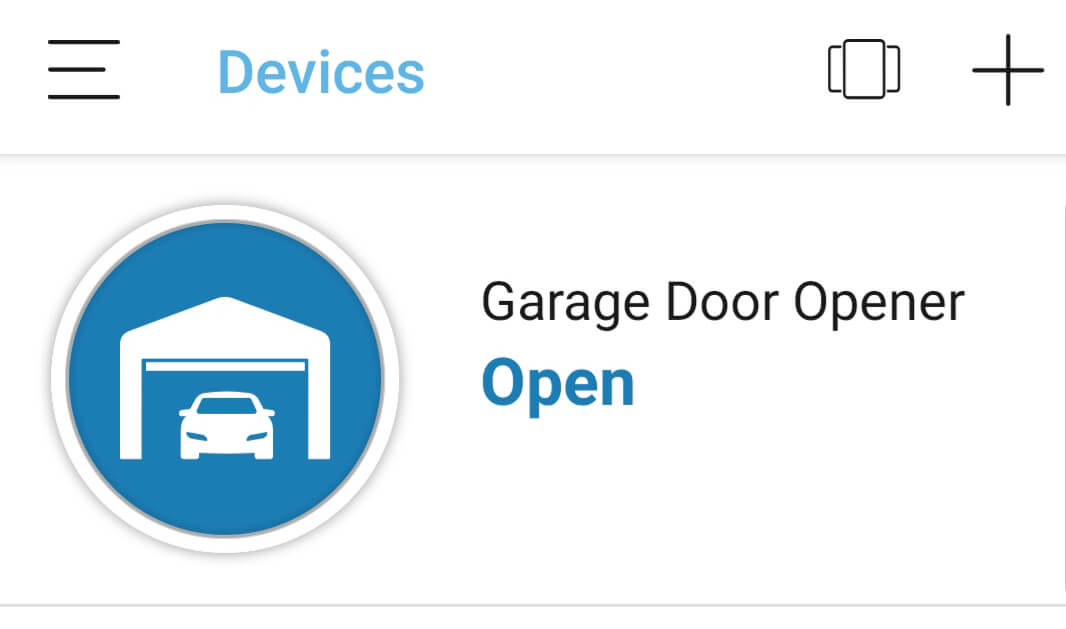 Click another button to close. The icon even shows the door is closed.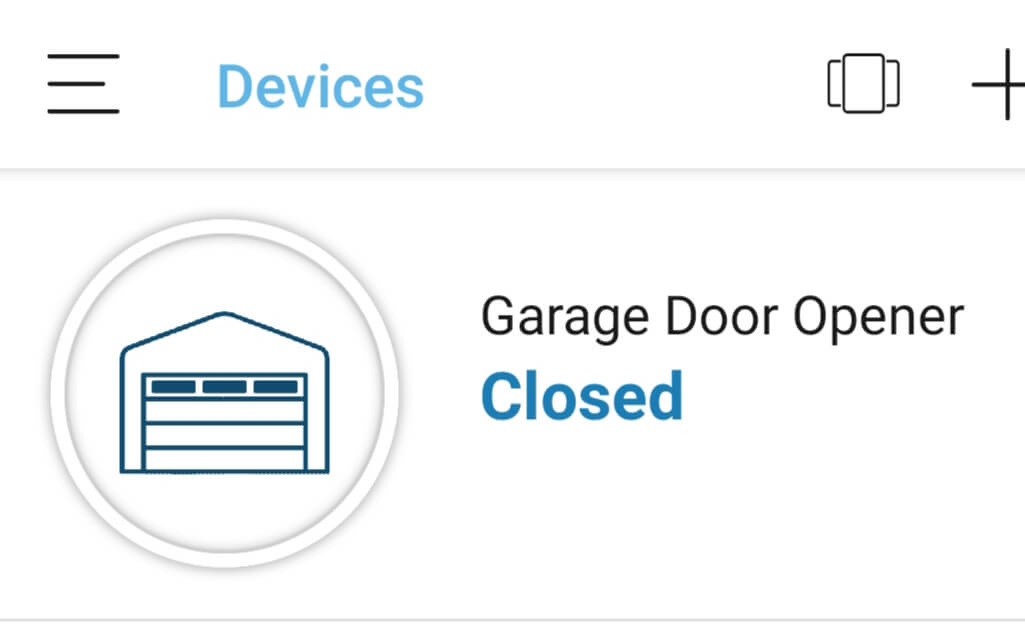 I still have the remote control on my visor in the car. The new keypad that came with the garage door opener works really well. But, I don't use them half as much as I use the app.
The nice thing about using the app is that you can open and close the garage door when you're not home.
Why would you need to do that?
Here are three of my own examples of why the app comes in handy: 
If my kids leave the house and forget to close the garage door, I can close it. From anywhere.
When my in-laws are on their way over and I'm not home, I can open the garage door for them just before they get there.
If I'm on vacation and ask my neighbor to check on my house, I can open and close the garage door for him.
Confirm Garage Door is Closed Before Going to Bed
Sometimes when I'm snuggled in bed ready to fall asleep, I have an anxiety-inducing thought that the garage door is open.
Now, I just check the app to confirm it's closed.
I don't need sensors on my garage door anymore to tell me if it's closed or not. No more getting out of bed, schlepping down the stairs and opening the door to make sure the garage door is closed and we're safe and sound.
I can open the app and verify if it's closed.
Easy peasy peace of mind.
Preset Scheduling
The MyQ app also lets you set a schedule for your garage to close at a certain time.
Maybe you want additional peace of mind that your garage door is always closed at night.
Or, maybe you have teenagers with a later curfew and you're afraid they'll forget to close the garage door after they get home.
No worries.
The scheduling feature lets you schedule your garage door to close at a specific time. If your kid's curfew is midnight, you can schedule the garage door to close at 12:30 am so you can rest assured the garage door closes whether your teen remembers to close it or not.
Real-Time Alerts
You can elect to receive real-time alerts when your garage door opens and closes to keep track of daily comings and goings.
Why would I want to do that?
Because my teenager has left the house without me knowing in the past. I set up an alert to notify me if the garage door is open between the hours of 10:00 pm and 5:00 am.
Because I want to know when my kids get home from school if I'm not home. I set up an alert to notify me when the garage door opens between 2:00-3:00 pm.
You can set up an alert for whatever brings you peace of mind.
SMART HOME INTEGRATION
If you don't want to come home to a dark house, you can add remote light control to your lamps or light switches to turn your home lights on and off with ease.
The Chamberlain Smart Lamp Control accessory controls any indoor lamp and the Smart Light Switch accessory controls home light switches.
By installing these accessories you can easily program your lights to turn on and off anytime you want.
Smart Light Control
Turn lights on and off  with the MyQ App or your garage remote.
Set Schedules
Preset times for your lights to turn on/off for increased security and efficiency.
Syncs With Your Opener
Program lights to come on when your garage door opens.
Adding MyQ accessories unlocks your garage's full potential. Smart, intuitive and easy to program, you can use these accessories to monitor and control your garage and home lighting from anywhere.
PRODUCT LINKS
You can buy from the Chamberlain products directly on their website or if you have some Amazon shopping to do you can use the (aff) links below:
WIDOW WRAP UP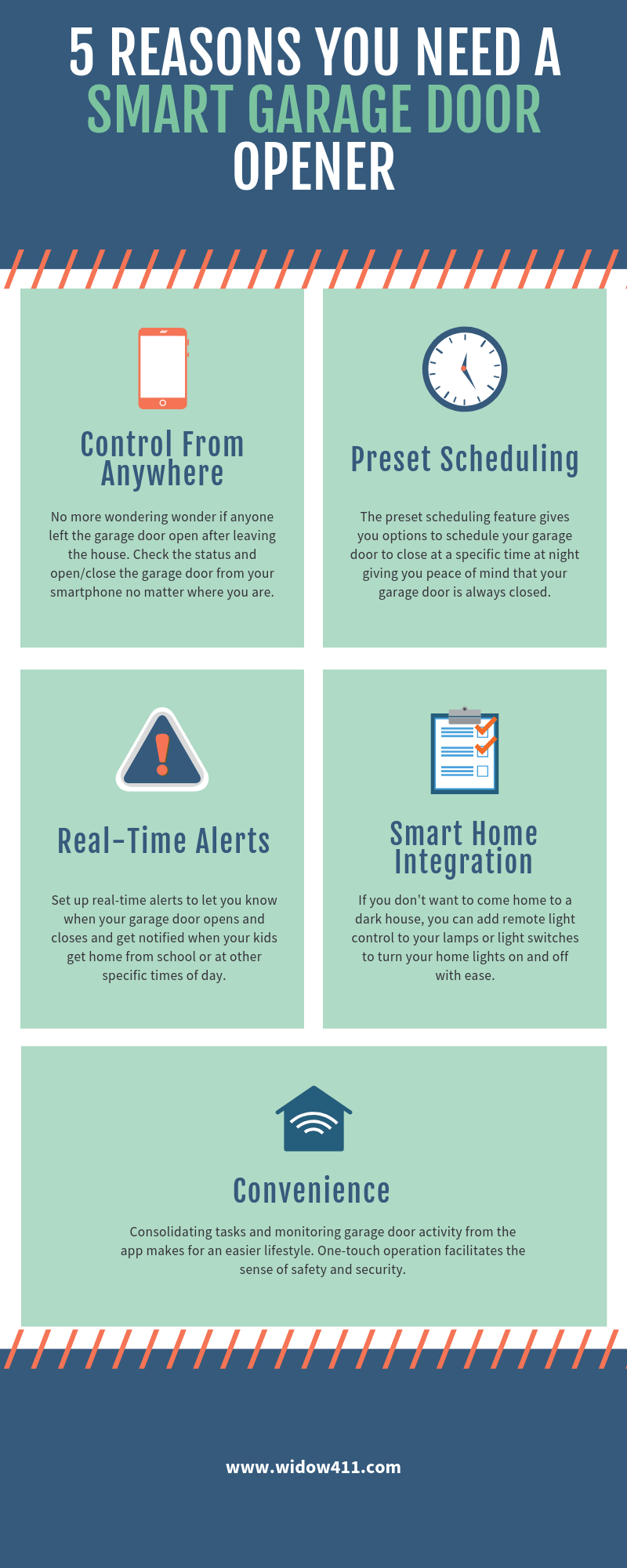 Consolidating tasks and monitoring garage door activity from an app makes for a MUCH easier lifestyle. The one-touch operation facilitates a sense of safety and security that I never had before.
I'm so glad I made the switch to a smart garage door opener because I can control my garage door from virtually anywhere. It's so easy a monkey could do it.
I can push a button on my phone if I forget to close the door. And setting up alerts and preset scheduling options makes it super easy to know what's going on around my house.
It goes without saying that I sleep much better at night because I've got alerts ready to notify me when there's an activity I need to know about. I verify my garaged door is closed whenever I want, but I also have backup options for when I occasionally forget.
Ahhhh.
Peace and serenity.
You can have peace and serenity, too!
Related Posts
The form you have selected does not exist.