Are You Ready to Cut the Cable Cord?
This post may contain affiliate links. Please read my affiliate policy for more information.
This post about how to cut the cable cord is Part 4 of the 5-Part Blog Series, The Sophisticated Widow's Guide to Smart Home Gadgets.

This blog post series is dedicated to helping you learn why you need smart home gadgets in your life and how they'll make your tasks easier and less stressful. For real!

You can read the other parts of the series here:

Part 1: A Simple Home Security System
Part 2: A Smart Sprinkler Solution
Part 3: Why You Need a Smart Garage Door Opener
Part 5: Monitor Your Home WiFi Settings
How many times have your cursed the cable company for exorbitant prices and sub-par customer service?
If you're like me about, oh, 7,263 times. I'm talking to you, Comcast.
I had my cable TV service for years. And for years I complained about the cost, lack of choice and terrible, terrible service. I paid around $200 per month for a package including TV, Internet, and Phone.
And I called every six months for a "better" promotion. Some kind of savings. But I had to jump through too many hoops to get a good deal.
Until I decided to do something about it. Like, cancel my cable TV subscription altogether.
I finally took the plunge and said "so long suckers" to cable TV.
With that in mind, I'm going to share with you why I switched to a streaming service, which streaming service and device I recommend and how to use your phone as a remote.
Why Pay for What You Don't Need?
The problem with the cable TV packages from companies like Comcast is that they're loaded with crap you don't need.
In particular, I don't need the BBC World News channel. No offense UK. I also don't need or want C-Span. Or Jewelry TV. Or the Sci-Fi network.
But month after month I would pay for these channels anyway.
And complain.
Because I didn't really know what other options existed. I didn't want a huge satellite hanging from my roof or taking up space in my yard. DSL subscriptions are historically slow and unreliable. And we literally have zero cable competitors in my geographical area.
So, what's a girl who's looking to save some money on cable TV options supposed to do?
Throw a temper tantrum on the phone with the cable provider's customer service, raise your blood pressure to unnecessary heights and vow to never, ever deal with those assholes again.
The only logical thing to do (so I didn't have an aneurysm) was to cut the cable cord.
Enter: streaming TV services.
Streaming is the 21st Century Solution
Gone are the prehistoric days of only tuning in to live TV using antennas or cable lines. Set-top boxes required with every TV are a thing of the past. And using DVD players to watch movies? So 2007!
To recap, we're in the Internet age, people. There's no getting around the fact you can stream just about anything these days. Music, video, radio, games. You name it.
But especially TV. You can stream TV!
Let me tell you how ridiculously time consuming it was for me to research streaming options. I spent an inordinate amount of time looking for the best streaming service, the best hardware, the best…everything.
The thing is, there are lots of streaming services. Lots of options. And those options keep changing. It seems like one company is upping the bar over another company on the daily. Just when I think I've figured it out, plans change.
However, streaming is still better than cable TV. I don't have to call customer service constantly. And, it's cheaper.
I'm saving at least $70 per month by getting rid of cable.
Let me tell you where my research led me.
My Streaming TV Choice
Like I said, sooooo many streaming options exist. Every option offers a different mix of channels, so you'll really need to narrow your choices based on your favorite channels and shows.
Although I'm going to share with you what I chose and why you can review more cord-cutting options on Kill the Cable Bill or read The Simple Dollar's cord-cutting guide here.
I chose Direct TV Now as my streaming option because it had what I needed for a price I'm willing to pay.
My must-have channels were:
ABC, CBS, NBC, FOX – We DVR lots of half-hour comedy shows for Sunday night family TV and we get a wide variety of choices here. Also, are America's Got Talent fans so we needed NBC.
BRAVO – Because I'm an RHONYC devotee. I love my life so much better after watching these train-wrecks. Seriously. I would never trade places with any of these women. It's trash TV at its finest.
Paramount – Because I watch Yellowstone. I mean, Kevin Costner!
I don't really ask for much. Other than a cloud DVR option because we tape a lot of shows and an on-demand library just to have more choices.
Specifically, I feel like Direct TV Now was the closest thing to my previous cable TV experience. I've been pleased so far with my choices. We get around 45 channels, so I'm not overwhelmed with choice and we can simultaneously stream on three different screens.
Oh, and there's no annual contract! You can change your mind and your plan at any time.
If you don't like your service, just cancel one streaming service and sign up for another.
Why I Chose the Roku Player
If you thought there were a lot of streaming services to choose from, there are just as many streaming devices or players.
Basically, you need a streaming device or player that hooks to your TV to stream shows via the Internet. These players have built-in WiFi to connect wirelessly and most include a remote (even though you can use your phone as a remote).
Choosing a streaming player is, again, a personal choice based on your needs. You might prefer an Amazon player like the Fire TV Stick because you're already a Prime member and want to stream Prime videos. Maybe you come from an Apple family and want an Apple device to keep everything under the same brand umbrella.
Since I don't have any loyalty to one company over another so I chose the Roku Ultra player for the main TV and the Roku Premiere player for my bedroom.
The reasons I chose the Roku players were cost, options, and lots of positive reviews.
Oh, and the following:
Mobile Control
Just like everything else we've discussed on the Sophisticated Widow's Guide to Using Smart Home Gadgets, mobile control is a must-have accessory.
The Roku Mobile app comes with the option of using your phone as a remote. The mobile app remote can do everything the regular remote does.
The bonus with the mobile app remote is that you can enter any parental restriction passwords and your kids' prying eyes won't see what you're typing.
You can also add channels using the app on your phone and those channels show up on your TV device. It's like magic.
I get periodic email updates from Roku, so when a new (or new to me) channel is listed and it looks like something I might want to watch, I add it straight to my Roku streaming device from my phone.
Beyond that, the Roku channel serves up hundreds of free movies and TV that you can watch on your TV or your phone/tablet through the mobile app.
Voice Search
You know how annoying it is to search for movies or TV shows using the awful on-screen keyboard? It takes like, forever, just to input each letter and number combination. It's so clunky.
Now, I don't have to deal with that nonsense using Roku's voice search.
All I have to do is click the microphone button on the remote and search channels, TV shows or movies using my voice.
But, if you end up with a Roku device that doesn't have a voice search option, you can do the exact same thing using your Roku mobile app. Just open the app, click on the remote button and click the search icon. Tap the microphone icon to begin speaking.
TV Power and Volume Buttons
Instead of needing separate remotes to control TV functions, some Roku remotes include TV power and volume buttons.
You can turn the TV on and off and adjust volume settings with just the Roku remote.
Unfortunately, I didn't realize the Roku Premiere didn't include the power and volume buttons on its remote so when I'm watching TV in bed I need to use two different remotes, which is kind of a bummer.
But, I survive 😉
Remote Control Headphone Output
The Roku Ultra remote has a nice headphone jack for private listening.
Obviously, this comes in handy when you don't want your TV viewing to disturb other people. Like when my mother-in-law babysits and watches TV with the volume on level 256 because she's hard of hearing.
It's hard for my kids to go to sleep with a blaring TV. Actually, it's hard for my neighbors to go to sleep.
So, I showed her the headphone jack and the JBL headphones that came with the Roku Ultra player remote and she can watch TV on whatever volume she wants, but no one else has to hear it.
Whew.
Product Links
You can purchase these products direct from each manufacturer' website or if you have some Amazon shopping to do you can use the (aff) links below:
| | | |
| --- | --- | --- |
| Roku Premiere | 4K & HDR Streaming Player | Buy now |
| Roku Ultra | Feature Packed Streaming Player | Buy now |
| Direct TV NOW | Streaming Service | Buy now |
Widow Wrap Up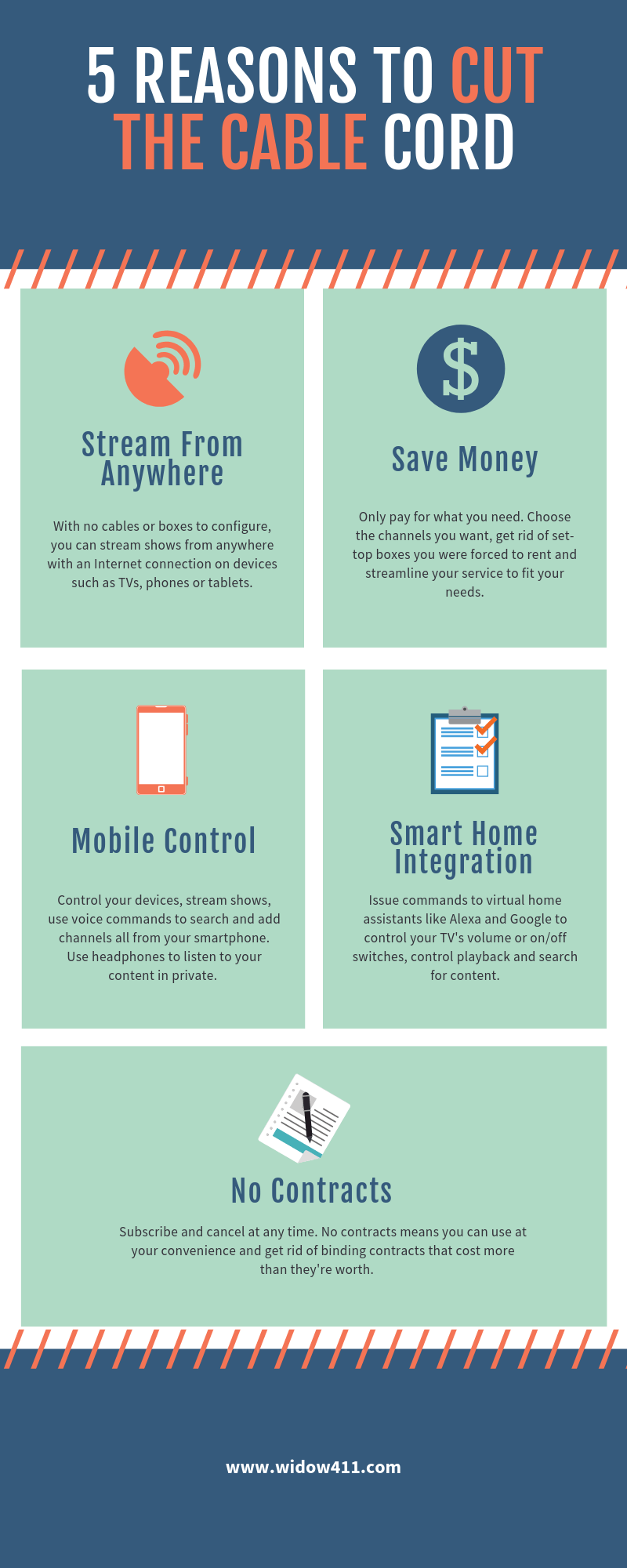 Getting rid of my cable plan was a long time coming, but I'm so glad I finally took the plunge and cut the cable cord.
I mean, I'm saving money. And, I'm not tied to any contracts. I can still tape shows I want to watch at a later date and I'm not missing out on any TV shows or movies because I have everything I need with my new system.
If you've ever thought about cutting the cable cord, I'm here to tell you it's a lot easier than I thought it would be. I don't miss all the rental equipment from my cable supplier. I don't miss the $200 monthly bills. And I don't miss jumping through hoops every six months to try to get the best "promotion."
Try it. You won't regret it!
Related Posts
The form you have selected does not exist.