The Ultimate Survival Guide for Widows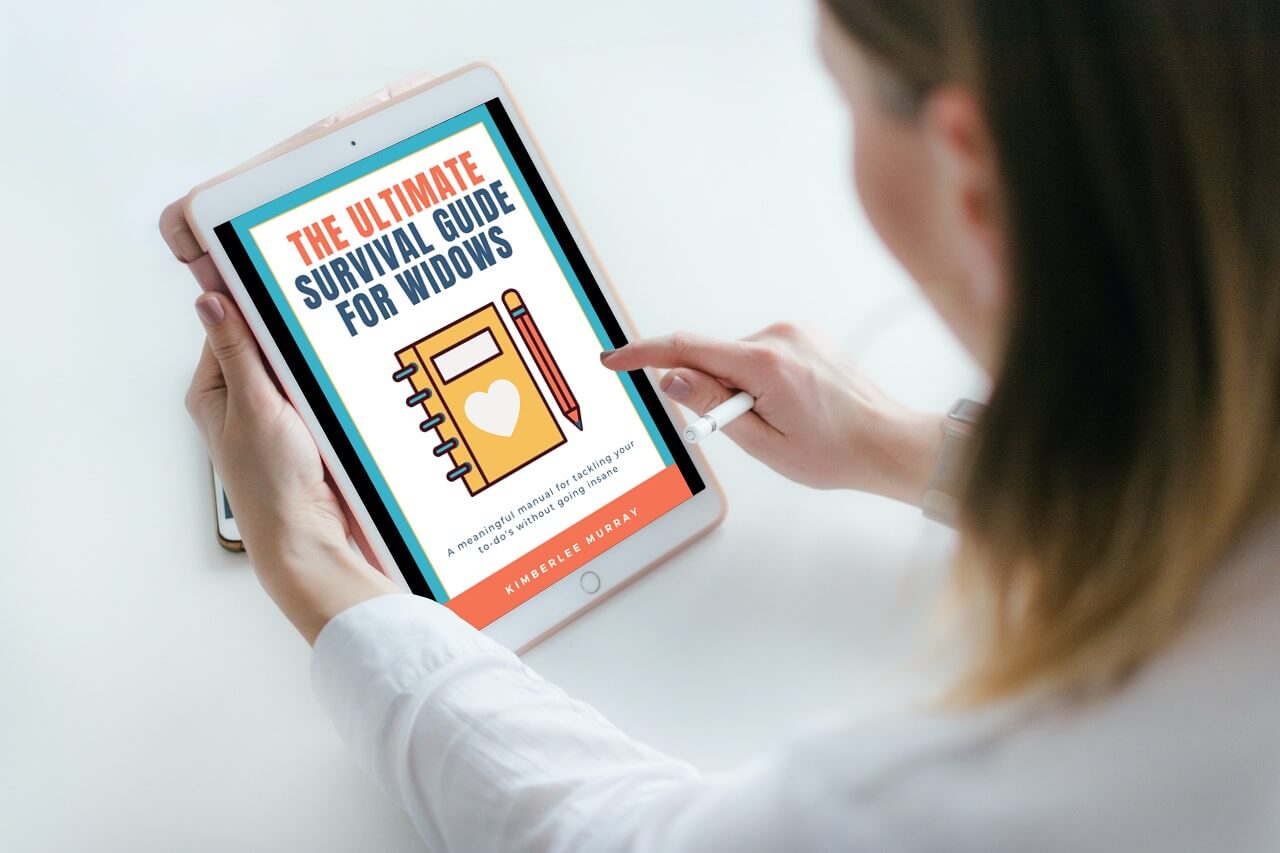 This post may contain affiliate links. Please read my affiliate policy for more information.
Short and Sweet Summary: If you're a widow whose overwhelm is at an all-time high because you struggle with indecision about what post-death tasks to complete first, when to complete them and how to get it all done, don't worry. The Ultimate Survival Guide for Widows can help!
If you Google what to do when a spouse dies, you'll get lots of checklist options. You might see checklists like "X number of things to do after your spouse dies" or "surviving spouse checklist." Most of the checklists are financially based. And a few will give you a broad overview of the basics like "contact immediate family and friends."
The thing is, I think we know we need to contact family and friends, but thanks anyway.
When I was newly widowed, the checklists I found were a little too basic. I mean, there are SO MANY things a new widow has to do. Like, SO MANY post-death tasks she has to complete. These death checklists, while well-meaning, lacked the detail a recent widow needs to handle the overwhelming amount of things to do after the death of a spouse.
I wanted a guide for widows. Something to show me step-by-step what I needed to do. I scoured and searched for a detailed, meaty version of an after-death checklist for widows. Not the silly, "publish an obituary" or "make immediate plans" checklists.
A detailed guide to show me what to do and how to do it.
And it didn't exist.
So I created it.
I created The Ultimate Survival Guide for Widows to answer the question, I'm newly widowed – now what?
I remember those debilitating first few days and months. How I stared at piles of papers without knowing where to begin or how to get organized. It sucks, quite frankly, when you're grieving, but you still have to take care of stupid paperwork and bureaucratic BS!
So I created this online course to be as clear and helpful and easy-to-navigate as possible because I remember the paralyzing confusion in those early days.
THE ULTIMATE GUIDE FOR WIDOWS
The Ultimate Survival Guide for Widows is the plan of action every widow needs.
This online course guides widows to get motivated, stay productive, and manage the daily minutiae of your widowhood tasks. It's a manual to help you get stuff done.
Even when life feels overwhelming.
It's like someone holding your hand and guiding the way.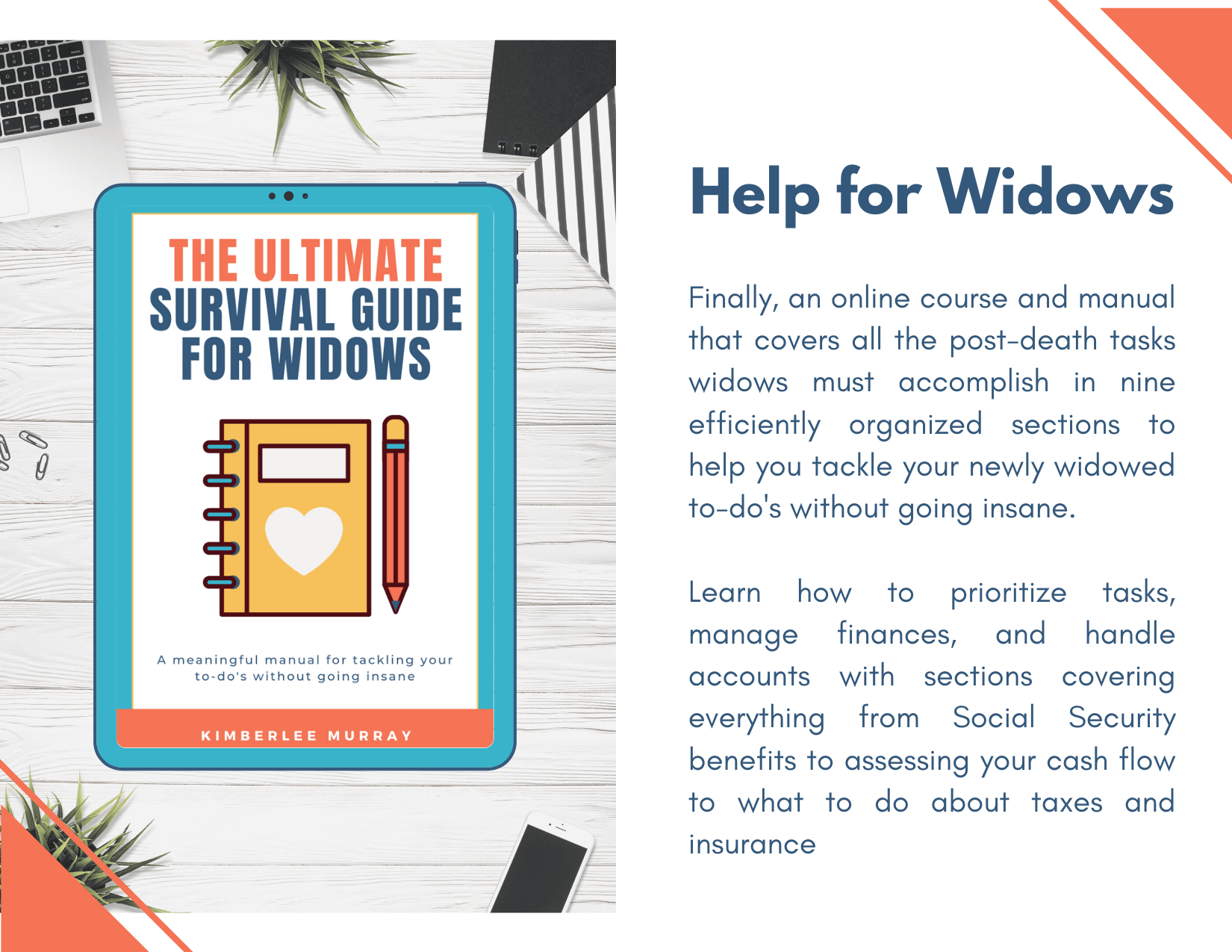 The best part is, you'll learn how to prioritize tasks, manage finances, and handle accounts with sections covering everything from Social Security benefits to assessing your cash flow to what to do about taxes and insurance.
And on top of that, each section includes detailed instructions on how and why to complete the most important tasks and section checklists so you can keep track of everything you've accomplished. 
You'll be able to save tons of time and effort with done-for-you worksheets and templates in every category. 
Click below to watch a short video of what you can find in the guide:
WHAT DO I NEED TO DO FIRST AFTER MY SPOUSE DIES?
This common question depends on your unique circumstances.
For example, do you have a life insurance policy? If yes, file a claim first. Find information on how to do this in Section 4: Assess your Cash Flow.
Or if you don't have a life insurance policy, check with your spouse's Human Resources department and inquire about death benefits available to you from his job benefits package. Was your spouse a veteran or currently in the military? Military benefits might apply to you.
Find information on these potential benefits in Section 5: Other Death Benefits.
HOW CAN I STAY ORGANIZED?
I've included an entire section on organizing your data/documents.
In Section 2: Let's Get Organized, I show widows how to set up a filing system, gather office supplies, and backup data online.
You'll also find checklists at the end of each section so you can keep track of everything you've accomplished.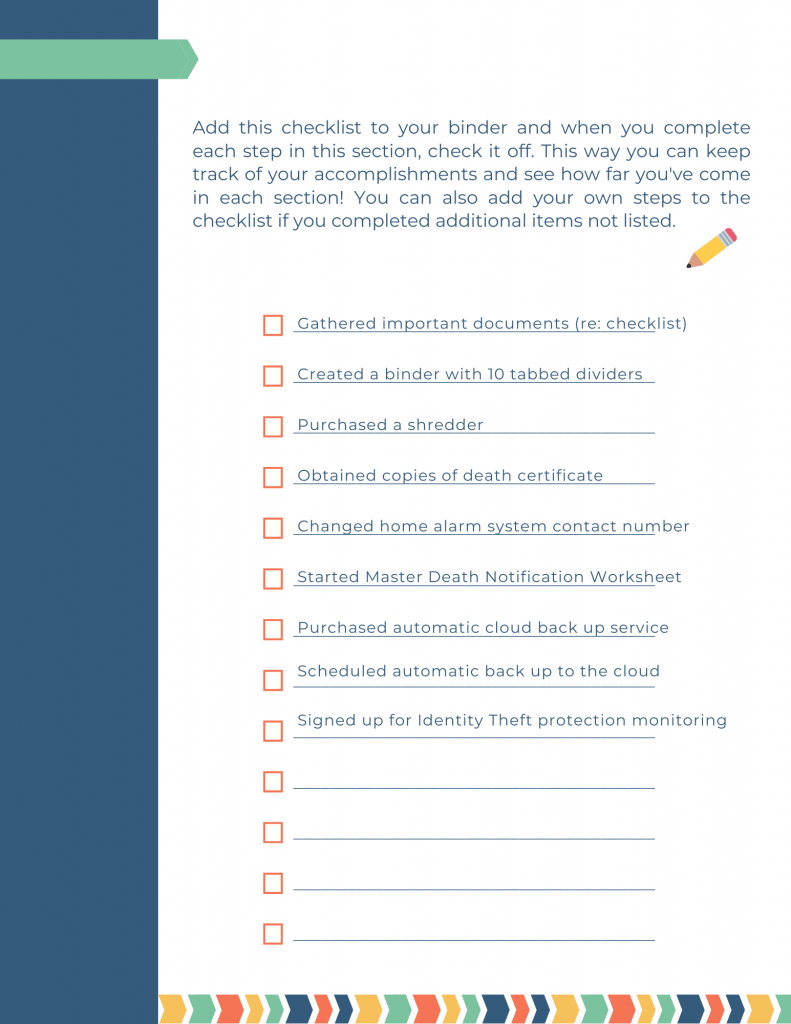 HOW DO I KNOW WHAT DOCUMENTS TO LOOK FOR?
But how do you know what you'll need and what to look for?
There are important papers you'll need to collect after a spouse dies. Things like birth and marriage certificates, adoption papers, military discharge papers, titles and deeds, and on and on.
Well, I've covered the most important papers to collect in the 48-point Important Documents checklist included in Section 2: Let's Get Organized.
WHAT PAPERWORK NEEDS TO BE DONE WHEN SOMEONE DIES?
Widows must complete lots and lots of paperwork when a spouse dies. They have to merge, close or modify bank and credit card accounts, change beneficiary records, notify credit bureaus and change utility account names.
Find the details on how to do this and more in Section 6: Account Management.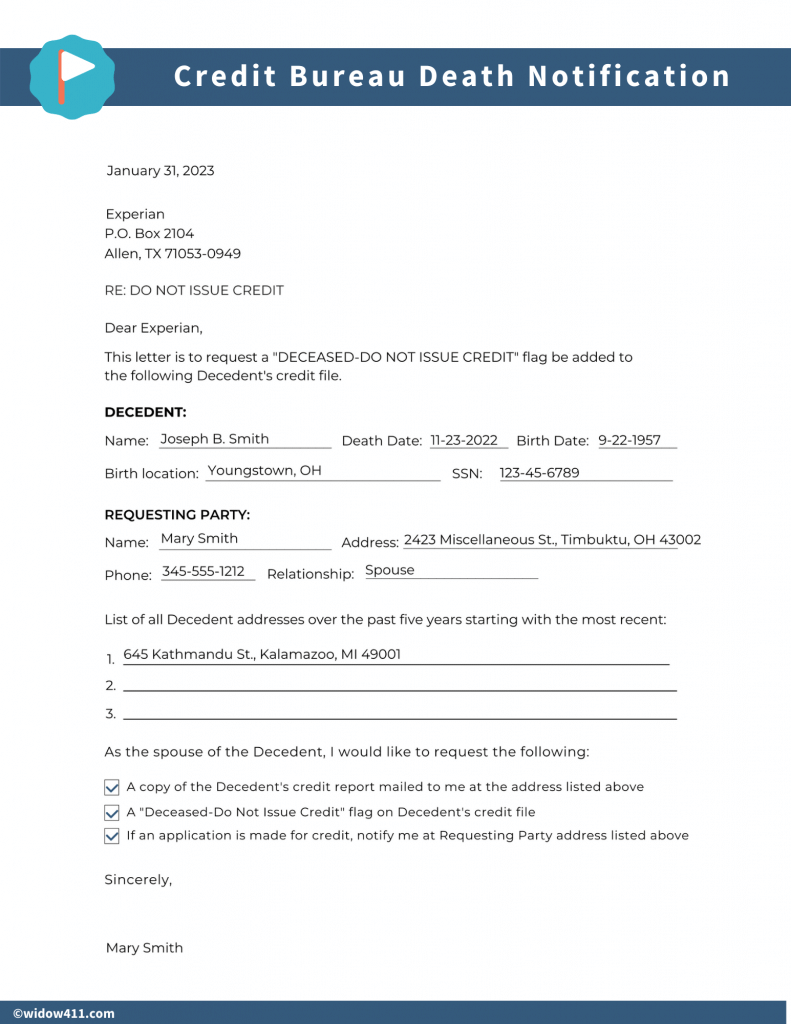 Not only will you find detailed instructions on who to contact and why, you'll find done-for-you templates to learn exactly what to say and what information to include in your requests.
For example, new widows need to contact the three major credit bureaus to notify them of the death and request a "Deceased – Do Not Issue Credit" flag for their spouse's credit record.
The Ultimate Survival Guide for Widows includes letter templates to show you exactly how to format the letter request. It also includes a fillable/editable format so you can enter the information in the template right from your computer.
I've included templates to notify credit card companies and debt collectors, too.
WHAT BENEFITS ARE AVAILABLE FOR WIDOWS?
Social security is a major financial benefit for widows. When your spouse dies, you can collect on his social security record provided you and/or your spouse meet a few criteria first.
If your spouse dies, you can claim a widow survivor benefit if you're age 60 or older. Or, if you're disabled, benefits begin as early as age 50. Your benefit amount will depend on your spouse's social security record and your age at the time you claim.
So many variable exist that it's imperative you make an appointment with your local Social Security office as soon as possible. You'll need to ask a Social Security representative to explain all of your options to you.
I discuss these benefits, including important numbers you need to know, in Section 3: Social Security Benefits.
I cover other financial resources available for widows in Section 4: Assess Your Cash Flow.
OTHER AFTER DEATH RESPONSIBILITIES
Widow need to figure out what to do about insurance and taxes after the death of a spouse. This is covered in Section 7: Taxes and Insurance where I discuss how to file taxes as a widow, review and decide on health insurance options, and tackle home, auto and other insurance considerations. This section includes checklists and worksheets to help stay on track.
WHAT ELSE DOES THE ULTIMATE SURVIVAL GUIDE FOR WIDOWS INCLUDE?
To make things easier for widows, I've included standard items in each section.
Because this is a ton of information to cover, every section in this guide includes the following:
Checklists/worksheets/letter templates to help you complete your tasks. You can print these with and fill them out by hand, or you can use editable versions which allow you to complete the form right from your computer.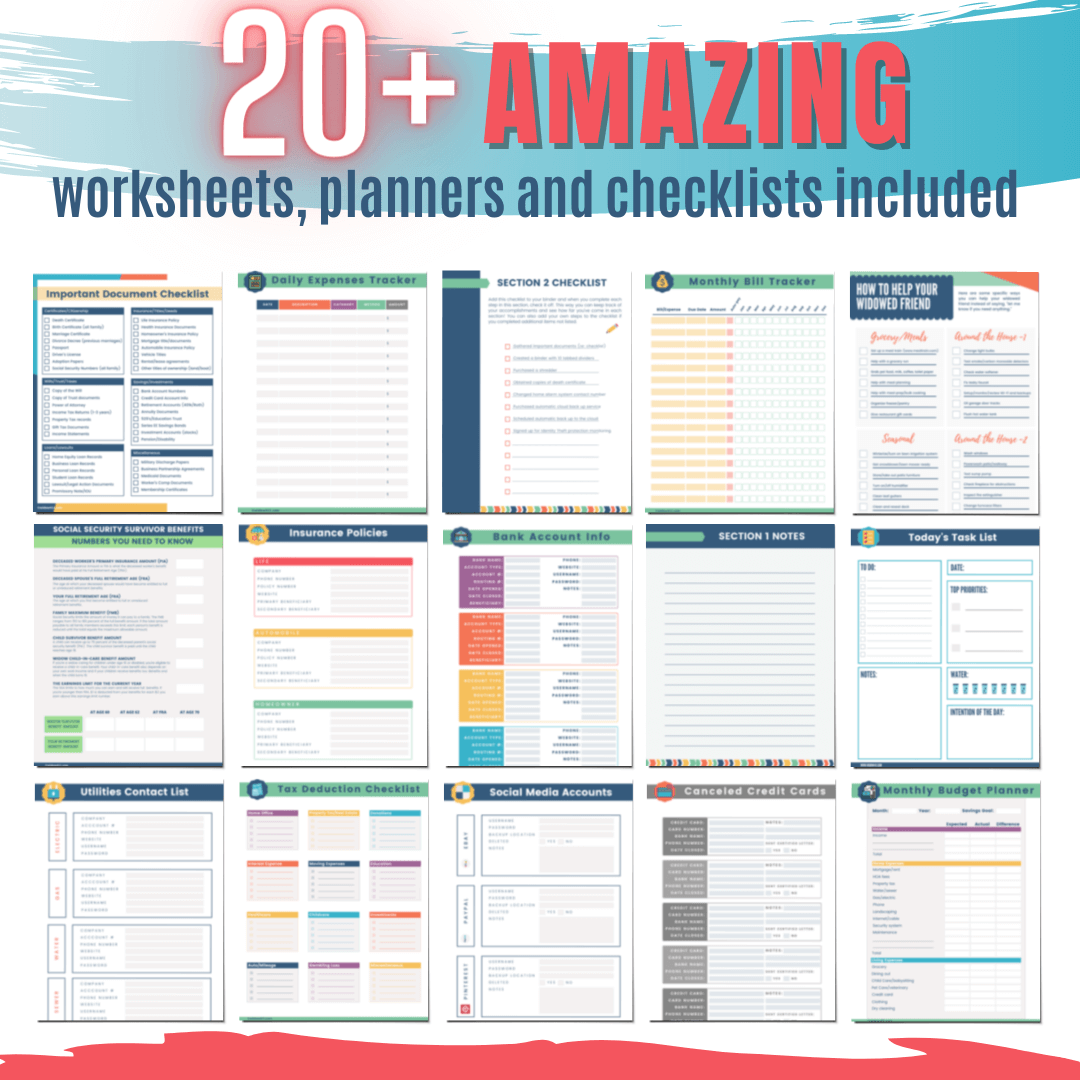 2. A final checklist of items to review/complete so you can keep track of your progress in each section. Place the checklist at the beginning or end of each section (it's up to you) in a binder for easy reference.
3. A document to keep track of miscellaneous notes.
If you prefer to fill in the checklist/worksheet/letter template documents right on your computer, you can use the "fillable" copies of specific documents included as part of your purchase. You can type into the editable fields of the "fillable" version of each document from your computer and save an electronic copy.
BONUSES AVAILABLE
But that's not all.
When you purchase The Ultimate Survival Guide for Widows, you also get two additional workbooks for FREE.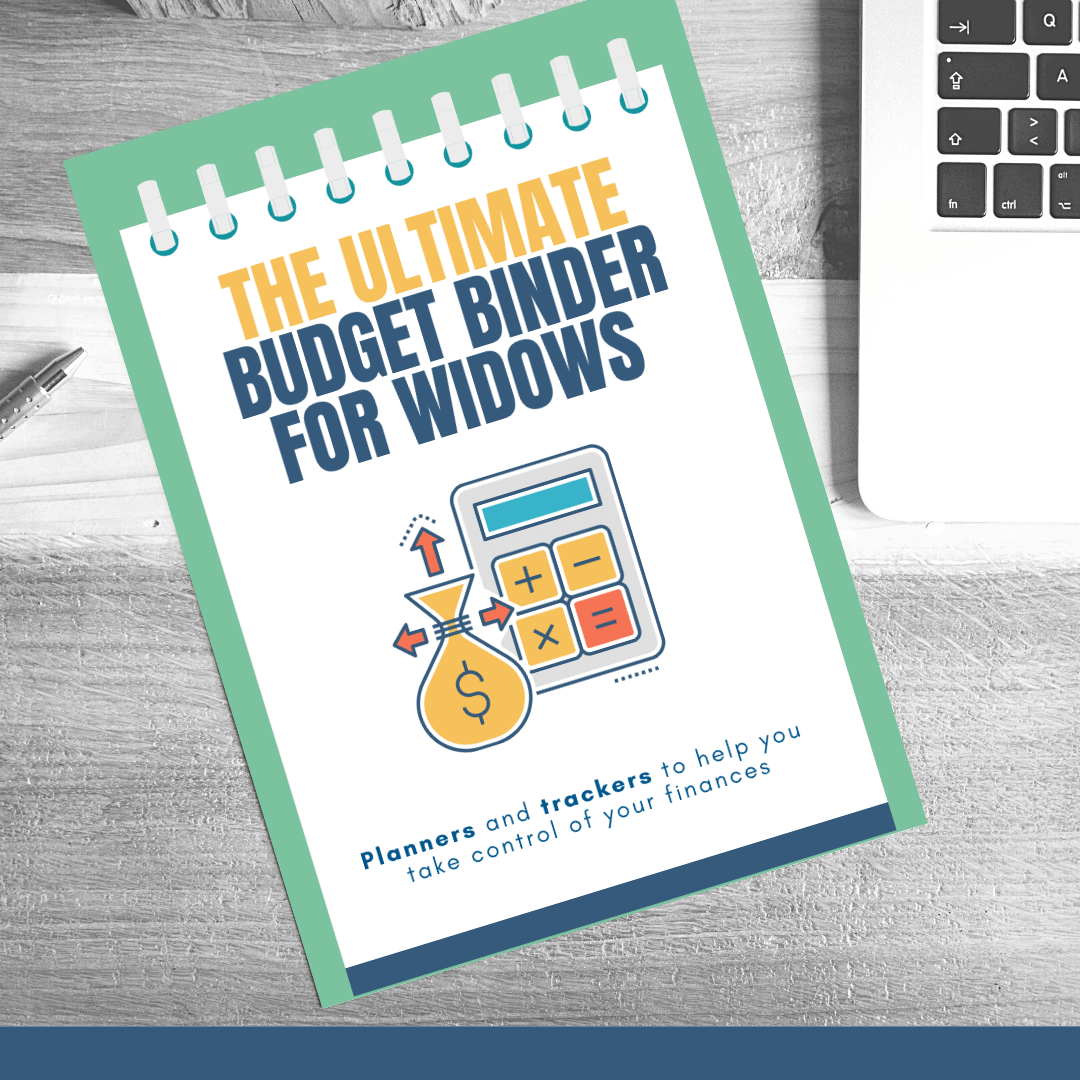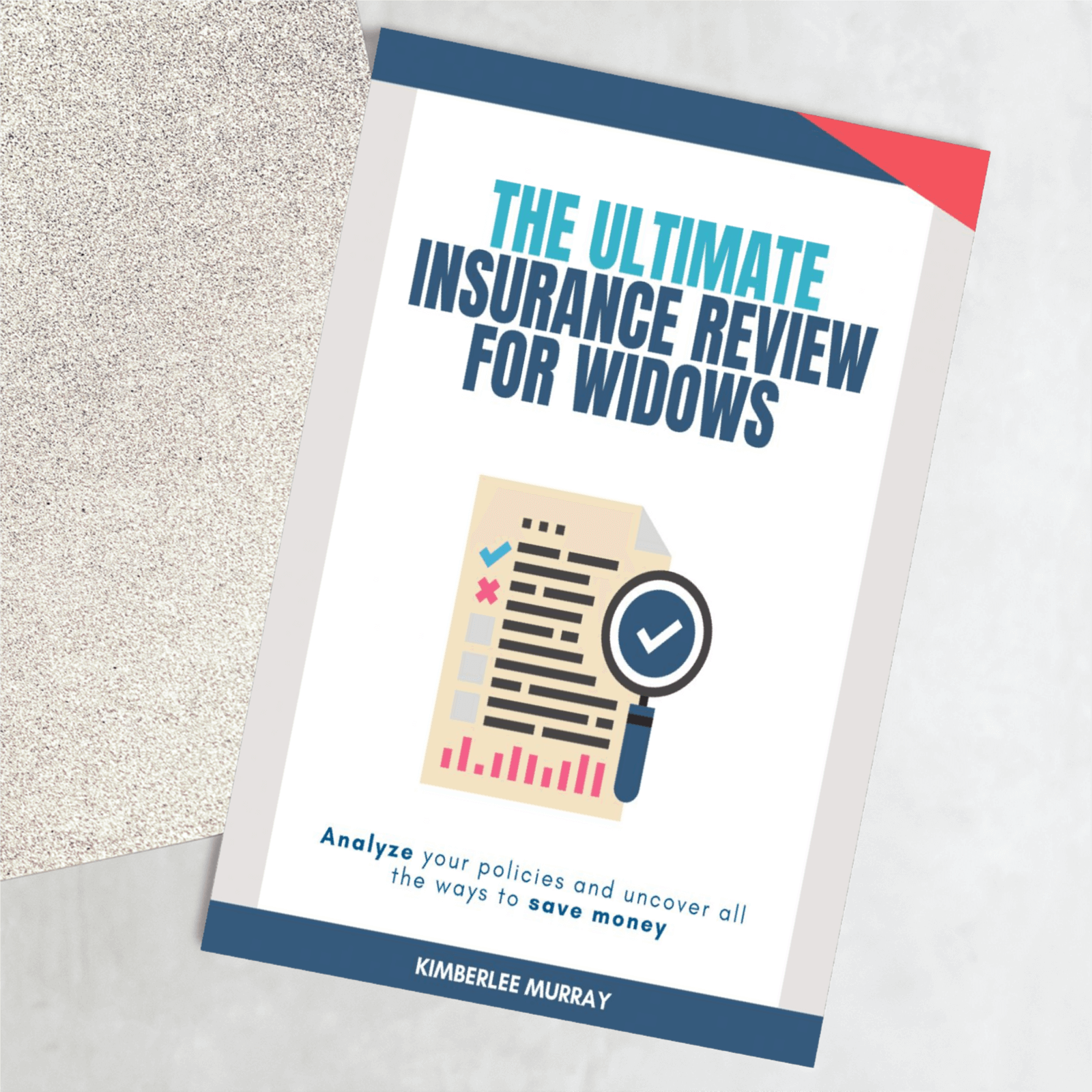 Because there are so many financial decisions to make, I created The Ultimate Budget Binder for Widows to help widows understand their own personal finance numbers and feel confident in their money management skills. Widows learn how to create a budget, track expenses, discover net worth and keep track of personal tax deductions among other things.
The Ultimate Insurance Review for Widows takes the guesswork out of reviewing insurance policy quotes and uncovering ways to save money. Widows will learn how to ask specific questions for EACH policy type before adding/changing/deleting items and how to compare at least three different quotes with line-by-line detail.
WIDOW WRAP UP
I compiled everything I learned how to do, including ALL the tricks, tips, and administrative hacks I uncovered and I wrote this in-depth guide that shows widows, in logical detail, exactly what you need to do after your spouse dies. I know how limited your time is, so you DON'T need to spend all your precious time figuring out how to notify credit bureaus, close bank accounts, find financial resources or research health coverage options.
It's all covered in nine neatly organized sections.
 
I did the work for you, so you don't have to!
Related Posts